Tignanello Pebble Leather Zip Top Crossbody Bag with Key Fob
In Stock
Sold Out
We're sorry. This item is not available at this time.
Pre Order Possible .
Low Stock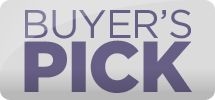 "This is the perfect sized cross-body bag, great for shopping. The zipper and stitch detail are very fashionable!"
—Christine, QVC Handbag Buyer
Description
Get your style across. With an adjustable shoulder strap, an exterior pocket designed to organize your credit cards, and a gorgeous pebble leather finish, this crossbody bag lets you conveniently carry everything you need while staying totally fashionable. From Tignanello.
Collection: Item Xbody
Single adjustable shoulder strap, zip-top closure, front zip pocket, back zip pocket, key fob
Lined interior with one zip pocket, two slip pockets, brown chain lining
Measures 10"W x 10"H x 1"D with a 22" to 24" strap drop; weighs approximately 1 lb, 1 oz
Body 100% leather; trim 100% PVC; lining 100% polyester
Made in China
Reviews & Community QA
A203381 - Tignanello Pebble Leather Zip Top Crossbody Bagwith Key Fob
71
71
It's OK...
I love crossbody bags, because I don't carry a lot of stuff. But I didn't care for this one. I do appreciate all the zippered compartments and the outside wallet. But the pleats really do make it pooch out. To me, that's annoying. Lots of women will like this bag, but the pooch issue was bad for me personally. Also, I noticed that when I put something in the front pocket, the leather started to pull away from the stitching. Again, I don't carry a lot of stuff. All that I had in there was a pack of gum, a few business cards and a pen. This could've been remedied by having some top-stitching at the bottom of the zipper, just like they did at the top of it. But the pleats were an issue that I should've thought of before I ordered it. That's my personal preference, not a fact for everyone. I ordered the cream color, and it's really pretty. Unfortunately, this just wasn't the bag for me so it's being sent back.
07-28-12
Perfect Organizer Bag!
I wanted a leather cross body organizer bag and this one is perfect. The leather is very nice and the strap is leather and nice and long. It has a built in wallet on one side and multiple zip compartments. I love it and may even order another color!
07-25-12
Great Crossbody
Would definetly recommend this crossbody, I love it , its a great size not too big, not too small, the adjustable strap is perfect and if needed you can punch another hole to shorten it. The best part is the outside wallet.
06-23-12
oooooohhh-so-close
This is almost the perfect crossbody. Two things kept me from giving it five stars. 1) I am 5'4" which is not all THAT short. Even when the strap is on the very first hole, it's still a teeny bit too long. The strap needs to be an inch or two shorter overall. If you are very petite, this bag will not work for you.. 2) Now I have a cool Tignanello key fob and it doesn't attach to the bag anywhere. Huh? I went to the hardware store and bought a thingamajig that allows me to hook it on the bag. I'm not terribly thrilled about having to do that, but, It's my very first Tignanello and I want to show it off. The leather is absolute heaven and it's extremely well-designed & very roomy. I was worried the silver would be too glitzy, but it isn't an over-the-top metallic. I am "in deep like" but not "in love."
06-19-12
Great Crossbody
First crossbody purchase. Pleasantly surprised !! Lots of room and I like how it lays on the body flat. Very stylish.
06-15-12
Excellent Handbag
Love the indigo color, very denim friendly and cross body makes everything hands free and I feel secure walking around in a store. Plenty of room for my needs and yet small enough not to get in the way. Love the zippered compartments, love the softness of the leather and love the way it lays flat against body. I have other Tignanello bags and they never fail to impress with quality. This bag is very convenient to carry and use, would recommend to anyone.
05-24-12
Great hands-free bag
This little bag holds a lot of stuff! Overall I love the bag, and find it easy to organize with the many pockets inside and outside of the bag. I have two complaints about the bag.was that the shoulder strap is way too long with not enough holes. I am only 5 feet, but still at the shortest setting the top of the bag hit almost below my rear and was really uncomfortable at that length. I unbuckled the strap and looped it through itself to make a loose knot placed near where the strap meets the bag. This made it an okay length, though I may still have the strap shortened. My other complaint is that the key fob doesn't come attached to the bag. It's nearly impossible to attach it in the place demonstrated in the picture because the metal loop on the bag is way too thick to get the key fob ring opened wide enough. I have no use for it as a key chain, and suspect that most women prefer to use it as a decoration for the bag itself rather than for their keys which they likely already have on some other key fob. Neither of these two issues are big enough to keep me from enjoying my new bag though!
05-09-12
Perfect Size and Weight
I bought this bag for a trip to Canada but now I am loving the Crossbody Bag and will be using it for my everyday bag. It is so great not carrying around a heavy wallet. I got the Indigo blue and it is a lovely shade of blue. This is the perfect bag for on the go or for every day wear. I am looking to purchase more bags in different colors that have all the compartments that this bag has.
04-20-12
Nice Bag But Lacking Top Quality
I ordered this bag on air and when I received it, I was a little disappointed in the quality and sent it back for another one. When I checked the photos on line, I found that the photo had the same issue I had with my bag. The stitching didn't match on the bottom of the bag and the strap was not one complete piece of leather, but instead had been made by sewing several pieces together. These are not things you see in a "quality" bag. When I got my replacement, it still had the bottom stitching issue and had even more pieces of leather sewn together on the strap than my last one. I decided to keep the bag because I like the organizer and the long, adjustable strap. I'm 5'10" and find that sometimes crossbody bags are too short for me. I also love the eggplant color and feel of the leather. I do not think it is too small and don't agree with those who say it bulges. If it does, you have too much stuff and need something bigger than a crossbody.
04-09-12
Bag does not lay flat
I truly like Tignanello handbags. and I have many crossbody bags and enjoy using them, so when I saw this bag by Tignanello I thought it would be perfect. I like the idea of the built-in wallet on the outside. However, I think it needs a 2 inch flat bottom piece so that the main part of the bag doesn't look pouchy when I put in a few things. I only have a slim check book, a very slim datebook and a pair of sunglasses in a soft case inside the main compartment, but when I carry it over my shoudler, it looks fat. I don't like that look. There isn't any less I can carry to make it look slimmer. And I only have a few tissues folded flat in the outside zipper pocket. I wish I could return this bag.
03-25-12
Nice bag
I expected this bag to be too small but with all the pockets, zippers and slots, it is just the right size.. Love the quality, color and weight, makes it easy to carry and to access everything. My first Tigna bag and there may be more in the future.
03-23-12
Everything fits perfectly!!
I received the Pebble Leather Zip top Crossbody bag last week. Everything has a place in this purse. Everything fits perfectly. I will be watching next time Tignanello hand bags are on QVC and will more than likely be purchasing more. I love this one it is just the right size for everything I carry.
03-23-12