The Tracy Anderson Method Mat Workout DVD
Customer Top Rated
In Stock
Sold Out
We're sorry. This item is not available at this time.
Pre Order Possible .
Low Stock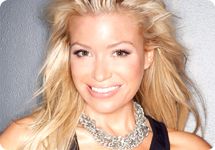 The overall mission of Tracy's method is to strengthen the smaller muscle groups so they can pull in the larger muscles, resulting in a leaner, rather than bulkier, figure.
Check out Tracy doing a simple strengthening move from the DVD
Description
Re-engineer your muscular structure, wake up your accessory muscles, pull in your larger muscles, and shift your shape into something you never knew you could achieve! This helpful DVD trains your muscles to work in a different way and shift your approach to fitness. From Tracy Anderson.
As always, please consult your personal physician before beginning any diet or exercise program.
Take a realistic approach: If you work consistently and follow the program, you maximize your results.
Run time approximately 62 minutes
Made in USA
Reviews & Community QA
The Tracy Anderson Method Mat Workout DVD
55
55
Amazing workout! Ignore editing flaws
OK, so let's get through the not so good stuff first. The camera angles are off, Tracy's counting is off and often lopsided (so pay attention and alternate sides/day), she gives little instruction and can seem monotonous. Oh, and the music isn't the best. NOW on to the good stuff! This workout is terrific and has converted me once and for all to a TA fan. You have to pay attention the first few times you do the workout due to her lack of verbal cueing and slightly awkward moves, but it's really not that big of a deal. I'm in good shape already and heard good things about Tracy's arms, and boy were they right! The standing abs took the most getting used to, but once you "tune in" to your core, you're golden. I recommend this to anyone, best workout ever!
05-05-13
disapointed
I got this DVD after hearing all the hype about Tracy and her workouts. I was really enjoying it until she got to the ab exercises. She doesn't give any hints on an upcoming exercise and I feel like I'm at a rave. I'm giving it 3 stars because I really enjoyed the upper body, leg and mat workouts but the ab workout I could do without.
04-05-13
Good toning, needs work on the presentation
Great arms & leg workout, but I agree with the other reviewers. Tracy does not cue or count. Also my DVD has a couple of glitches. Her techniques seem to be working, so I will give 3 stars.
01-08-13
great workout
Very good. Makes you cry uncle on the arm exercises! The music helps to get through the hard work. A full body work out makes this a very good buy. My go to when I'm not up to an aerobics class but still want to feel that great exhaustion feeling for a job well done.
08-19-12
Great introduction to Tracy's Method
After seeing a presentation of Tracy Anderson's Metamorphosis, I was really intrigued by her approach but wasn't sure if I wanted to commit. I purchased this video to see if I would like it and I was not disappointed. This DVD is awesome! I love this video so much I use it everyday in combination with her cardio DVDs. The arm workout section is really unique and you start to see results after just one workout. I hated my arms for years but after a week of using this I have started breaking my sleeveless blouses! Some reviews complain that she doesn't give much instruction, but I like her approach. So many workout videos' instructions get annoying once you know the moves; Tracy gets really into the workout and you get to just go with the flow without a bunch of chatter.
08-04-12
Lopsided
The moves are good but this DVD is pretty terrible. Tracy either doesn't believe in doing the same amount of repetitions on each side of your body or she has a terrible editing team. Almost every move is like this...on one leg you'll do 20 and on the other you do 35. I try to count and make everything even but then it's hard to keep up with her. I didn't return it because the workout is pretty good and I feel toned after doing it but it's definitely not my go to because it's so disjointed. The standing ab section is a bit odd but I just try to do the moves with her.
07-21-12
Very Odd Exercise Video
Bought this video based on the high reviews and overall rating. Very disappointed as the instructor (Tracy Anderson) does not cue or count repetitions or even work out each side evenly. The exercises are not your typical and are somewhat odd movements. Another viewer mentioned how the camera does not pan in so you have to pay close attention to what she is doing. The moves are somewhat awkward and difficult to do and follow. If you don't mind the odd exercise movements, no cuing, uneven counts for each side and are looking for something completely different -- this is the exercise tape for you.
06-09-12
Buy this FIRST!!!!
I'm a trainer & I've finally found a Tracy Anderson dvd I can recommend!!! If ur upper arms are flabby and you want a tight small dancer's body (not without pain, actually LOTS of pain) this is it. I've watched Tracy for year and always thought it was interesting, a little (ok a LOT) odd, and WAY $$$$ (about 4 grand for a private session - and you thought I was expensive huh?). This is a good basic start. It hurts A LOT and if you're not VERY coordinated and learn quickly, you'll be very very frustrated. Be warned. Even I didn't make it through ANY of TAM the first time . . . so get ready! She doesn't count & the camera doesn't pan a lot so some workout or ballet or dance history will benefit you greatly. (Metamorphosis - ur really on ur own & it's advanced & frankly, odd)
05-20-12
Great Workout To Start With Tracy!!
This is the workout I decided to try before I decided to purchase metamorphosis and boy was it a great idea. While this workout is equally challenging, it will get you use to the way Tracy "instructs" her DVDs (which will will notice and read from the other reviews, not very much). This is also a great " financial" purchase if you are not ready to pay for the Meta. Bottom line, this is a great workout alone and I felt and saw results in the first two weeks.
04-11-12
You will see results !
i purchased the mat workout along with the Hipcentric Meta program and I have nice sculpted tone legs! You will see amazing results that I never achieved with other workouts!
03-28-12
Good for toning body
I will be 55 in a couple of months. I was seriously out of shape and overweight. A couple of years ago, I started using a Tony Horton product (not P90X, but the P90 series) and lost 50 lbs. However, my body was not toned and many parts drooped. I got this DVD because it was well rated, it was fairly inexpensive and I needed to switch routines because my body had gotten used to the old ones. I have been using it for 1 1/2-2 months and have seen good results. I haven't lost weight with it, but my clothes fit better, and people at work have asked if I've lost more. I do it 3-4 times a week and do cardio the other 3-4 (I take off one day a week). I love the abdominal routines. I hate the arm part because it's hard, but but my arms are getting toned. The only reason I gave this DVD 4 stars is because she is not very good at giving directions. She also does not seem to be able to count. She will do 20 counts of an exersize on one side and 35 on the other. That is not an exageration. Also, you can't hear when she is changing sides, and on the floor segments that is really annoying because you have to keep looking at the screen to see what you should be doing. With that said, it is still a very good product.
03-21-12
So far so good
I have been interested in purchasing a Tracy Anderson workout video for years and finally bought this one based on the customer reviews. I just started this workout DVD so I have not gotten the desired results yet. While doing the video, I could definitely feel my my muscles working, however, I did not feel any burn the day after like I do with most other workouts. Please keep in mind that I have not worked out in over 6 months and even when I was working out, I didn't do it consistently and would consider myself to be a beginner/intermediate. Also, Tracy, it would be nice if you could give more instructions throughout the video. It would have been nice to know how many we were going to do, how many reps were left and when to switch positions. Most workout videos now have options so that you can either keep the instructions playing throughout or turn it off.
03-16-12