Temptu Set of Two Foundation Refill Pods
In Stock
Sold Out
We're sorry. This item is not available at this time.
Pre Order Possible .
Low Stock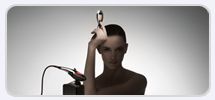 Description
Follow the lead of makeup artists everywhere by airbrushing your way to a flawless complexion. In conjunction with these mess-free foundation pods, the revolutionary, patent-pending TEMPTU AIRbrush Makeup System allows you to quickly and easily achieve professional results in the convenience of your own home.
AIRpod foundation is a silicone-in-water-based formula with a built-in primer for long-lasting, hydrating results. It's ideal for anyone who wants to conceal redness, discoloration, light scarring, and blemishes. Allow 30 seconds of drying time to determine your desired look--and remember, a little goes a long way! From TEMPTU.
Includes two 0.28-fl oz AIRpod Foundation refills
Porcelain (001): for fair skin with pink undertones
Fair (Ivory) (002): for fair skin with yellow undertones
Warm (Ivory) (003): for light skin with pink undertones
Light Sand (004): for light skin with yellow undertones
Beige (005): for medium skin with pink undertones
Medium (Warm Beige) (006): for medium skin with yellow undertones
Tan (Natural) (007): for tan skin with yellow undertones
Honey (008): for tan skin with pink undertones
Dark (Golden) (009): for dark skin with yellow undertones
Almond (010): for dark skin with pink undertones
Chestnut (011): for deep skin with yellow undertones
Deep (Espresso) (912): for deep skin with pink undertones
Reviews & Community QA
A241743 - Temptu Set of Two Foundation Refill Pods
5
5
The best I have yet to find
Ok I didnt buy the unit at QVC, but I have gotten my pods here. First I had a lot of trouble getting the right shade, but once I got it has been smooth sailing since. Love the fact that I can sleep in a little later cause I aint taking so long to do my make-up. And my husband says that it makes me look younger.......
07-18-12
I liked it OK
The color matched with my skin-tone OK and the coverage was pretty good but I think for this product to work for you, you have to have good skin to begin with. Not oily, not dry, and no acne. It looks good at first but a few hours later I was not so happy with it. The only way for it to look like your not really wearing any make up is to use a little and if your trying to cover up old acne scars or redness, it just ends up looking bad. I tried to use it with a couple of different moisturizers and with and without powder. It stays on better than other foundations I have used which is why I gave it 3 stars, but I will keep looking for a better solution for my skin.
06-19-12
Love it but always out of stocks
I bought the Temptu machine thru QVC a couple years ago and I used to buy the refills foundations etc at qvc local store here in MN then the store closed, went to Shepora and now this store does not carry Temptu anymore. QVC online the only place to buy refills but always out of stocks the colors I need..Temptu website does not seems to work always down..is possible the company is not in business anymore? if so, QVC please do not sell this expensive machine anymore if we can't buy the refills.
03-19-12
EXCELLENT MAKEUP
I'M 53 AN THIS DOESN'T SHOW UP MY WRINKLES ITS FAST ,CLEAN , AN LASTS ALL DAY UNTILL I TAKE IT OFF. I JUST LOVE IT , GIVE IT A TRY
12-02-11
WISH I HAD TEMPTU SYSTEM YEARS AGO!!!!!
The TEMPTU system is wonderful for aging skin. It is the only makeup that does NOT settle into fine lines and wrinkles that I have ever used. Once you find the perfect shade, you will be amazed at how wonderful this makeup is. I love the blush and highlighter also. Well worth giving it a try. LOVE IT. Did I mention I LOVE IT....
09-18-11