Temp-tations Set of 4 16 oz. Travel Tumblers w/ Silicone Lid & Gift Boxes
In Stock
Sold Out
We're sorry. This item is not available at this time.
Pre Order Possible .
Low Stock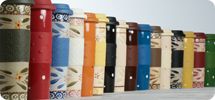 Watch a video about this beautiful Temp-tations tumbler set!

Give the entire set, or present each as individual gifts! Available in your choice of popular Polka Dot or Old World patterns, each 16-oz tumbler comes with a matching gift box. Keep one for yourself and give to family and friends. From morning coffee to the evening dinner table--these dishwasher-safe tumblers are the ultimate accessory for every day!
Description
Your favorite tumblers just got better! Perfect for the dinner table, the office, or under the tree, this set of four tumblers takes everything you love about Temp-tations' travel mugs--the best-selling patterns, the solid grip, and the silicone lid--and adds even more capacity for 16 ounces of total deliciousness!
Full day ahead? Take your cup 'o joe to go! Each of these delightful mugs is made with a double-wall ceramic construction to help keep your contents warm, while providing an extra barrier against the heat, so they're not too hot to handle. Likewise, they help keep your colder beverages cold, so you can happily sip your drinks for longer at a cooler temperature.
Presentable tumbler-ware. Whether you're an Old World kind of gal or you just love those polka dots, this cute set will fit right in with your personal style. You can even use as a drinking glass at the dinner table. That's 16 ounces of cold water, juice, or soda at the dinner table with less refills, and less melted ice!
Know someone who'd love one--or more--as a gift? All four tumblers come with updated gift boxes, for a pretty presentation. Get one for yourself, and give one to someone else! At this price, how can you resist?
From Temp-tations(R) Ovenware.
Includes four 16-oz mugs with silicone lids, and four gift boxes
Silicone grips
Dishwasher- and microwave-safe
Each measures 3-3/4"Diam x 7"H
1-year Limited Manufacturer's Warranty
Made in China
Reviews & Community QA
Temp-tations Set of 4 16 oz. Travel Tumblers w/ Silicone Lid & Gift Boxes
772
772
BRING THESE BACK.....NEED MORE SETS
I just love these travel mugs, bought them for Christmas presents 2013, everyone loves them and we all want more......they are great for hot drinks as well as cold!!!!
04-26-14
Nice but the lids are terrible
The lids leak.. Ended up with coffee all over my shirt. Poorly fitted. Threw them out.
04-16-14
Please make more
I have been waiting for these to come back. I have broke 1 and want more to replace. I have a friend who would like 2 sets of these also. Please make more
03-04-14
Poor quality
I ordered the temp-tations travel tumblers, I put them in the dishwasher and they cracked and I could no longer use them.
11-30-13
Would not order Temtations again!!!
I ordered these tumblers last Christmas for gifts. The ones I kept for me to use have been a real disappointment. I called Temptations about one that had a crack developing in it. It was replaced. Now the one I use for tea is also cracking. I will steer clear of this product at all cost. The other items in this line may crack very easily with use also. If I could give it no stars I would!
10-25-13
NOT TEMP-TATIONS QUALITY!!!!
PURCHASED THESE TO TOP OF OUR WONDERFUL DISHES, AND THEY ARE HORRIBLE!!! AS OTHERS STATED, THEY CRACK, BEGIN TO MOLD UNDER THE COATING, etc, AND ALL AFTER THE WARRANTY IS UP! SIMPLY NOT WHAT I EXPECTED, AS WE LOVE OUR TEMP-TATIONS COLLECTION, AND THESE DO NOT MEET THE TYPICAL TEMP-TATIONS STANDARDS. THESE TUMBLERS WERE VERY, VERY DISAPPOINTING!!! WOULD NOT PURCHASE AGAIN OR RECOMMEND.
05-11-13
LOVE THESE TUMBLERS
I have received more compliments on my tumblers! Very comfortable to hold and drink from. If you have to set it down and come back to it, it is safe to microwave. Handy when you are working! If you're careful enough to hand-wash them and treat them like you want them to last, they will retain their brightness and last for a long time. If, however, you are lazy and don't want to hand-wash them, they can be put into the dishwasher ~ though I recommend they not be close enough to touch anything as to chip them. These are prone to chipping as are any mugs/cups/plates that are made of ceramic. They have a much wider circumference at their base, so they tend to be much more stable and less prone to tipping. Further, they fit snugly in my car's cup-holders, so I don't have to hold it when taking corners. Each tumbler comes in its own box, so gifting has been really easy! I have purchased a couple of sets(4each) and have only two tumblers left for myself!! Great PRICE. Great STYLING. Great COMFORT. Great VALUE :)
05-04-13
Love them!
This is the 2nd order I've made. We like to drink a lot of water and this is the perfect way to get cold water (or hot) and keep it cold without worrying about an insect getting into the cup. My daughter's tumbler is cream and mine is blue, so they don't get mixed up. I think it is a great purchase and, of course, it is Temp-tations -- very pretty!
05-04-13
Bad Purchase
I got these at the end of 2011. These cups were great at first, but as the year went past we got chips, paint is coming off and discolored on the inside. I called to get replaced, but was told they didn't make them anymore and my year warranty was up.
04-22-13
Just ok
This is my first temp-tations order and it's not impressing me! I made a hot cup of coffee and left for work, once I was at work 45 minutes later my coffee was luke warm and had to zap it in the microwave. I expected more from this item! Probably wont order from this line again...
04-19-13
nice
Bought these as a christmas gift next year for co-workers. really like them. very happy!
04-16-13
purchased 4 sets ...
Since Tara introduced these tumblers I have purchased 4 sets, 3 for my household & 1 as Gift. Great size & keeps hot-HOT & cold-COLD. Three things that I would STRONGLY recommend doing to care for these are .... 1-always put a spoon in before adding boiling hot water-doing that will prevent cracks & fractures 2- always wash/rinse by hand 3-to wash the lids, immerse them in hot water, along with a bit of baking soda...if you use a detergent... the rubber WILL tend to smell like which ever one you used to washed it with :>(
04-12-13