Temp-tations 9"x13" Lid-it Baker with Lasagna Server & Wire Rack
In Stock
Sold Out
We're sorry. This item is not available at this time.
Pre Order Possible .
Low Stock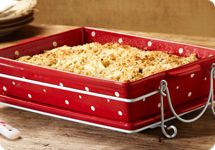 Serve Up Some Style
Pretty and practical, this 9x13 Lid-it Baker goes from oven to table with ease.
Description
Everything you already love about Temp-tations(R) Bakeware--the beauty, the convenience, and the portability--are offered here, in this charming and functional 9x13 Lid-it Baker. Prep, cook, serve, and store mouthwatering meals in this handpainted ceramic baker, artfully designed in your choice of two of our most popular motifs, Old World and Polka Dot.
One-dish cooking. True to the Temp-tations brand, this baker can withstand temperatures of up to 500-degrees, and lets you go from the oven to the table with ease. Not to mention, it has a handy lid that acts as a trivet or tray, so you can place underneath the baker to protect your table surface, or fit on top of the baker to store extra helpings in the fridge or freezer. To reheat leftovers, just pop into the microwave--then into the dishwasher for easy cleanup. It's that simple!
If you're currently an Old World collector, this piece will blend effortlessly with your other pieces, as well as any solid-colored Temp-tations pieces in your collection. Or, if you're a Polka Dot person, this baker makes a delightful addition to your countertop or table--at an affordable price. So, put the fun back into functional, and get this 9x13 Lid-it Baker today!
From Temp-tations(R) Ovenware.
Includes 4-qt ceramic baker with Lid-it, wire rack, lasagna server, storage lid, and six recipe cards
Lasagna server: plastic/silicone handle
Microwave, refrigerator, and freezer safe; oven safe to 500F
Approximate measurements: Baker 13-3/4"L x 9-3/4"W x 2-3/4"H; Trivet 15"L x 10"W; Wire rack 16"L x 10"W x 3"H; Server 11-1/4"L x 2-3/4"W
1-year Limited Manufacturer's Warranty
Made in China
Tune in to QVC for Temp-tations(R) Presentable Kitchen
Sunday, October 22, 2017 from 1 – 3 a.m., 7 – 8 p.m. ET
Reviews & Community QA
Temp-tations 9"x13" Lid-it Baker with Lasagna Server & Wire Rack
862
862
Practical and Pretty
A great complement to the 8X8 square baker and tote set, the 9X13 baker does fit in the bottom of the tote. I use both these bakers and the lid-it (as a platter or a tray) routinely as everyday serving pieces with the Franciscan Desert Rose dinnerware I inherited from my mother. This allows me to reserve the vintage (circa 1938) Desert Rose serving pieces for special occassions.
10-25-13
Nice but cracked
I have had this baker for a little over a year now. I find it is not as nonstick as it claims to be. Also, I was just using the lid it as cookie sheet and it cracked all the way through... Hope the baker holds up better than the lid it! Waiting to see if temptations customer service will replace the lid it. We'll see!
10-20-13
Love this Bakeware!!
I ordered this set to try out the bakeware I drool over while watching cooking on Q. I am a very pleased customer. The detail in the floral lace is immpecable. I use it for more than lasagna. I am currently working towards phasing out all my plain white to reflect my character...bold and bursting with color.
09-23-13
Cracked!
I used this product less than 10 times and it cracked! I have owned lots of cookware and this seemed to be good quality, but if it doesn't last then what good is it? I'm so disappointed. The worst part is that I bought another one for a gift, now I'm worried hers will crack too!
09-22-13
Perfect piece for all occasions to use.
I have a larger set that I use daily and this piece will definitely be a go to piece for baking, roasting and reheating. The bonus is it looks great on a table, no transferring to a platter.
09-22-13
These are wonderful!!!
I have 3 different 9x13 bakers and love all of them. So I decided to buy this for my mom for her birthday. I know she'll love it because she loves poka dots! There really are "workhorses" in the kitchen they clean easily and you can cook, store, freeze and bake in them. Don't miss out, great deal!
09-16-13
luv temp-tations !
I also can't find anything not to love about these products. I wish could get a set ! Everytime I start to collect a pattern- It is gone. First Wimsy now Polka dots !
09-13-13
The BEST!
There is absolutely nothing negative to say. I had been wanting a Temp-tations dish for a while, and finally purchased this piece. I can say that I will be ordering more Temp-tations! I will also be ordering this same set as Christmas gifts this year. The first dish I baked in it was a french toast casserole for my mommy group and the girls all wanted to know where I got my "happy" casserole dish. I got the polka dot in yellow and it makes me smile. I almost want to leave it sitting on my counter when I'm not using it just because it's so cheerful! Also as far as function is concerned - the sticky french toast casserole, that always sticks to other dishes no matter how much they've been greased, didn't stick to this at all! Great, great piece!
09-11-13
Another Lid-It Bites The Dust!
I wonder if Tara gives these Lid-its a test drive before presenting them, because tonight, my second Lid-it cracked in the oven. Great idea, poor design, workmanship, etc. Please, just make us a platter that we can use for table presentation. Don't try to double-duty a platter as a baking piece. It just doesn't work.
09-10-13
After one use Glazed all Cracked
This is the first time I've had occasion to use the lid/ platter in the oven . I used it as a lid for the 13x9 baker. The glaze is now cracked and black. This shouldn't happen if its a high quality product. We also had bought this as a present for my sister - in law and the same thing happed to her and the 13x 9 cracked all the way through. The company replaced it without question but it happened again with the replacement. I'm very disappointed. Will not be buying any more Temp-tation products.
09-10-13
LOVE IT!
Purchased this in the old world blue and just love it, painting flaws and all! The lid is fabulous to have and I wish Tara would put a set of just lids together round, square and rectangle. They are great for so many things. I used this new piece for a cake and baked biscuits on top! No problems so far that others have mentioned. No sign of lines and possible breakage and I always try to never put a hot temptation piece down on any surface but to put it in it's wire carrier or on a potholder to help with no hot/cold breakage. Just so glad to get this piece to add to my hundreds of other temptations items they are beautiful and very much used in my kitchen! Love the clearance price too! Thanks QVC and Tara!
09-09-13
very nice
I bought this as a gift.She will love it.It is very nice.I have alot of temptations and it is lovely.It cleans easily and looks so nice on your table.Dont hesitate to buy.
09-09-13