Technique Stainless Steel 12" Barbecue Basket with RemovableHandle
In Stock
Sold Out
We're sorry. This item is not available at this time.
Pre Order Possible .
Low Stock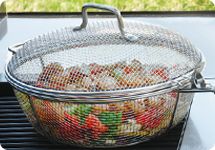 Great Grilling Made Easy
Learn more about this Technique Grill Basket:
Description
Smoke and grill your whole meal--not just the meat! This summer, shake, stir, mix, and toss your favorite foods with his large 12" grill basket--featuring a removable handle and locking lid. Constructed of heavy-gauge 18/0 stainless steel, this barbecue must-have will stand up to seasons of grilling in the great outdoors.
Forget the hassle and mess of skewers and kebobs. Place your meats, seafood, and veggies in the woven stainless steel basket and you can evenly cook it all--without any small pieces falling into the fire. It's also deep enough to accommodate a wide range of larger foods.
This great grill tool is designed to make outdoor cooking a treat. The completely removable lid simplifies adding ingredients, spices, and marinades. The detachable handle allows you to close your grill for faster cooking. Plus, you can take off the handle and lid for easy storage.
From Technique(R) Cookware.
Includes basket, detachable lid, and handle
Dishwasher safe
18/0 stainless steel construction
With lid, measures approximately 12"Diam x 8"H
Made in China
Reviews & Community QA
Technique Stainless Steel 12" Barbecue Basket with RemovableHandle
120
120
AWESOME
This grill basket is just great I did some lemon pepperd chicken wings and they were awesome. My whole family raved about them. I cooked them on an electric grill for about 20 min. I had been waiting for them to put it on clerance. I love my grill basket. Not that difficult to clean. I highly reccomend it for any lady or gentelman. I also reccomend the chopper below to get those vegtables and fruits ready for the grill pan.
01-29-13
Clean Up A Mess
Used this for grilling vegetables. I even coated with spray. Put in dishwasher after use and did not even clean left on particles. Had to soak and scrub which did not even remove everything. Very disappointed.
09-23-12
Great Idea But..........
Love this idea. I cooked veggies the first time I used it and they turned out great. Sprayed the basket with Spray for Grilling and added a little olive oil to the veggies. This turned out really good with no sticking and easy cleanup (brushed with a little degreaser and in the dishwasher it went). But a whole new story on the chicken wings. Took them longer to cook, constantly shaking them (which wasn't easy in this big basket) but they didn't brown pretty. Ended up taking them out of the basket and putting directly on the grill. Cleanup was horrible on this cooking. My opinion is the basket is way to big/deep for a good even cooking and it has hard to handle when it has a lot in it.
07-12-12
Great
Very nice to use when we grill a lot of vegtables. Easier than skewering them.
07-11-12
disappointed
I was excited to received this barabecue basket and I used it right away, however the handle is not secure and the lid was not easy to release. I am returning it.
06-25-12
Love it!
So glad I purchased two of these, one I gave as a Silver Anniversary gift and boy they loved it to! GREAT over the fit pit to grill veggies, the handle is nice and long so it's easy to pick up and toss the veggies and just lay it back down on the fire pit. We love it for camping. Also, the removable handle makes it very, very easy to store.
06-05-12
12" BBQ Basket
Basket is much to heavy and has uneven balance when vegies are in the basket. It is much to large to be comfortable when the handle is installed and seems to want to teeter. Difficult to clean, sprayed with spray oil, helped a bit however still a career to clean. The handle could be a larger diameter and the secure lock could slide further into the basket receiver.
05-30-12
not very easy to use as it seem
I returned my basket after trying it only once. One they should really mention that this basket is best for large grills second the handle on our basket was not easy to take off or put on. We were very disappointed becasue I had prepared all my BBQ food based on this basket and then after 10 min. into grilling kabobs in this basket I saw my husband getting frustrated with the handle. We ended up using just the grill pan which was great.
05-29-12
Nice idea, but...
Like the idea but a with the top, this is too heavy for me to handle. The basket (with top) was too big/awkward to close the lid. Come up with a lighter, smaller basket and it might work for some of us.
05-16-12
AWESOME FIND!!!
I bought two of these: one for home and one for our camper!! We used it with asparagus on the grill the other night and it gave the asparagus an amazing flavor. We just put some salt and pepper and a little olive oil on the asparagus and the grill did the rest!! Definitely recommend this product!!
05-13-12
Very Disappointing...................
I think the concept of a basket for grilling is a great idea but this basket just didn't make it for me. I wasn't sure how high to set my grill or how long to keep veggies on the grill to insure doneness without burning. It's a pain to keep taking the lid on and off to check if whatever you are grilling is done. And it seems that you are forever shaking that basket to move food around. Cleanup is a nightmare. There are some areas which fit tight up to the basket that you cannot get to in order to clean them. I am not into spending days soaking and scrubbing in order to get somethig clean. After reading some of the reviews I decided not to put the basket into my dishwasher. This item was a great disappointment. Sorry QVC - I love your products but this one...not so much.
05-12-12
great outdoor tool for cooking
spray it with pam and it cleans up great.We have a kettle char coal grill,so you can close lid while cooking.Thanks a for another great outdoor tool,a little heavy,so it's a great gift for dad's
05-11-12