Technique Flame 12" Covered Casserole with Removable Roasting Insert
In Stock
Sold Out
We're sorry. This item is not available at this time.
Pre Order Possible .
Low Stock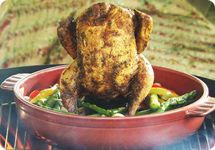 Description
The master multitasker. This do-it-all casserole is designed for use on the stovetop, over a direct flame, in the oven or broiler, and even on the outdoor grill. No matter where you're cooking, you'll come back to this versatile dish again and again.
The innovative lid features self-basting dimples to helps keep foods moist while they're cooking. The glazed surface on both the dish and the lid makes for easy cleaning, and helps prevent scratches.
Love roasted chicken, but not the hassle of a cumbersome rotisserie? The vertical roasting insert lets you make perfect chicken that's crisp on the outside and moist on the inside. Just fill the seasoning well with juice, beer, or wine to infuse chicken with fabulous flavor. The well also catches drained fat for quick cleanup. The carbon steel insert is removable for convenient storage.
From a summer barbecue to a holiday feast, this handy stoneware casserole helps you create memorable dishes--meal after meal after meal. From Technique(R) Cookware.
Like anything you put on the grill, this dish may become discolored. If you plan on using this casserole primarily for the outdoor barbecue, it's recommended that you purchase the Black color choice.
Includes 4-qt casserole dish, lid, and removable carbon steel insert
Stoneware construction
Casserole is refrigerator, freezer, and dishwasher safe
Casserole and lid are gas, electric, convection, and microwave oven safe; oven safe to 500F
Carbon steel insert: not microwave safe; handwashing recommended
Measures approximately 12"Diam x 2-3/4"H without lid; 5-1/2"H with lid
Approximate weights: casserole 3-1/2 lbs; lid 2-1/2 lbs; casserole, lid, and insert 6-3/4 lbs total
Casserole: Lifetime Limited Manufacturer's Warranty; Insert: 1-year Limited Manufacturer's Warranty
Made in Taiwan
Reviews & Community QA
K28534 - Technique Flame 12" Covd Casserole w/Removable Roasting Insert
120
120
Best Purchase Ever
I love this casserole pan. I use it every chance I can. It cleans beautifully without any problems.. I have had it for several months and it still looks brand new.
06-03-11
MORE! MORE! MORE!
I bought more than one of these casseroles. I use them more than a casserole dish, I use them as my everyday pan, my nacho maker and server, for breakfast, for fish, veges., you name it and I've used it. I really like this pan alot. It 's a bit too big to fit in my dishwasher, but it cleans very easy. And that is why i want more, more, more shapes and sizes- litke for brownies, lasagna, broiler pan, and the usual 1,2,3 qt pots. I want to use it as my everyday cook and bakeware. Please QVC briing more.
06-02-11
Wonderful Casserole
I love this pan. I bought it to use in the oven and on the bbq. The pan and the removable roasting insert are both nonstick. I did spray both pieces and the clean up was a breeze. I made the Summer Ale Chicken and it was done in 75 minutes and was moist and tender. I made my normal meat loat receipe and the meat was tender and moist and the potatoes were perfect at 375 degrees. The third receipe I made were bone-in chicken breast and roasted potatoes that were cooked at 350 degrees and took about 70 min. I browned the chicken first on top of the stove. I have an electric range with burners and it cooked in a few minutes. I would be careful using this on top of a glasstop cook surface as it is not smooth on the bottom. A wonderful pan.
04-18-11
Great Casserole Dish!
I agree with the others - this is a terrific multi-purpose dish. So far, I made roast beef (without the insert, obviously) and a beer-can chicken (with the removable insert). The chicken was crispy on the outside, falling off the bone on the inside. There's nothing like low and slow stoneware cooking to make melt-in-your mouth roast beef out of a pretty cheap cut of meat. I do have another pan with a chicken-roaster insert but that is going to charity; it's not bad, but this one is so much better. The cleanup is super simple. Thanks to the reviews below, I sprayed the insert with cooking spray before I used it, and the pan itself is pretty much nonstick. You just can't beat stoneware for meat dishes and baking, and what a great price!
04-06-11
New Best Friend
I wanted this so badly for the grill, but was intrigued by it's ability to be used on the stove top. I love all the properties of ceramic (temp-tations addict I am), but have never used a ceramic piece on the cook top. There is a bit of a learning curve. It retains the heat very, very well, so cooking at a temp even lower than normal was my first lesson. By my fourth try we were friends, and bonded to the best friend level on the 6th. The best at browning, never seen anything like how evenly it browns. I was concerned because the bottom center has a slight lip ring as does the edge. I thought this would create cold spots and uneven heating on a ceramic cook top, but it has not. Love it on the grill, have used it for side dishes as well as roasting a chicken. And also in the oven for the same reason. But I really, really enjoy our time on the stove, and so does my family! Take the time to learn it's heating point, the amount of oil needed for certain browning and the retention of it's heat and you'll have a winner every time.
04-03-11
Great for Roasting
This is a great roasting pan for whole chickens. I have used it so much that the non stick is starting to wear away AND with that said, that is my only issue. Another material need to be used for the insert. Besides that, I have used the insert in my long roasting pan, roasting 2 chickens, setting the bottom portion with one chicken and using the inserted tube to hold up the other. It took a little tweeking to make the chicken sit up but it cooked as well....skin so cripsy brown and crunchy!, meat so juicy just thinking about it makes my mouth water! I've used the casserole portion to make mac and cheese, I've baked a cake, cornbread and fish. Love the versitility but STILL can only give 3 stars because of the insert. Fix that and you will have a winner!
03-09-11
Great on my Big Green Egg
We have the Big Green Egg grill, which is round, and we used this to cook chicken in it last night and it was amazing! I used half a beer in the roasting insert, washed chicken inside and out, pat it dry with paper towel, trimed off excess skin, and plopped in on the chimney (wings up). For seasoning I used a home-made olive oil infused with chili peppers and garlic, which I poured a little in my hand and rubbed the bird down all over. Then I coated it lightly with curry powder. Prep time took about 10 minutes and it took about an hour to cook on 350 degrees. The skin was crunchy (not greasy) and the meat was juicy and fell away from the bone. It was, by far, the best chicken I've cooked. I am looking forward to trying this with other dishes. The cleanup of the roasting insert was a snap. I had to soak the base. Next time I will spray that down with some non-stick spray before I put the instert down and see if that makes a difference.
03-04-11
Great but careful with stoves
Love for roasting chicken in the oven. Best juicy chicken.! Not the best experience cooking a spanish omelette on the stove since it broke in two pieces. I got a new one but no more stove cooking, I am afraid it can happen again.
02-23-11
WOW
The is the BEST EVER! I bought it because of the roasting insert and because I thought it would be perfect for those Box/frozen Meals that you cook on the stove top. Perfect. But for me there's an added bonus....the lid fits my 50yr old cast iron skillet. The Free Shipping just another reason to get this one!
02-19-11
Great value!
I bought this because I could use this on top of the stove, as well as the oven. It is great when preparing one dish meals that require browning or sauteing before finishing in the oven. It cleans up easily and produces a good fond for sauces, etc. I have not used the vertical insert, but will give it a try down the road. I really like these Flame products because of their versatility and easy clean- up. I am careful to use a medium heat when browning foods, rather than high and that is the only change I have made from using a metal pan. Sorry to see this on clearance.
02-11-11
Great Pan
I recently received this pan several weeks ago and just couldn't wait to use it. So far I've roasted a chicken in it, made a pot roast, and even used it to make nachos for the big game yesterday. Everything cooks up great in it, and clean up is a breeze!
02-07-11
Love This!
I've been looking for a large casserole that we can put on the grill. I purchased 2 of these and made the mandarin orange chicken recipe that was included. Yum! Keeps fruit salad cold and covered too. This is a steal on clearance.
02-01-11