Tacori IV Diamonique Epiphany Bloom Cut 3 Stone Ring
In Stock
Sold Out
We're sorry. This item is not available at this time.
Pre Order Possible .
Low Stock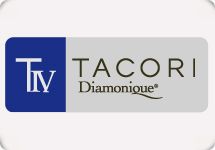 About Tacori IV – Diamonique® Jewelry
Get that unmistakably designer look and experience the "Tacori touch" — intricate engraving, elaborate details, and unique stone cuts. Created especially for QVC, Tacori IV – Diamonique® jewelry features Epiphany® Platinum Clad® sterling and 14K gold-clad settings.
Description
It's glow time. A 1.00 carat, bloom-cut Diamonique(R) simulated diamond sprouts from the center of this ring. Two 25-point, bloom-cut stones surround the centerpiece to create a trifecta of twinkle. The Tacori touch--a signature engraved vine design with milgrain accents adds an intricate accent. From Tacori IV--Diamonique Jewelry.
The Epiphany Collection uses Platinum Clad sterling silver to create a big bold look at a fraction of the price of platinum.
Brightly polished platinum plated over sterling silver
Total Diamonique simulated diamond weight is approximately 1.60 carats
Small, round, bead-set Diamonique stones in gallery
Sizes 4, 5, 6, 7, 8, 9, 10; due to the special nature of the plating process, QVC does not recommend resizing by a jeweler
Measures approximately 1/4"L x 3/4"W
Made in China
Reviews & Community QA
Tacori IV Diamonique Epiphany Bloom Cut 3 Stone Ring
340
340
Realistic & perfect
I had been wanting a Tacori ring for a long time and decided to give this one a try since it was on sale and actually came in a size 4 like I need. Not a single regret, aside from taking too long to discover Tacori. The stones are a nice size and are not too large, while still being extra sparkly due to the round bloom cut. Both the realistic size of the stones and the gorgeous band won me over on this ring when I normally prefer other stone cuts. The band is rather thick to keep the ring from sliding around your finger and the Tacori design on the band is so feminine in making the ring extra unique and special. The profile of the stones is higher than I would normally like, although the design and the tiny stones that are added to the profile only make this ring look more appealing. This is just such a beautiful ring and a work of art. I'll be sad to see it disappear from this site when it sells out. Please make more rings in a size 4 and with more 1 carat sized stones. Thank you!
08-04-13
For REAL!!!
I LOVE, LOVE, THIS RING! I've worn it for several months now, and it still looks as beautiful as it did the first day I received it! I lost a lot of weight and I wanted a ring to wear while my original ring was being re-sized. However, I love this one more!! My husband said, "If it makes you happy, wear it!". Great man!
04-25-13
Beautiful, shiny, perfect...
My husand bought this ring as an engagement ring until we could afford a real one. I am SHOCKED! It is gorgeous, sparkly, shiny and perfect. It looks real and I have received so many compliments on this. It is more than worth the $50 that we paid for it. I would recommend this to any girl that wants a ring that looks real. The size of the diamonds make it even more realistic. 5 stars for sure!!
12-31-12
Engagement Ring
My husband bought this ring as our engagement ring i have to say it fits great so far has not lost it shine and i get compliments on it all the time. i would recommend this ring to anyone.
12-31-12
SO PRETTY AND ELEGANT!!!!
I've purchased many diamonique rings and to be honest, I've sent every one of them back except two! This one is a keeper!!! It's so comfy and believable!!!! I love the engraving as well as the setting! I hate Un- comfy rings- and this one is awesome!!!! The bloom cut is amazingly special! The size four is true to size!! Just a happy girl for Xmas!!!! :)
12-19-12
please bring back
please please please bring this back in all sizes...mine got to big to wear and i gave it to a friends daughter,,,,,she loves it ,,,I miss it,,,,I had ring for over two years and wore everyday and still looked wonderful...I want one again,,,so please bring this beautiful ring back,,,,,thankyou
12-09-12
Looks Like Costume Jewelry
This was my first purchase of a Tacori ring. The ring just didn't look real at all. I wore it to work and not one person noticed it.It was too bright and reminded me of the prom costume jewelry you wore in high school.
11-03-12
Had this ring for over 2 years...AMAZING!!
I have owned this ring for over two years now. I wear it daily, do no special cleaning and it STILL shines! Has held up incredibly! I have had other pieces (will not mention names), platinum clad and within a few months they are unwearable! They begin to change color, or the finish starts to scratch or peel, not to mention some of the stones turn cloudy. Not this ring!! It still shines like the day I receieved it, stones as well as the platinum finish. I also still receive many compliments on this ring, just as I did when I first received it. Now, I'm just deciding on which Tacori ring next! Wish I could post photos. Looking forward to reviewing my next Tacori piece, and I'm sure I'll love it just as much!! This is not only a beautiful, believable ring....but it is a solid piece! Has to be to withstand my daily life. Hope this helps someone on the fence about getting this ring, especially now with the lower price, it's a steal ladies!!
10-24-12
Nice ring, not a bloom cut fan
This is a lovely ring, it is certainly well made, it is solid and it has a nice weight to it and the engraving on the band is incredible. It is so comfortable to wear, feels great to slip it on. But I have to say, I am not a fan of bloom cut stones, they are very sparkly, but very unrealistic, I feel like they cheapen the look of the whole ring, it's not too bad with the two smaller stones, but the center stone looks very, very fake. I am not crazy about the center stone's prongs either. The setting in nice, it sits nice and low so it will not be in the way. The accents on the gallery are lovely. It is a nice, unique high quality ring, but if you want people to think they are diamonds it will not do. I'd love to have the stones replaced with a nicer, high quality CZ, then this would be a perfect ring.
10-19-12
Exquisite
Beautiful! I am so in love with this ring, as much as I am in with Tacori jewelry! It has a nice weighted feel to it which does feel heavy like platinum as well as sturdy. The engraving details give it the signature Tacori feel and elegance, as well as hide any scratches that may occurs over time. I wear it all day, taking it off only to shower and clean it, then it goes right back on my right ring finger! I was so happy this was available in a size 4 since I have small fingers and most the rings I tend to like on qvc aren't available in 4's. The bloom cut stones sparkle wonderfully and I am in love with the 100 facets which make the sparkle last longer even if it gets a bit dull with dirt or oils. This particular bloom cut however, I noticed does get a little cloudy/dull after a few days wear so to make sure it's as sparkly as my real 1 carat diamond all the time I simply clean all my jewelry daily after showering and put all my clean jewelry right back on! If you are a size 4 don't miss out on this ring.
09-16-12
Love This Ring
I wear this ring every day and don't take it off. After more then 6 months wear and tear this baby is still sparkling and looking great. The stones are believable size.
09-02-12
REALLY WANTED TO KEEP!
Loved this ring when I got, but really needed a size 5 but was hoping the size 4 would fit...unfortunately it did not, was too tight and REALLY wanted to keep it but I had to send it back. The stones and setting was very well done and the band was very elegant.
08-29-12