T.I.P.S. 5-piece Nail Conditioning Kit
In Stock
Sold Out
We're sorry. This item is not available at this time.
Pre Order Possible .
Low Stock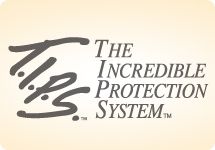 Click on the links below to learn more.
Description
Hide your hands no longer. This five-piece kit contains conditioning nail strengthener, which helps to nourish and fortify nails with its rich lipid formula. Designed to penetrate the nail, it aids in replenishing dry, cracked, peeling, or brittle nails and cuticles. From Tips.
Includes:
Two 0.17 oz bottles conditioning nail strengthener
One contour nail file
One nylon nail grooming brush
One spatula
Instructions
Nail conditioner made in Canada; File/spatula made in Korea; Brush made in China
Reviews & Community QA
A65218 - T.I.P.S. 5-piece Nail Conditioning Kit
502
502
Love My Nails
I received this kit and began using immediately. Wow in two weeks I had tips at the end of my nails. I was a nail biter so for me this is great progress. I would recommend this product because it really does work.
08-23-12
not for active people
Save your money! I am a nurse who also works in my husbands restaurant..... hence in water a lot! I have seen no improvement with this product. Maybe if you are able to apply this oily substance multiple times a day... but for those who work, not a workable product.
07-10-12
Love, Love, Love This Product!
I used artificial nails for years because I could never get my natural nails to grow. Having surgery forced me to remove the artificial nails. When I saw this product on the air, I decided to try it and I am so glad I did! My natural nails are getting stronger and stronger and my cuticles are no longer dry. I am not going to be a slave to artificial nails anymore!
06-21-12
The Only Product That Ever Worked for Me!
I would give TIPS 100 stars if I could! I've been using TIPS for about 2 months now, and I have long, lovely fingernails and perfect cuticles for the first time in my life. I was an inveterate nail biter with paper thin, flaky nails that I could never get to grow out. If they grew out a little, they would flake and break off, then I would start biting them again. They looked horrible. I tried everything, even the bitter tasting stuff. Nothing worked. I had acrylic nails, but they totally ruined my nail bed. Then I saw TIPS on QVC one day and decided to give it a try. I am so glad I did. Within a week, I saw nail growth, and the nail was strong (but flexible). I applied TIPS two to three times daily just as directed (know that TIPS has no smell; I even apply it while I'm at work in a cubicle). Now my nails look great, my cuticles look as if I just got a manicure (without the discomfort), and I have done nothing to them except apply TIPS. I am proud to show off my QVC jewelry, including rings! This is a wonderful product that worked miracles for me.
05-30-12
Super Easy and REALLY works!
I've been using this for awhile and just wanted everyone to know that this really is all you need for healthy beautiful and strong nails! It couldn't be any simpler to use either. You literally just brush it on every morning and that's it! Very important to know though that you should apply it first thing before washing your hands and also NOT to massage the oil into your cuticle which is what you assume you should do. By massaging it, you overstimulte the cuticle and they don't recede back as intended by this product. I saw instant results in just a few days. I'm on auto delivery so I'm never without it! If used properly, this stuff works!
05-08-12
Happy Nails!
I am so happy with this product. I ordered T.I.P.S. in early February, and faithfully followed the directions. Before I started using this product, my nails were splitting, peeling and breaking -- my cuticles and nails were dry. I did keep my nails short while applying T.I.P.S. for the first few weeks. I now have pretty nails. Also, the nail file that comes with the kit is a must have! The file is gentle on the nails which makes a difference also.
04-11-12
Great product!
This is the second time I have ordered this product. I bit my nails for decades and this was the thing that got my nails to something I could be proud of. I ran out and went several months and unfortuantely starting biting my nails again and what a mess. I ordered this and received them a week ago, started using it and already I can see them growing. I plan to always have this on hand now. My husband uses it too and he agrees! I also ordered the one for toes as I have been treating a toe fungus for a year now and hope this helps. Time will tell on the toe product!
03-26-12
I CAN TELL A REAL DIFFERENCE!
Purchased this kit about a month ago, and have used the nail oil regularly per the instructions. I followed the instructions carefully before I began using this product. My biggest complaint was the condition of my cuticles - they were dry and cracking from the winter heat and dryness. One of my fingers hurt from the cuticle being cracked open over a week! One month later and no more cracked open and painful cuticles! The overall health of my hands and nails has improved, and my hands look and feel better! I can really tell a difference. I admit that I have not used the file or brush much. I will definitely re-order the nail oil, probably in the TOE size... After one month of regular use, my little bottle is half full. This product works for me! Thanks Tips and QVC for this problem solver.
03-18-12
best file ever
I found out less is best. I have tried every nail product out there & this is the best! Being a nurse, I am constantly washing my hands with all types of alcohol base cleansers , water, ect.. wearing gloves. All those things had my hands /nails a wreck. I stopped all products, but this 1, with the great file & now my nails are beautiful. No other file ever touches my nails. I don't even get manicures anymore. My nails look healthy & i get compliments all the time. Don't hesitate, buy this & you will be happy with the results. I AM!
02-08-12
Nail Rx
My nails were a mess after removing the artifical nails. Most of my nail's layers were attached to the artificial nails as they went into the trash. I have used T.I.P.S. for two weeks, following the directions. I cannot believe the difference in my nails already. I will always purchase this instead of the quick, destructive route of getting artificial nails. In the long run it is less expensive. Also, you do not have to worry about a fill-in.
01-30-12
Needs to be Used Consistently
This products seems to work well, with a bit of patience and consistent usage. It is definitely moisturizing to the nail and cuticle, which is especially nice in winter when skin and nails are so dry. The nail file took awhile to figure out, but I really like it now. I also like the nail brush as it is easier to get underneath the nail than a bulky nail brush. I didn't have any issues with the product scent either. When I made a conscious effort to use daily, I did see some results in nail growth and my cuticles stopped peeling/tearing. For me, the most challenging part of using this product on a daily basis, is that hands need to have been dry for at least an hour before applying. It sounds easy enough to do, however, I wear contact lenses, have 2 doggies (which require care and "walks"), work at my computer or blackberry (before and after work & do not want oils on my fingers while using). I probably wash my hands between 15-20x per day. Those who do use this product every day, probably get even better results.
01-21-12
T.I.P.S the GREATEST
This is the best product I have ever used to help restore my damaged nails. I wore acrylic for 10 years and after that came off had ridges that had never had before. I now have chronic anemia which affects my nails and makes them split worse than ends of your hairs especially since ridges from acrylics. The T.I.P.S. have given me back nails that are almost like brand new. It has to be kept up but you can skip somewhat if you are basically regular with. Try it it can take a little longer but nails become rocks hard and the file is the best!!
09-30-11