T3 Featherweight 2 High Performance Hair Dryer
In Stock
Sold Out
We're sorry. This item is not available at this time.
Pre Order Possible .
Low Stock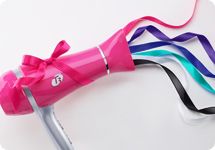 Make Every Day a Beautiful Hair Day
Description
What is it: Scientifically-enhanced for lightning-fast drying and styling, the Featherweight 2 Dryer features T3 Tourmaline and advanced SoftAire technology. A T3 Paddle Brush and luxe Microfiber Towel are included--all together, it's the ultimate set for super-speedy hair drying.
Who is it for: Anyone who wants to save time drying hair.
Why is it different: The T3 Tourmaline infusion process emits negative ions and infrared heat for faster drying. T3 SoftAire technology delivers a large, even cone of heat that accelerates the drying process. The dryer weaves a larger volume of air through the dryer, resulting in a 58% faster drying time than a leading dryer.
In a clinical study comparing it to a leading dryer, the Featherweight 2 showed a:
34% Improvement in Body
46% Improvement in Shine
45% Improvement in Comb-ability
45% Improvement in Style Retention
11% Improvement in Frizz
32% Improvement in Luster compared to air drying
How do I use it: To wick excess water away from hair before drying, wrap wet hair in the luxurious Microfiber Towel for several minutes.
When you are ready to blow-dry, start on the highest speed and select your desired heat setting. If you aren't sure which heat setting to use for your hair type, start with Medium. High should be used by experienced users only or for thick, coarse hair types--just be sure to keep the dryer moving. Fine or thin hair types should always use the Low heat setting. If you are styling bangs it may be easier to use the Low speed setting.
Rough-dry hair using fingers until it is 80% dry, lifting up at the roots for extra volume. Then, blow-dry hair in 3" sections using the Paddle Brush for a smooth, sleek, shiny finish. When hair is fully dry, press and hold the Cool Shot button and blow cool air over the top of the head with the dryer nozzle pointed downward to help lock style in place.
From T3.
Includes T3 Featherweight 2 Hair Dryer with concentrator nozzle, paddle brush, and microfiber towel
T3 Tourmaline Technology: this infusion process emits negative ions and infrared heat for faster drying
T3 SoftAire Technology: delivers a large, even cone of heat that accelerates the drying process
Two Speeds/Three Heat Settings: provides styling versatility for all hair types
Cool Shot Function: provides a burst of cool air designed to help lock in style for a smoother, sleeker finish
Concentrator Nozzle: directs airflow for faster, more precise drying
Ergonomically Designed Handle: angled for a more comfortable drying experience
1800-watt maximum heater power consumption
Measures 8-1/2"L x 3-1/2"W x 11"H with 9'L cord
ETL listed; 2-year Limited Manufacturer's Warranty
Imported
Reviews & Community QA
T3 Featherweight 2 High Performance Hair Dryer
181
181
Best Drier for the Money
Works like a dream, and looks like a million $. GET this dryer!
04-22-14
Beautiful and powerful !
I was skeptical on buying this product. I've been looking for a T3 for a very long time, but I was always worried about paying the steep price. The Easy Pay worked out great ! The product itself is beautiful to say the least. Deep dark navy with that nice touch of Key Lime Green. My hair gets dried instantly! Thank you for making this product on Easy Pay and with color options :D
04-17-14
Disappointing
I would advise people to avoid this brand altogether. I received my T3 as a gift, and I'm glad I didn't spend my money on it. I used it for roughly a year. As time went on it started sounding louder and abnormal. Then one day there was a loud pop and a flash of light from inside the dryer, and it was dead. Even when it worked I didn't find that it lived up to any of the claims. It took longer to dry my fine, rather thin hair because it just didn't get hot enough or have enough power. And I did not find that my hair looked or behaved any better. Total fail.
04-06-14
Lighteniing Fast Drying Times!!
I have thin hair so my dry times are not as lengthy as those with a thicker head of hair. This dry drys my hair in less than 2 minutes. I noticed the difference immediately. Couldn't believe it but it does dry my hair very quickly.
04-06-14
Great Dryer
I got this Dryer about 4 days ago and just got the chance to use it. I do love the color and the fact that it is light weight (compared to MANY others that are very heavy). But sad to say I am still on the fence about this product. I agree it does dry my hair extra fast I have long hair and it dried it in about 10 minutes honestly of course it does not look close to the models on the TV. But that goes without saying it is just a dry job. But I am just still trying to figure out a way to justify the price. I mean I feel like I can spend half the price if not less and get the same result. But I still have time to think about it. I just have a price issue. I love the easy pay but still on the high end. It dries fast and is a very elegant looking dryer for however elegant a dryer can become. I will look around and see if I can find a better dryer if not then I will keep it because it is a good dryer just expensive. The fact that I use my WEN helps :-)
03-31-14
Great hair dryer!
I have short hair...but it's extremely thick....but it was no match for this dryer. I had my hair dry in about 5 minutes. Love it!
03-29-14
Love it
When I first started using the T3 I thought oh no this is just another dryer. Well after using it for several months I can honestly say it's the best dryer I have ever had. My hair was in bad shape I have always used quality products for my hair but it always seemed like my hair was too dry and dull. I think what has helped is my hair now "takes" the products I use and doesn't just sit on top.
03-28-14
THE BEST BLOW DRYER
This is now my 2nd one I have purchased. I had to get another one as my daughter kept taking mine. My hair is not getting split ends and looks good. It also takes half the amount of time to dry my hair. Will NEVER buy any other brand again. Thanks QVC!
03-28-14
Don't Waste Your Money
If you want to waste money go ahead and buy this product. I had mine less than 2 years when it started acting up. My husband took it apart when it started making excess noise. He told me the fan design was poor and was beginning to come apart. I should have bought a backup but at this price was trying to get as much use as possible. It finally bit the dust today, so now I will have to buy another blow dryer. NEVER again will I buy this brand. If you don't want to waste your money you won't purchase this either. I would not have even given 1 star but had to to post this review!
03-25-14
Not Worth The Money!
Does not work any faster than my $39 conair hair dryer. Not as hot,not as fast.with all the hype as to how great this is and the price one would think it would really work as it was said it does. Do not waste your money. Sent this back. Big disappointment!
03-23-14
Truly nothing special
I remember being so exciting about receiving this...I was expecting miracles! Truly, this hairdryer in nothing special. It's weighty, cumbersome, and most of all, DOES NOT DRY MY VERY FINE HAIR ANY FASTER THAN A DRUGSTORE BRAND! The only recommendation I can make is that my hair does seem much smoother when using this product. That is welcome. One reviewer said her diffusing nozzle would not stay on...I had the opposite problem. I thought that I would never get mine off it was so snug. After struggling several times, I was able to remove it. All this being said, it's pretty in pink but absolutely not worth the price.
03-22-14
Great If It Doesn't Break
I'm on my 4th one in 2 years. They break so quickly. Love it when it's actually working.
03-22-14