T-Mobile Nokia Lumia 521 Windows 8 No Contract Phone & Accs.
In Stock
Sold Out
We're sorry. This item is not available at this time.
Pre Order Possible .
Low Stock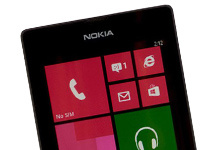 More About This Windows Phone
Description
Get personal. With a customizable start screen, the Lumia 521 smartphone makes it easy to put the features you need right at your fingertips.
What makes the Lumia 521 special? Running on the Windows Phone 8 operating system, this phone makes it easy to personalize your mobile experience. Thanks to Live Tiles, you can pin your preferred apps, people, and websites to the start screen, then watch them update live on the 4" diagonal touchscreen display.
What can it do for me? It helps you connect with friends and even tackle work on the go! Want to access Word documents or Excel spreadsheets from your computer? Just sync them to SkyDrive, and Office Hub will allow you to work on these files on your Lumia 521!
Does it have a camera? It features a 5 megapixel camera with the ability to record 720p HD video, so you can take photos or capture clips of can't-miss moments. From Nokia.
What service plan do I need? This phone requires the purchase of a T-Mobile no-contract plan (plan not included with phone purchase). You'll select from one of three plans--all of which feature unlimited talk and text--and skip the hassle of a long-term contract.
Along with the Lumia 521, you'll receive a car charger, screen protector, and other accessories to help you make the most your device.
What's in the box? Lumia 521 smartphone, rechargeable lithium-ion battery, AC adapter, DC car charger, USB cable, and setup assistance flyer.
Additional phone (shown) not included.
Wireless capability may require a network connection, additional accessories, and/or a service connection fee.
Access to and use of the Internet may require payment of a separate fee to an Internet Service Provider.
Use of Bluetooth technology may require Bluetooth software and compatible accessories.
Please consult the manufacturer's documentation regarding the safe and proper use, handling, storage, charging, and disposal of products containing lithium-ion batteries.
Includes Lumia 521 smartphone, rechargeable lithium-ion battery, AC adapter, DC car charger, USB cable, and setup assistance flyer
For use with select T-Mobile no-contract plans, not included
Windows Phone 8 OS
1GHz dual-core processor
8GB internal memory
4" diagonal touchscreen display
Wi-Fi
Web browser
Bluetooth wireless technology
Messaging
5 megapixel camera
720p HD camcorder
Multimedia functions
GPS with Nokia Drive
Speakerphone
Device management
Encryption and security
Pin-tastic Start Screen; Intuitive Live Tiles; Windows People Hub; Rooms; Kid's Corner; SkyDrive; Office Hub, Nokia Drive; Nokia Maps, Music, and Imaging
UBS port
Headphone jack
Measures approximately 2-1/2"L x 1/2"W x 4-7/8"H; weighs approximately 4.48 oz
UL listed AC adapter; 1-year Limited Manufacturer's Warranty
Made in China
Reviews & Community QA
T-Mobile Nokia Lumia 521 Windows 8 No Contract Phone & Accs.
46
46
worst phone ever!
I got this phone because of the price but I regret getting it. It shuts off for now reason and its not that many apps. But there is some features I liked about it but for the most part I would recommend getting it. If you like up to date gadgets' then this phone is not for you. They have their own apps in all and mobile service its all that good to.
08-21-14
Half the Ap's didn't work
I was excited to get this phone but it turned out to be a disappointment. It's not an Android and it's very limited on what applications you can download. Half of the applications that were on it didn't work. TMobile customer service people were not the best either. I do have to say if you just want it for phone use it's very clear reception, the text messaging is great. Needless to say I returned it.
03-20-14
Great Inexpensive Smart Phone
This is a wonderful phone. I bought this one for my brother who lost his job and needed a way to stay in touch with family and friends. For $50 service fee a month, he gets unlimited everything through TMobile. He can surf the web, send me pics of his children and family, its just a great inexpensive phone to stay in touch with loved ones when you are on a budget.
03-07-14
BEST PHONE EVER
I GOT MY NOKIA 521 WINDOWS PHONE AND I LOVE IT!! IT WORKS GREAT!! T-MOBILE HAS EXCELLENT SERVICE!!
03-02-14
Love This Phone!!!
The phone is easy to use, has an fantastic camera and is just an overall great phone!!
02-24-14
worst purchase I ever made on qvc.
ordered this phone for a friend in Jamaica. received phone checked it , everything looked good. send phone to Jamaica, PHONE WAS NOT UNLOCKED AS STATED . I was told by t moble that phone would work in Jamaica " NOT !!!!!!!!!!!!!!!!!!!!!!!" there is no minus for me to rate this phone or I would give it a -100. WARNING DO NOT PURCHASE THIS PRODUCT .
02-21-14
Windows phone
Well I got it for the hubs coming from iPhone it just didn't work out the app store charges for a lot of apps that are free on droid and apple and the lingo is different so you have to be willing to learn it so we went with three galaxy light phones they are great and no contract awesome and you can put them on the no contract family plan
02-01-14
Worst Phone Ever
Great battery life but it shuts off by itself almost every day. Wi-Fi and cellular data seem to fail at times and it has horrible connection. The app store is quite bare and most of the apps that are available don't work.
01-28-14
Really Bad
the phone doesnt keep time or date right. it doesnt read the sims card at all i am always getting a error message about the sims card and the phone shuts off all the time when i go to press something on the phone.
01-27-14
WP43
I love my phone. I had another carrier and it was a flip up phone. We could never get calls properly. Our calls would get disconnected with the other carrier. My spouse and I decided it was time for an upgrade. Initially, I was a little concerned about a windows phone but the Nokia is easy to use and has great features. Best of all, I like the fact that its no contract. I would definitely recommend this phone to anyone.
01-27-14
nice phone
I really like the phone and service. the phone has every thing on it.
01-26-14
Better than expected
I got this phone for my granddaughter - She's 11, going on 12, so she doesn't need FaceBook, etc. She LOVES it. We've had no issues with connectivity, or signal. Good so far... The only issue we had, was setting it up. The port was an absolute nightmare for us, took 3 weeks and porting the number never happened. I set everything up, waited the first week (called TMobile twice, they kept saying 'wait 48 hrs')..I paid the 1st month, we got the $30 plan, so it was $38 altogether. I still have the confirmation email + a printed receipt showing that number and account credited with the $$. After no service for several days, I contacted them again, gave up on the whole thing and was going to send the phone back. My granddaughter was so disappointed, that I decided to try again, by the 3rd week. I did a whole new account, didn't try the port, and it went right through. BUT I had to pay yet another $38 for another month of service. I never got my money back for the 1st try, and TMobile customer service rep actually told me that there is "no way to go verify that you paid that amount." HUH? I have email and printed receipt. *SuperFacePalm* ANYway, once we got a new number everything is smooth sailing. This is perfect for a kid, teen, or anyone who wants an inexpensive, pretty decent phone :)
01-08-14