Swiss Tech Set of 2 BodyGard XL7 7-in-1 Auto Emergency Tool
In Stock
Sold Out
We're sorry. This item is not available at this time.
Pre Order Possible .
Low Stock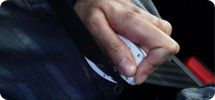 What a difference! The MSRP on this item is $49.98,* but QVC is bringing it to you at the Featured Price of $19.98.
*The MSRP (Manufacturer's Suggested Retail Price) is based upon the supplier's representation of value. No sales may have been made at this price.
Description
Roadside assistant. With seven built-in tools, the BodyGard XL7 can help you get out of a number of sticky situations on the road or in the car. The key ring lets you attach it to your keys so it's always by your side. From Swiss+Tech.
Includes two BodyGardXL7 7-in-1 auto emergency tools
Tools include: glass breaker, seat belt cutter, digital tire pressure gauge, bright white LED flashlight, two-LED emergency red flasher, piercing sonic alarm, and tire depth indicator
Each includes 3 replaceable LR44/AG13 button alkaline batteries
Key ring and instructions are packaged separately
Plastic construction
Each measures approximately 3-1/4"L x 2"H x 3/4"W
Lifetime Limited Manufacturer's Warranty
Made in China
Reviews & Community QA
Swiss Tech Set of 2 BodyGard XL7 7-in-1 Auto Emergency Tool
63
63
hard to use
Honestly, this is so difficult to use. Yes, it does work--after spending lots of time trying to get the can opener part properly on the can and then playing with it a while. QVC should be more careful in the items it sells on its show if they want to keep customers.
04-15-14
Awesome!
I am very happy with this purchase. I gave one to my daughter too. We both feel this tool will be really helpful should we be in harm's way (but we hope we never have to use it)!!!
03-11-14
Best gift ever
I purchased 2 of every color. Gave to my children, niece, nephews, sister-in-law, brother-in-law and husband. A great safety gift for all persons driving a car. ALL FEATURES arw great.
03-07-14
Nice to have....
I bought these....gave 2 of then as gifts and kept 2. I feel so much safer having them in my car. The only thing is the tire gauge is not as easy to get out but I still am glad I have them. You never know when something will happen and you need them.
02-13-14
Excellent product
I gave these as gifts at christmas to my nephews and nieces. They are all new drivers and I wanted them to have something to keep with them in their vehicles when they travel back and forth to their respective colleges.I also purchased them for my son and husband.
01-30-14
Great tool!
I purchased these for all of my family members for Christmas. After they learned how to use all of the functions, they were very happy to have received them! As their mother, I am relieved that they each have one in their automobiles!
01-29-14
Poor Quality
I just received this product and was very excited to have a safety tool for my car. However, when I tried to remove the tire gauge to access the seat belt cutter it was almost impossible to remove. Even my husband had a hard time pulling out the tire gauge and then cheap plastic unit bent and cracked. On the video it shows that the tire gauge easily pulls out with little to no effort. This is NOT the case. Very disappointed. These are going back!
01-28-14
Great Product!
As a mother of a young driver that like to travel,it give me a little peace of mind to know that he has this Swiss Tech in him glove department. Hopefully he never has to use it but just in case and not only for himself but others in need on the road !! Thank you Swiss for a really smart ideal!
01-26-14
Great gifts for loved ones
Bought two of these for my wife and daughter. It is a useful tool that I hope they never have to use the most important features. I went out and got them a small caliper to hook to their keys when driving so that if there is an accident that the tool is on the keys and not scattered somewhere in the vehicle from the impact. It would be smart to include one.
01-04-14
nifty little gadget
Does what it says.just need to know if you use the auto glass breaker u will have to buy a new gadget. And not for breaking any glass. Just tempered auto glass
12-29-13
No more than JUNK
I ordered 2 sets for Christmas Gifts...they weren't worth the effort of sending them out. I can't believe QVC put such a poorly made products on their list of items.Each one had something wrong with it in addition to it being junk. I'm grateful I have QVC to return it to. This is the type of merchandise you would buy from a street vendor...and the next day they are gone and you are stuck with a lemon! If your thinking of getting this don't.
12-24-13
not user friendly nor usable
We activated one to work it. The flashlight is good - but if one needed an alarm - you might not be able to activate nor would it be heard - it does seem loud but not if you are in an accident. It is too heavy for a key chain. I have bought other gadgets from QVC that have better features. I packed up all of them - yes I bought six for stocking stuffers and sent them all back. Sorry not this time.
12-24-13