Stanley FatMax Professional 1000 Peak Amp Power Station w 500W Inverter
In Stock
Sold Out
We're sorry. This item is not available at this time.
Pre Order Possible .
Low Stock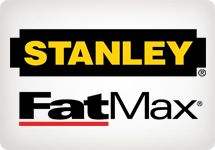 What a difference! The Manufacturer's Suggested Retail Price on this item is $199.99*, but QVC is bringing it to you at the Featured Price of $129.96.
Discover all the ways the FatMax Power Station can help in an emergency.
*The Manufacturer's Suggested Retail Price is based upon the supplier's representation of value. No sales may have been made at this price.
Description
Give the gift of peace of mind this holiday season with the Stanley FatMax Professional Power Station. A jump starter, compressor, and power supply in one, this portable powerhouse is a must-have for anyone at home, on the road, or on the go.
Mother Nature can be fickle, and you never know when an electrical outage will occur. With the Stanley FatMax Professional Power Station, you can plug in not one, but two appliances at once to help keep TVs, laptops, lamps, and more running in the event of a power failure. Take it along on camping trips and tailgates for a source of power wherever you need it, and use the bright LED area light as illumination in the dark.
Talk about roadside assistance. Say your car needs a quick jump--just grab the included jumper cables and attach to your car battery for an instant boost. The 120 PSI Piston Driven Compressor has three separate nozzles and can inflate your tires in a pinch. You can even charge your cell phone with the available USB port or 12V DC power outlet.
And, with its anti-roll design, you can be sure that the FatMax Professional Power Station won't cause a disturbance when driving. You'll even get a bonus extension cord and DC cord for convenient charging from an outlet or from your car.
You never know when an emergency will happen. Be prepared with the Stanley FatMax Professional Power Station. In a world where we're so reliant on our electronic devices and safety is a top-priority, you can't afford to be without it!
From Stanley.
Includes FatMax Professional 1000 Peak Amp Power Station, DC vehicle charging cord, and extension cord
500A instantaneous with a 1000A peak for jump starting with clamps
500W inverter
Two 120V AC outlets
12V DC power outlet
USB charging port
120 psi air compressor with three nozzles
Ultra-bright LED area light
Metal clamps, high-quality copper connectors, and six-gauge cables
Visual and audible reverse polarity alarm
Sturdy rubber grips and bumpers
Approximate measurements: Power Station 16"W x 13-1/4"D x 6"H, weighs 19 lbs; AC cord 20"L; DC cord 24"L; Air hose 21"L
ETL listed; 1-year Limited Manufacturer's Warranty
Made in China
Reviews & Community QA
Stanley FatMax Professional 1000 Peak Amp Power Station w 500W Inverter
54
54
NOT HAPPY WITH THIS PURCHASE
I found the same product, same design, different color different name at Home Depot for 109.99. I purchased 3 from QVC for gifts not to mention shipping costs. I already gave the gifts to my family so I cant return them not to mention shipping costs. This is a great item in the event of an emergency, but not at the QVC price = 1 star Not happy QVC where is the value for the money when I could go to my local Home Depot for the same thing.
12-04-13
GREAT PURCHASE
We have a 2nd home in FL. & the 2002 van we leave there always needs charging & air in tires when we arrive. So glad we got this, charged the van right up & inflated tire that was flat. We charged it for the recommended 2 days & were thrilled we had it. It is heavy but for us it worked like a charm.
12-04-13
Great back-up system
We got this for our daughter who is 18. Because she works late at night and will soon be traveling to Southern Calif. and we thought this would help give us some peace of mind in case of car issues late at night. Secondary use: to listen to music on cell phone when cell battery is very low. Thanks Stanley for a great product.
11-27-13
Returning Defective
After charging the unit we went to use it to fill some bicycle tires and noticed that the plastic housing near the handle had buckled or warped. Don't know if it is just a plastics issue or if the thing overheated? Willing to try a replacement unit.
11-25-13
Such a disappointment!
I had high hopes for this product but sadly it's going back. Charged for 48 hours upon receipt, took it tailgating with us today and after 45 minutes with two crock pots plugged in to it the unit was completely dead. Initially everyone was raving over our new "gadget" but after we had to eat cold chili on a 14 degree day there were no more rave reviews.
11-24-13
Better safe than sorry
I didn't read the reviews until I had the unit for a while. I'm surprised. Its big, it's noisy when you are adding air to a tire but when you need it - you need it badly. I hope I never need it, but as I travel a lot I believe if something happens I'll be ok. Glad I ordered it.
11-24-13
Handy
This is handy to have in the car or in the house. Our power goes out a lot so this will come in handy for recharging the cell phone, have a clock radio and light so you don't feel so isolated as the tornado rips through your neighborhood!
11-23-13
It works great product
I bought this as a tsv and I have to admit I was going to send it back because it was heavy and from reading the negative reviews. I let a friend of mines use my car and he left the lights on all night. I got up the next morning my car would not start, so I grab my fatmax and it work started up IMMEDIATELY! For a product like this it has to have some kind of weight on it. Great product and its a keeper. I am not the type of person that knows anything about cars, but as a woman I didn't want to be stuck anywhere waiting on AAA
11-21-13
A must have
Great...Every vehicle should have this product in its trunk.
11-20-13
Nessesity
Had purchased for Hanukkah but when we went to go somewhere the tire was low on the pickup. Opened up the package and used the Stanley Fatmax. Worked like a charm.
11-16-13
So Disappointed
Ordered this for my 18 yr old son. The gauges didn't work the air pump took 5 minutes to put in 2 pounds of air. The lights are suppose to blink when fully charged. Charged for over 48 hours the recommended amount of time for a full charge no blinking lights.Waste of money back it went.
11-15-13
Too heavy
I purchased two of this product accidentally when I meant to order just one. I thought it was interesting; however, after receiving the shipment I realized the weight of this item. Though I had plan to leave it in my car, it would be extremely difficult for me to put to good use due to the weight. I honestly did not get to test its features.
11-15-13