Stanley 450 amp Total Power Station w/200W Inverter
In Stock
Sold Out
We're sorry. This item is not available at this time.
Pre Order Possible .
Low Stock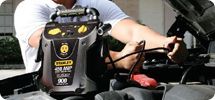 What a difference! The MSRP on this power station is $199.99,* but QVC is bringing it to you at the Featured Price of $123.00.
*The MSRP (Manufacturer's Suggested Retail Price) is based upon the supplier's representation of value. No sales may have been made at this price.
Description
With great power comes great versatility. This power station has the ability to charge electronic devices with its 200-watt inverter, inflate a variety of items with its 120 PSI air compressor, and even restart a vehicle with its 450 amp jump-starter. So much power in one device is more than super, it's essential. From Stanley.
450A instant amp jump-starter
200W inverter
120V AC outlet
12V DC power outlet
USB charging port
120 PSI air compressor
Pivoting LED light
Metal powder-coated clamps
Visual and audible reverse polarity alarm
Measures approximately 11-1/4"W x 8"D x 13-1/2"H
ETL listed; 1-year Limited Manufacturer's Warranty
Imported
Reviews & Community QA
Stanley 450 amp Total Power Station w/200W Inverter
17
17
Stanley 450 amp Total Power Station
I live in SoCal and also up in the Northwest. I don't need it for CA that's what triple A is for but when in the NW and it is freezing, cold, rainy or snowing...this is a lifesaver! You don't need anyone, you can do it yourself and be on your way. My husband keeps one in our small RV. I bought another for me and I am buying a third for my son who is in college in WA.
01-09-15
disappointed
Does not keep charge from day one. Should have returned it.
07-29-14
Does What I Need
I purchased this primarily to fill up my Avalanche tires which always seem to lose air especially in the coldest days of February. I used it once two weeks ago and I needed 4 lbs of pressure to bring the tire up to 32 lbs and it took about ten minutes (SLOW) but it DID get the job done. Worth it to me not having to run around looking for air machines that aren't out of service, then getting change and fussing around in a dress with weirdos looking on. I gave it 4 stars because it's slow. As for the lights showing a full charge, I was like another reviewer thinking you had to have all three lit green but in the instructions it says that it is at full charge when only one is green and the other two are red. Sort of weird but that is what the instructions said and there aren't many instructions either, lol, another reason for the 4 stars. It saved me so far though so I like it!
07-18-14
Won't Fully Charge
I just received this and read all the directions. I plugged it in to charge it (waiting for all 3 lights or at least two of them to come on) and it's been plugged in for 72 plus hours (only suppose to take 48hrs to fully charge) and only one light has lit up. So it is not even 1/2 way charged after 72 hours. I will give it a couple more days but if all 3 lights don't come on then back it goes and what a waste of my time & my money. A bit disappointed in the product and QVC's quality control. :(
06-16-14
Product Okay
Works great when jump starting a car or SUV, but had problems when inflating my tires.
05-24-14
good buy
This was a gift for my hubby and he loves it. He did say it was the best one he has seen.
05-20-14
great product
I have used this to air up tires and jump-start a vehicle. it worked great for both, I am pleased with this purchase.
05-14-14
Worst purchase ever.
This product does not work as described. It doesn't inflate car tires.
04-05-14
Works great
Been useful at my business, powering lights and whatnot when breakers are off, isolating lights o I can work on electrical systems in the dark. Was great when my cellphone lost it's charge and I didn't want to keep the car running to charge it.
03-16-14
It started our Tractor
I purchased this for my husband and father in law. My husband loves it. About three weeks after i gave it to him we had a bad snow/ice storm here in Indiana. It was also sub zero tempatures for about a week. He went out to start his CASE IH and it would not start. He grabbed this not thinking it could start his tractor and it did. He has used it many times. My father in law really seemed to like it also. This would be a great gift for the man in your life. This would make a great Father's Day gift.
02-14-14
Good Product So Far
I have used the air compressor which worked very well. I have had one of these before, but it got stolen so this is a replacement. Very comforting to have in case of car trouble.
02-09-14
Great
I purchased 2 of these, 1 for my Dad for Christmas and one for myself and I absolutely love it and so does my Dad! I already had to use mine as we had gotten really cold weather and I had the flu so my car had not been run and the battery drained and when I went to use my car it wouldn't start. I already had my unit ready to go and fully charged and my Dad helped me so I could learn how to use it properly without hurting my car or myself. Worked like a charm. I am thrilled with his and my Dad is too. Very good to have with you because you just cannot trust people out there in this world, so when you need help, its now in your own car and you can help yourself. Great item will Always have mine with me and so will my Dad. Love IT!!!!
01-30-14