St. Tropez Super-size Self Tan 16.9oz Bronzing Mousse with 2 Mitts
In Stock
Sold Out
We're sorry. This item is not available at this time.
Pre Order Possible .
Low Stock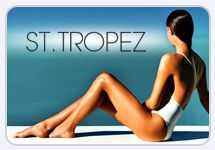 Beach Beautiful
Develop a perfectly golden, natural-looking tan with St. Tropez Bronzing Mousse—just in time for spring!
Description
What is it: A super-sized version of a customer favorite! St. Tropez Bronzing Mousse is a lightweight, easy-to-apply, velvety mousse which helps to deliver that ultra-even, allover tan you've always wanted. Ideal for the face and body, the Self Tan Bronzing Mousse helps provide an even, flawless finish. It also includes two applicator mitts which have a water-resistant barrier to ensure fingers and palms remain unstained as you glide on the Self Tan Bronzing Mousse.
Who is it for: Men and women of any skin tone.
Why is it different: Infused with conditioning aloe vera and long-lasting color, it delivers a perfectly natural looking, streak-free tan that dries in as little as 60 seconds. The innovative Aromaguard fragrance technology eliminates the tell-tale self-tan aroma and instead leaves a beautiful, subtle, refreshing fragrance.
How do I use it: For best results, exfoliate and moisturize dry areas thoroughly before application. Help protect light eyebrows and hairline with a little extra moisturizer. Then, pump the mousse onto the applicator mitt and sweep it from top to toe. A guide color ensures you're well covered as it's only missed areas that can look patchy. Once you've achieved even coverage, wait at least 60 seconds before getting dressed. Then, try not to get wet, or sweat, for at least four hours. Finally, shower off to reveal a perfectly golden, natural looking tan. Rinse applicator mitt thoroughly in warm, soapy water after each use. Dry away from direct heat.
To maintain, re-apply a couple of times a week, nourish daily with moisturizer and smooth with regular exfoliation for ultimate results.
It is recommended that you perform a patch test at least 24 hours prior to use. If there are any adverse reactions, discontinue use. Do not apply to broken, irritated, or sensitive skin, and stop using if your skin becomes irritated.
From St. Tropez.
Includes:
16.9-fl-oz Bronzing Mousse
Two reusable applicator mitts
To clean mitts, rinse thoroughly in warm soapy water after each use; dry away from direct heat
Reviews & Community QA
St. Tropez Super-size Self Tan 16.9oz Bronzing Mousse with 2 Mitts
128
128
Preview Your Review
I'm guessing most of the 5* reviews are by people who never tried self tanning products before. I've been purchasing St. Tropez from Sephora for years and I was super excited when I heard QVC was carrying the bigger bottles for MUCH CHEAPER + 2 mitt! I should've known it was too good to be true but I got fooled by the reviews. I received it and opened it up to check the product and ofrcourse it's GREEN=EXPIRED! No matter how good the product, once the sunless tanner liquid turns green, it's NO GOOD! It applies green and when it developes, there's a green hue to your skin. I'm returning and going back to buying from Sephora for the full price!
10-08-14
Best.Tan.Ever.
I cannot say enough good things about the St. Tropez bronzing mousse. The color is natural and I've gotten many compliments from this self tanner. It doesn't smell weird and I have only found this convenient large size on QVC. Want a refreshed, younger, better version of you? Buy it.
09-22-14
Couldn't achieve the results shown on QVC
It may just be me & my ability as far as applying this product, but it did not do what was portrayed "streak-free" etc. I'm very pale... I can not be in the sun. I was ecstatic to try this product because I desire tan skin. It DID tan my arms beautifully!!! No problem there... The legs, however, did not turn out even at all. :( it was very disapointing. I was diligent in applying & covering every square centimeter of my legs & using ample product. I had areas of darker tones & large areas of a much lighter tone sporadically. That was discouraging. When I wore my sandals, the product came off in a day across my sandal line... So I had a huge white stream across my feet. There WAS an odor... & it was not pleasant to me. I'm not picky by any means- but this just didnt do it for me. Sorry.
08-27-14
Gorgeous tan
I love this tanner so much, it is the best I have ever used. The tan looks so natural, but it did come off on my leather car seat, so beware of this-had to put down a towel. Great, great tanner! I even went & purchased a bottle for a friend since she loved my tan so much. I am very pale & it made my tan look so believable!
08-12-14
THE BEST
I have used many different brands,this is the best.. My skin is very dry,with this product,being a mousse, I am able to add a little lotion... It goes on evenly.. The MIT is a big plus.. THE PRICE IS GREAT.Just follow the directions,easy..☺
07-28-14
Best self tanner
I ordered this long ago from QVC and finally have run out. I tried Fake Bake and watched the streaks run down my arm when I was too close to the sprinkler-this would have never happened with St. Tropez. I have to reorder this product. A true tan that lasts for days!
07-27-14
OLD STOCK
This is old stock. I ordered this twice and both times the mousse was already green; it was still sealed as new. If you self tan you know the product is old when it turns green. They need to just return this product to the manufacturer. Very disappointing.
07-15-14
Best Self-Tanner
This is absolutely the best self-tanner I have ever used. I have tried many! I put it on at night and shower in the morning. The excess rinses off leaving a very natural looking Great Tan!
07-15-14
FANTASTIC PRODUCT
I am a redhead with fair skin and love the tan look i get with St. Tropez. I bought the dark and absolutely love it. St. Tropez made a huge improvement in their mits. They use to have a plastic liner inside that would make your hands feel sweaty and wasn't attached to the mit completely so it made it awkward to use it. Now everything is one piece and it's so much easier to apply the mousse. I do not notice any odor at all, no transfer to my clothes or bed sheets, and have had it on for two days and still have a beautiful tan. I also love that I can now get it in the super size. I'm on auto delivery because I don't want to be without it. Enjoy your tan ladies. It's wonderful ! ! !
07-10-14
A Muddy Mess
After using this self-tanner on my legs and arms, it looks like I've been playing in the mud. The color is a somewhat greenish, muddy brown. There's nothing natural looking about it at all. I'm so relieved that it washes off so easily! I've been using self-tanning towels for ten years and get a much nicer color with absolutely no transfer on clothes, upholstery, etc.
07-07-14
Tried many but this is the ONE
I've been using this for over a year now. It goes on beautifully, a golden brown. I can make this as dark or light as I want. I use it on my legs and arms and store bought tan towels for my face, simply a personal preference. You can put this on your face, its too dark for my face.I don't have the dark one, but you certainly don't need it. It never yellows. I have had my two mitts for over a year. I wash them gently with hand soap after each use and hang them to dry and I just this year had to throw one mitt away. There is no expiration date that I can see and have looked for. You will love this stuff! And it will leave your body soft!
06-27-14
Best tanning product ever!!!!!!!
This foam is amazing! It goes on perfectly, no streaks, no weird scent, the color is perfect and I absolutely loved it! It's fast and easy!
04-25-14