Spanx "Hide & Sleek" Shaping Camisole
In Stock
Sold Out
We're sorry. This item is not available at this time.
Pre Order Possible .
Low Stock
Description
Smooth bumps and bulges in an instant with the help of this Hide & Sleek shaping camisole. Designed to streamline your top half, it's ideal under tops, tanks, shirts, or dresses. From Spanx(R) Hosiery.
S(2-4), M(6-8), L(10-12), XL(14-16), 1X(18W-20W), 2X(22W-24W), 3X(26W-28W)
Small fits bust 35 1/2-37", waist 28" to 30"; 1X fits bust 44-1/2" to 47", waist 36-1/2" to 39-1/2"
Body 79% polyester/21% spandex, exclusive of trim; chest 90% polyester/10% spandex
Machine wash, line dry
Made in Costa Rica
Important Details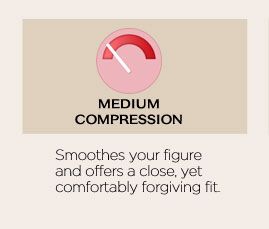 Medium Compression Chart
Spanx® silhouettes are designed with various degrees of compression, each offering the ultimate in comfort and body-shaping support at that level. Medium Compression (subtle smoothing) styles smooth your figure and offer a close, yet comfortably forgiving fit.
Reviews & Community QA
Spanx "Hide & Sleek" Shaping Camisole
488
488
Good product
I love this for 2 reasons... First it's a cami so its easy on and easy off and second it's not too hot. Yes they tend to be warm in the summer time....but its summer. The only negative I have is that the shoulder straps are streatched out already. Maybe its just me but I though I would of gotten more "life" out of it. I can still wear it but the straps are not real tight.
12-06-12
Super Slimming
What a great tank from Spanx! This is really a great fit. Hides all those uneven lines that us Mom's need to hide. Thanks for offering such a great basic tank!
11-03-12
Love it!
This is my favorite Spanx. I just received my second one. I wore my first one when I was 50 pounds heavier. Now I've got one a size smaller. I wear the same size as my top size, size large. I wear it under everything to smooth out the bumps and jiggles. I could go down another size if I really wanted to suck myself in, but I'd rather be comfortable. And that's just what I am...comfortable that I am flexible rather than smooshed, comfortable that I look sleek without having my breath constricted. I wouldn't be without. No other style works as well for me.
11-03-12
Not enough compression for me
This cami is soft and comfortable, but does not provide enough compression to hide my back fat. I am a size 14, 5'4", 160lbs. ,and got the xI. I had hoped to find a garment which would help me hold in my tummy and smooth out those lumpy bra lines. It did neither. Clearly, this item is for a smaller, thinner woman.
10-01-12
Don't bother wasting your money
I put this garment on as instructed (from the bottom up) and it still rolled up. Bad fit--disappointed. It isn't that I tried to stuff myself into a small size. I sized up. There is no way I could have worn a small which is my normal size. It just kept creeping up all day.
09-15-12
My Security Blanket!
I have been wearing these everyday for the past 4 years. If you order the correct size, they will not flatten your boobs or ride up. They easily tuck into your pants and they just keep everything "in" that you may not want to hang out. I'm a teacher, and if I bend over or lean forward, I don't want any possibility of my back or love handles to show, and this nixes any chance of that happening. Spanx - NEVER DISCONTINUE THEM! They are the best, and I will continue to order them. And, of course you can't beat QVC's prices and easy pay offers!
09-15-12
One Year, Going Strong
I've had my first ever Spanx now for a full year come July 2012. I'm waiting for a sale or easy-pay event so that I can buy another. This has become my go-to camisole for almost anything I wear looks best with this beneath it. After a year, it maintains its shape and power.
06-17-12
Very Good Product
This is what I was looking for. Plus it's so lightweight you can hardly feel it. I didn't expect it to take away the damage I've done over the last 60 years. But it does make my clothes fit better.
04-02-12
Flattens my boobs!
This isn't a good top garment if you have a big chest....it squashes my boobs and does little to flatten my rolls. I have to keep it tucked inside my underpants to keep it from riding up, but it doesn't flatten my abdomen. A good concept, but not adequately constructed.
03-19-12
good product
In my experience with this spanx is that you do have to step into it and tuck into your pants. It will flatten you tummy and stay down at the same time. Until i did this it used to ride up on me too.
03-19-12
not what I expected
This garment does not really shape the body. There is not enough compression to hold anything in or flatten anything out. I looked exactly the same with this camisole on as I did before I put it on.
03-19-12
Not good!
I saw no difference at all. Literally! None! I couldn't send it back quick enough!
01-10-12