Spanx "Hide & Sleek" Lace Trim Body Smoothing Camisole
In Stock
Sold Out
We're sorry. This item is not available at this time.
Pre Order Possible .
Low Stock
Description
Dress with confidence. This Hide and Sleek camisole helps create a smoother look over your midriff and tummy. It has pretty lace trim and is great for layering under jackets, sweaters, and tops. From Spanx(R) Hosiery.
S(6-8), M(10-12), L(14-16), XL(14-16), 1X(18W-20W), 2X(22W-24W), 3X(26W-28W)
M length 21", chest 38-1/2"; 1X length 22-1/2", chest 46"
Chest 90% polyester/10% spandex; body 79% polyester/21% spandex, exclusive of trim
Machine wash, line dry
Made in Costa Rica
To see the specific garment measurements for this item, click here.
Important Details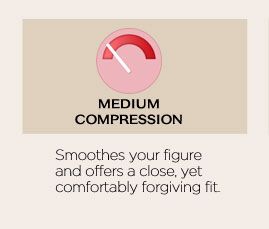 Medium Compression Chart
Spanx® silhouettes are designed with various degrees of compression, each offering the ultimate in comfort and body-shaping support at that level. Medium Compression (subtle smoothing) styles smooth your figure and offer a close, yet comfortably forgiving fit.
Reviews & Community QA
Spanx "Hide & Sleek" Lace Trim Body Smoothing Camisole
221
221
not worth the money or the hype
I have purchased Spanx products in the past and was not happy with, but thought i would give this a try... again, deeply disapointed on how uncomfortable their products are to wear due to the rolling... I have to go now, as my cami is rolled up and i need to unroll.
10-28-11
Needs Adjustments
I purchased this several months ago after having worn the power panties for a few years. It is definitely too short! It also does roll up. If they made it longer that would help tremendously. Having said that if you wear shapewear for your bottom half you can tuck it in and it works great! I also have the hide and sleek cami from spanx and it is longer so works much better.
08-06-11
Great for me!
My mom purchased this for herself, and she experienced some of the same trouble the other reviewers had. I am about 2-3 sizes smaller than her, and she gave it to me to try on. It fits great, and it still shapes me, and I have no 'rolling' problem. In addition to size difference, she is top heavy with very broad shoulders, where as I am narrow in the shoulders, more pear-shaped; maybe this contributes to the difference as well. Anyway, I would have never bought this size, but I am thrilled with this cami, and keeping it. Worth a try to size up, at least for pear shaped women.
12-29-10
Great
This camisole works great for me. I don't have the problem with rolling like others have said. And it holds in my fluff at the top of my pants. Fits well over my bra and is comfortable. I am getting another color!
11-01-10
JUST NOT FOR ME
My problem with this garment is the rolling up at the bottom. Maybe I should have sized up but then it wouldn't help to slenderize. If I wore it tucked in I guess it would have worked, but I didn't want to do that. I give it 2 stars for the pretty lace around the neck.
09-25-10
Rolls UP but don't Roll AWAY
Girls with 1 Star are all correct about this camisole, good idea but it don't work in real life. Bunches up, rolls up too bad it didn't roll off us and back to the designer! Mine went back the same day.
09-24-10
Too Short
My sister sent this to me because it rolled on her and it rolls on me also, I tried to wear it the other day and had a donut under the waist of my pants - HORRIBLE. If I could return it I would.
08-06-10
Flat Chest
This cammie absolutely flattens your chest. The only nice thing about it is it is soft material. I ordered up 2 sizes and still flat. Sending back again.
06-03-10
No for me
This is too short for me and I am 5'5". It rolls up. The stitching around the neck on the back pulled away and left it stringy. Maybe I got a "lemon" but since I did not wear it right away it was too late to return it. Perhaps if this were 4 inches longer as is the Kathleen Kirkwood this would be a better product. I am through purchasing Spanks for any reason!
05-17-10
Not meant for Full Figured Ladies
For those ladies out there that are fuller figured gals. I would not recommend this for you. It kept rolling up / bunching up. Not alot of support.
05-14-10
No More Lumps
I had never worn any of the Spanx products but have friends that pay a lot more for them and love them. I purchased this in fear and trepidation but after wearing it under a tee shirt, I am sold. It just smooths you out. In regards to the reviewers you said it flattens your chest, I suggest you get a larger size. It definately accents what needs to be accentuated and hides the rest. Thank you so much for this product.
05-12-10
DONT BELIEVE THE HYPE...... :0(
Don't beleive the hype.... i purchased this to wear under a knit dress to smooth the tummy. It did smooth the tummy down a tid bit but once you eat or sit down for a long period of time the cami does roll up on you. I keep it since i wore it... i just wear it now as a REGULAR cami.
05-11-10