Sony Google Internet 24" Diag. 1080p LCD HDTV
In Stock
Sold Out
We're sorry. This item is not available at this time.
Pre Order Possible .
Low Stock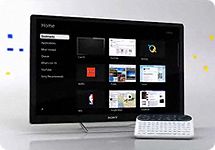 Sony Quality, Google Connectivity
Click the links below for more information on this fantastic HDTV.
Description
Your living room--connected. The Sony 24" NSX-24GT1 LCD HDTV comes packed with all of the amenities you've come to expect from a cutting-edge high-definition television, like 1080p resolution, 2,500:1 dynamic contrast ratio, and 60Hz refresh rate.
But it's more than that. Much more. With either the built-in ethernet port or 802.11a/b/g/n Wi-Fi, you're online like never before. Powered by the Google Chrome Browser, Google TV gives you access to more entertainment than ever, turning your television into a full-fledged entertainment center. Best of all, you can do it all at the same time! With Dual View, you can surf the web while you watch TV on the same screen, letting you check sports scores or recipes without missing a beat.
Perfect for any size room. This 24" model gives you all the power and performance of a larger HD flat screen, without dominating your space. Ideal for smaller living areas, bedrooms, offices, or family rooms--anywhere you want entertainment and Internet connectivity. From Sony.
With a TV that has a built-in high-definition tuner, HDTV may be received from broadcasting companies that transmit high-definition signals, or may require a subscription to a digital cable or satellite service to receive HDTV programming, where available. Contact your local cable or satellite provider for details and costs if you are interested in high-definition TV from your service provider.
Access to and use of the Internet may require payment of a separate fee to an Internet Service Provider, DSL line, or more.
Cannot ship to P.O. boxes, Canada, Guam, PR, VI
Includes NSX-24GT1 Internet-enabled HDTV, stand, and full QWERTY keypad
24" diagonal LCD display
Full HD 1080p resolution
1080p upscale
16:9 aspect ratio
2,500:1 dynamic contrast ratio
60Hz refresh rate
170-degree viewing angles horizontally; 160-degree viewing angles vertically
24p True Cinema
CineMotion/film mode
Auto Wide mode
Five picture modes
Advanced contrast enhancer
MPEG/noise reduction
LightSensor technology
Dynamic backlight control
Google TV
Built-in 802.11a/b/g/n Wi-Fi
Dual View TV viewing/Web surfing
Intel Atom processor
8GB memory
Two 10W speakers
S-Master digital amplifier
Three sound modes
ATSC/NTSC/Clear QAM tuner
Four HDMI, USB 2.0 ports
Two IR blaster ports
Composite video, component video, analog audio, ethernet inputs
Analog audio, digital audio, headphone outs
Approximate measurements: With stand 22-1/2"W x 15"H x 7-1/2"D, weighs 22.3 lbs; Without stand 22-1/2"W x 14"H x 2-7/8"D, weighs 19.2 lbs
UL listed; 1-year LMW
Made in Mexico
Reviews & Community QA
E167604 - Sony Google Internet 24" Diag. LCD 1080p HDTV
22
22
picture often dark
Really like the internet features, pandora but still struggle to get great balance on picture dark to light and color. Picture darker not as clear on this set same stations on my Vizio sharper. Mixed bag for us but would always look at Sony quality product over the long haul.
03-25-13
Sony HDTV
Wish that i would not have bought this tv as a HDTV its Fine until 9/19 when FACEBOOK changed that Night this tv will no longer load my wall,what a waste of cash!!
09-23-11
Fantastic TV
I love this tv. Easy set up, lack of user manual small inconvenience. It has opened up entertainment realms I didn't even know existed. So much on this set I haven't seen it all yet. Got the set 32" in June 2011 and still love it like I got it yesterday. Best thing to day to learn it is just start scrolling on apps and checking them out. Sony logo that lights up can be turned off under settings. Works great thru my wifi. I'd give this 10 stars!
09-15-11
Happy Husband Maker
My husband saw this on QVC when I had it on and his jaw dropped. He had been looking at them other places but the price was much higher. So, I ordered it for him to go in the bedroom and I'm so happy with this purchase. He absolutely LOVES this Google TV !!!!! Now he can watch TV and search the web right from bed - and with two children, that's the only quiet place in the house. No more having to wait for someone to get off the computer - just Google TV it !!!
09-13-11
MODERN TECHNOLOGY - LOVE IT
I have enjoyed my television and glad I purchased it. I had no problems setting it up. My favorites are the apps -podcast and pandora. It is not just a regular television. It has so much to enjoy when you turn it on. This is the television of the future. This is the type of television I was looking for. I want to purchase another one. If I could rate it 10 stars I would because it has everything I want and more in a television. Thanks QVC for another great buy. I also want to thank the QVC buyer and also for the EASY PLAY.
07-26-11
Where's the instructions?
While basic setup went fairly well, we were unable to easily use the controls and various options available due to a lack of written instructions or clearly found onscreen instructions. A one page sheet is not sufficient. Received a hoped for booklet with the set but found instead it contained various copy write and other legal definitions instead of how to navigate through various screens. A more comprehensive help menu would have helped. Disappointed on how little written material was included in an item selling for hundreds of dollars.
07-12-11
Smart Set, Too Small
The television picture is wonderful and Sony makes a smart TV, but the 32-inch screen is too small for a larger bedroom. Internet applications are hard to view from the bed and for whatever reason, the scroll and zoom applications on the remote aren't functional. Also, the owner's manual is online only. No manual to sit in your lap while trying to figure out the remote control's functions. The TV has memory, but no hard drive. Overall, I'd say that it's easier to use the internet with your computer, but we won't be returning the set.
07-05-11
SONY IS MY #1
IN 30 years i've bought 2 family tvs both have been Sony they cost more but i've had the best luck i hope this continues.i bought this tv with my son we were lucky to get easy pay but he wanted it because of all the things it was able to do,one of which was gaming we did'nt have luck in that area which isn't stressed in the description we were able to buy a HDMI CABLE which improved this but it still has a lag i don't know if that can be changed or not so if your kids are gamers you might want to do a little investigation other then that it does everthing great this would of been 5 had we not had that problem.
06-25-11
Love it, love it, love it!
I love having the TV and computer all in one handsome device. I think this TV would be really nice for bed-bound people.
06-23-11
GREAT PURCHASE
Got this when we saw it as the TSV....got the 32". ALMOST cancelled the order and upgraded to the 40" size which was not on a TSV. setup EASY..at first, we had it sitting at an angle towards the living room (small condo living room)... wasn't WOW'd like i wanted to be. Then we moved the entertainment center straight on and re-positioned the tv...after doing this i am WOW'd..don't want a bigger size..although I was disappointed with the tv speakers...I learned this is normal to have tinny sound right from the tv as the manufacturers assume you will have external speakers on tv's like this. I have a Bose Wave Radio, we hooked it up to the tv via the headphone connecter to RCA cable adapter...wow the sound is fantastic.don;t think we'll get an external speaker system, this is more compact and sounds great....with less components. Picture is wonderful...internet pretty easy to setup and real good quality.only problem as another poster wrote...when you are on the net, it can be hard to read the tiny print. haven't used much HD yet, we need to exchange our cable box for an HD one. Oh and don't get me started on the FANTASTIC PRICE on this one...the remote is also easy to use...we have been WOW'd since first seeing this at a popular retail store..never thought we'd get one...this is wonderful.!
06-22-11
Best T.V./computer, I've experienced!
Although, still very new to me, I am thrilled with this purchase! I learn more, everyday, and my friends want to "babysit", while I am out!! I know there is soooooo much more to discover, but that is part of the fun! Excellant picture, too!! Absolutely LOVE IT!!! periwinkle
06-20-11
Got the 32 inch set, love it. X Box no problem...
I am writing this review from my internet TV! I love mine, no problems navigating the system, the picture is beautiful. I am a gamer and it may be because I am a lot older and slightly slower than your average game, but I am having no difficulty playing x box on this system. This is a fantastic buy as far as I am concerned. Thanks QVC.
06-19-11