Smithsonian Simulated Diamond & Cultured Pearl Clasp Necklace
In Stock
Sold Out
We're sorry. This item is not available at this time.
Pre Order Possible .
Low Stock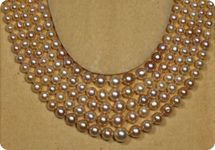 This necklace has five rows of graduated natural pearls with a magnificent diamond, pearl, and platinum clasp made by Cartier, Inc. in the 1920s. There are 339 natural pearls that range in size from 3.3 - 7.8 mm that are a cream color and well-matched. The platinum clasp is a beautiful example of the Art Deco era and has six diamond chains on each side that attach to the pearls. There are 428 old mine-cut diamonds in the clasp and chains that have a total weight of approximately 16 carats. The Dunn Pearl Necklace is an elegant example of the superb style and craftsmanship of Cartier, Inc. Mrs. Arthur Wallace Dunn donated the necklace to the Smithsonian in 1977.
Description
Timeless beauty with a sparkling finishing touch. White cultured freshwater pearls and simulated diamonds form this fabulous five-strand necklace. An Art Deco-style clasp accented with a cultured freshwater completes this classy accessory.
Silvertone
Total simulated diamond weight is approximately 17.40 carats
Cultured freshwater pearls measure approximately 4.0mm
Five strands of round, white cultured freshwater pearls finished with round, bezel-set simulated diamonds; strands connect to an Art Deco-style clasp accented with cultured freshwater pearl
Hidden clasp with push opener
Measures approximately 17-1/4"L x 1-1/8"W
Made in China
Reviews & Community QA
Smithsonian Simulated Diamond & Cultured Pearl Clasp Necklace
6
6
Stunning
Another beautiful and special Smithsonian necklace. I wore mine out to the opera and got a lot complements. I don't think I'll have a lot of occasions to wear it since it is so fancy, but when I have a special occasion I know what I'll be wearing.
04-13-13
What a disappointment!
There's no denying that the Clearance price, at $60 off, helps to make this expensive necklace more affordable. But I would not keep this necklace at any price because I would never wear it. I was very surprised at the poor quality of the pearls, the clasp, the simulated diamonds - everything! The clasp looks cheap and stiff, the "diamonds" are dull, and the pearls lack lustre as well as having been oddly strung (rather stiff). I had purchased this to give as a gifit and expected to be stunned (in a good way) at this pricepoint. Instead I received a cheap-looking necklace I could not give as a gift and would never have worn myself. Over the years I have purchased numerous QVC pearl necklaces from KJL, Jackie Kennedy and Honora lines. Additionally I sometimes buy cultured pearls on visits to China. Although these pearls are real cultured pearls, the glass pearls used in KJL and Jackie Kennedy lines are much more beautiful. This was truly one of most disappointing QVC purchases I've made over the years. Back it went.
02-17-13
Classy and Conservative
After reading the first review, I was afraid this necklace would be too fancy to wear for all occasions. I am bold enough to wear my diamonique jewelry to work and for every day wear. There are very few pieces that I hold back for special occasions. This necklace is so beautiful and elegant. When I wear it with the clasp in the back, it looks like a beautiful multi-strand of pearls. And then sometimes, I move the clasp to the side so it will show. It still is not over the top to me. I think it is stunning. I too almost didn't write because I didn't want anyone else to have it. But according to the video, there are only 215 in the collection. I feel honored to have it.
10-09-12
Exquisite !
This is the most beautiful pearls I have ever seen. The pearls have a gorgeous luster. The craftsmanship is perfect. I am wearing this to my daughters wedding next month. My necklace had no rough edges and didn't catch on anything. It is so beautiful I am going to make it a family heirloom . If you order this you won't be sending it back. Thank you for a piece my family will cherish for generations.
09-05-12
Love it!!
I absolutely love it! I just received this georgous necklace today, and it is the most beautiful thing I've ever seen. I had built myself up so much for it, that I thought I was going to be in for a big let down, but this necklace did not disappoint! It's like a piece of art hanging off your neck, and I am bold enough to wear it everywhere. Actually I don't think I would recommend it, just because I'm selfish, and don't want anyone else to have one! ;-)
12-22-11
dissapointed
Hard to explain why I would give this a perfect star rating vs. 2 stars..necklace is stunning..way more glitz than I anticipated. Stones are huge and it looks like it cost $850,000. I wanted something believable. It did have rough edges that caught on hair while trying on. Certainly a wonderful piece of jewelry if you can pull it off.
12-15-11