Smithsonian Simulated DeYoung Pink Diamond Ring
In Stock
Sold Out
We're sorry. This item is not available at this time.
Pre Order Possible .
Low Stock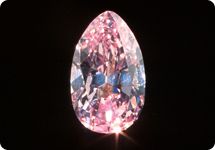 Very few diamonds are completely without color. In most diamonds, a few atoms of nitrogen substitute for some of the carbon as the crystals form, causing the stones to be tinted yellow or brown. Red and pink diamonds probably owe their color to light interacting with abnormalities, such as missing atoms, in their crystalline structure. When the hue is sufficiently intense, the diamond is graded "fancy-colored." The lively 2.86-carat pear-shaped DeYoung Pink Diamond comes from the Williamson mine in Tanzania. The Gemological Institute of America (GIA) graded the DeYoung Pink as a natural fancy intense purplish-pink diamond with a clarity grade of SI-1.
Description
With an alluring, pear-shaped simulated pink diamond prong set at its center, this gorgeous ring has classic, feminine appeal. Simulated diamond accents sparkle along the gallery, while an openwork scroll design on the shoulders creates a fetching finishing touch.
For more details on this ring's fit, please refer to the Ring Size Guide above.
Silvertone
Total simulated diamond weights are approximate: Pink 2.00 carats; Clear 10 points
Pear-shaped simulated pink diamond prong set at center; simulated diamond accents on gallery; openwork scroll design on shoulders
Limited Edition of 2175
Standard fit; sizes 5, 6, 7, 8, 9, 10
Measures approximately 1/2"L x 3/4"W
Made in China
Reviews & Community QA
Smithsonian Simulated DeYoung Pink Diamond Ring
34
34
Feminine and beautiful
I purchased this ring on whim when I saw it's pink color. It hasn't disappointed. Both the stone and the band have proven to be good quality. I wear it often on my right hand ring finger and always enjoy looking at it during the day.
12-31-12
Gorgeous!!!
I received ths ring for Christmas (it was on my wish list because I have been wanting this ring FOREVER)... It is stunning. I should have waited towrite the review because my greatest fear is that because the ring is not sterling, the finish will start to peel off or wear away. I will definitely be writing another review if that should happen.
12-26-12
Tarnished Ring
I got this ring about 2 months ago and I loved it when I first got it. I wore it daily for at least 2 weeks and then notice that the silvertone was starting to wear off. After 2 weeks I would expect the ring to hold up longer than that. I wish this ring was made in sterling silver not silver tone. It really is a beautiful ring but not worth the price if the silvertone is going to wear off in 2 weeks.
12-06-12
Disappointed
I bought this ring a while ago,and I could kick myself for not sending it back.It is pretty,but its silver tone,not silver. I missed this detail or I wouldn't have bought it, the silver is wearing off right now.I expected better from QVC and especially the Smithsonian.Make this ring in sterling silver and it will be worth the money.
10-29-12
Disapointed!!!..
I got this ring about 2 months ago. The stone is Beautiful "Radiante" the way it catches the light. The Band however is not worthy of this Georgues stone!!!... I'm currently trying to hav the stone reset in a New Band......
10-14-12
wow...beautiful!
Just received this today...so, I'm not sure how well it holds up, but it's beautiful! Was a present from my husband, I had it on my wishlist for a while..so glad I got it! Like some others have mentioned the stone does sit higher up, the gallery is very pretty...you can't see it well in the video or in the pictures, it has a lot more detail then I thought. Stone is a very pretty medium to light pink color. Mine looks a little darker then the picture. Wish it was set in sterling silver, but it's still very nice. I'm sure I will wear this a lot and everyone will wonder where the money came from :) So far I'm happy with this purchase.
10-01-12
Pretty In Pink
Wow what a gorgeous ring. I always watch the Smithsonian shows. I ordered this because it it very affordable. I just got this today and it's so gorgeous. The pink stone is so vibrant and it's such a lovely pink shade. This will become an everyday ring to wear. Love, love love!!!!!!!! I give this ring a 10 star rating!
09-27-12
Love This Ring
This ring is beautiful...beautiful pink color...beautiful gallery...beautiful cut. Just what I've been looking for.
08-20-12
PERFECT PINK
Beautiful ring, the perfect pink color and the pierced setting is unique. Since my favorites are always purples and blues in gemstones, this pink stone had to be special to catch my eye and WOW. I've had the ring for over a week and worn it with no problems. I love all the Smithsonian collection. Thanks QVC !!
08-09-12
Grace Kelly Classic!
For those of you who remember Grace Kelly, her style was impeccable with classic lines and spectacular impact. This ring has those same characteristics and happily doesn't cost the yearly paycheck!! I'm using it as a wedding ring and have to say the gallery adds to the already perfect stone. Not too pink - not too pale. I shopped for yellow and pink diamonds in Phoenix - and this actually looks even better! I'm sold!
08-03-12
Love it
Beautiful ring, I wear it everyday. It's even prettier than shows in the picture.
02-29-12
Pretty until.......
It's pretty until the finish starts peeling and chipping off VERY quickly. Learned my lesson with Smithsonian Collection. Nice try though. It is a very pretty stone though.
02-13-12