Shawn's "Hear My Soul Speak" Sterling Inscribed Ring
In Stock
Sold Out
We're sorry. This item is not available at this time.
Pre Order Possible .
Low Stock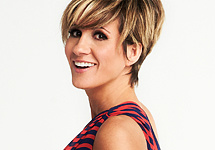 "The 'Hear My Soul Speak' ring was inspired by my own personal ring given to me as a gift from my mom. I wear this ring every day, and it's essentially the jewelry version of courage for me. I get stopped all the time by women who see it as a badge of honor for 'overcoming.' And you know I've always said we're in this life together, and we should lift each other up whenever we can. Your soul is the most unique part of you, and it has a story to tell. It should never be silenced, and you should never give up! And I'll take 'message' jewelry any day of week. If a piece of jewelry can give you courage, that's priceless."
—Shawn Killinger
Description
Straight from the heart. Shawn Killinger brings her personal touch to this polished ring, which is inscribed with the phrase, "hear my soul speak," along with her signature on the inside. It's a remarkable and unique addition to your collection.
For more details on this ring's fit, please refer to the Ring Size Guide above.
Sterling silver
Inscription in the center reads, "hear my soul speak"; Shawn's signature on inside; bold, wavy edges; polished finish
Standard fit; sizes 4, 5, 6, 7, 8, 9, 10, 11
Measures approximately 5/8"L x 3/4"W
Made in Italy
Reviews & Community QA
Rated

4.6

out of

5

 by

1490

reviewers.
Rated

5

out of

5
 by
QVCLiz
Stunning and Meaningful
First of all, let me start my review by saying that this is absolutely without a doubt *THE MOST* GORGEOUS sterling silver that I have ever seen in my entire life. The ring is heavy and well constructed. It is larger than the types of jewelry that I am used to wearing, but I think that the size of the ring goes hand in hand with the meaning behind it--it is intended to be grounding as a symbol of courage in the face of life's ups and downs and about honoring your individual foot print or "soul" Shawn has so much positive energy and empathy--her spirit uplifts so many--myself included that I was drawn to this ring. I am soo happy that I bought it and feel lucky to have been able to get one. I feel like I have I have something substantial with me when I wear it--the ring itself which is important and valuable in looks and meaning as well as the community of humanity that wears this ring in solidarity of the symphony of our souls. A beautiful piece of message jewelry in an exquisite cigar band of high polished Italian silver. What is not to love?! A++++ Thank you, Shawn--you are a treasure!
01-25-17
Rated

5

out of

5
 by
DarkGypsy
Don't Discontinue
Ipurchased this ring one night because of Shawn and the story behind the ring. I had been going through so many things, and as women we tend to be strong for everyone and forget to take time for ourselves. At that time is what was happening, I cried the whole time she spoke about this ring. I usually never would purchase an expensive piece of jewelry like this but knew I had to have it because in my heart I felt God was speaking to me. I wear this ring everyday and I always have it with the word soul showing. It is a reminder to me that I need to take time, to feel my pain, to be strong yet process your hurt. I wanted to get another but the don't have my size, please, please do not Discontinue this ring. It is such a beautiful and inspiring piece.
01-16-17
Rated

5

out of

5
 by
Laci1953
I'm Happy
I received this ring today. I'm going to wear it on a chain. My husbands name is Shawn. This ring has a message that will cover what's happening to me soon. I want him to always have this so he never forgets. Sometimes the right thing comes along at the right time but this is one of the most important thing in a long time. I'm going to wear it now and it will be his a little later. Thank you for this rare joy and unbelievable luck I had in finding this by chance on my app.
01-12-17
Rated

5

out of

5
 by
croix
Tropics girl
Please bring this ring back QVC I had to order it in size 4 no other choice so I can only wear it on a chain around my neck would love to have one to wear on my finger please please please bring it back LOVE IT
01-05-17
Rated

5

out of

5
 by
CCDove
I love this ring, best ring ever
I bought this ring several years ago and it is the ring I wear most. I love it. I recently went to Florida and my niece kept staring at it, she really liked it. She was going through some hard times so I gave it to her thinking I will just get another one. I told her the story of the ring from Shawn's story that I knew. I am dismayed my size 7 is no longer available. Is there anyway I can get this ring again?
01-05-17
Rated

5

out of

5
 by
kris19711
Love This Ring!
I've been wanting this ring for a long time And finally got it for Christmas. I love it! Took me about an hour to get used to it since it's so thick and bulky. I wear it on my middle finger; I typically wear a size 6 on my ring finger however due to the thickness of the ring I would recommend going up a size, maybe even 2.
01-01-17
Rated

5

out of

5
 by
mrslovetoshop
Please Bring Back
Quality is excellent QVC please bring this back. Nothing can compare.
12-30-16
Rated

5

out of

5
 by
chinalady
A Godsend!
First let me say thank you Shawn for bringing this ring to all of us. The meaning is just so incredible and empowering for every person, every soul. I am 22 years old. I first heard you talk about this ring about a year ago, very close to Christmas time. My mom had it on at night and I just happened to glance at the tv and I saw you talking about it. Everything you said about this ring grabbed me right away and I wanted it. I would have bought one right then but I was inbetween jobs. So unfortunately I had to wait. I didn't forget though. I just got this piece of jewelry I hve wanted for so long today. It is as beautiful as you describe. I love every part of it, it means so much to me and I cant wait to tell people about it. The only downside is I could only get a size 4 because it is being discontinued... it doesn't fit my ring finger and is too big for my pinky. I knew that when I bought it but I didn't care because for a year ive wanted this ring and it was my last chance, so I put it on a chain and I am wearing it around my neck. I love this ring because I believe that you can never really know what a person has gone through in there life. How important it is not to judge anyone because you have no idea what its like to be them. I think that message is so powerful. I never think that this ring should be discontinued because it is relivent for every girl or women at any age. This type of thing could be sold on here for the next hundred years and be just as popular, because every single person has their own personal story nobody can guess at. Please bring this back and make it a permanent Item! Id love to be able to buy my size so I could wear it on my hand. I also had my brother buy one for his gf for Christmas. She has a tough life, I told him to have her watch shawns video about it online and then give it to her. Its one of those presents you know is going to mean the world to someone. I don't think QVC would have anything to lose if they kept this ring on. I really hope you do. Everything is just as described and I urge anyone to buy it. Even if your size isn't left, the meaning is still very real. Thank you for this gift.
12-19-16