Sharper Image Brethe Air Cleaner w/ Nano Coil Technology
In Stock
Sold Out
We're sorry. This item is not available at this time.
Pre Order Possible .
Low Stock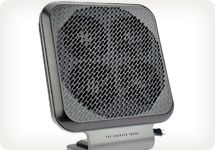 Learn more about this air cleaner.
Description
Breathe easy. Using nano coil technology and a three-stage filtration, the Brethe air cleaner works to removes toxins, pollutants, and pollens from your home. First the pre-filter removes larger particles, then the VOC/odor filter reduces the concentration of some VOCs and common household odors from the air. Finally, the nano coil filter helps remove up to 99% of airborne contaminants, such as allergens, dust, pollen, smoke, and pet dander, and it also helps reduce viruses and bacteria from the air. From Sharper Image.
While air cleaners may reduce particles and allergens in the air, allergic symptoms are caused by a variety of sources. Therefore, this product is not meant to treat or mitigate any medical condition. Please consult your physician.
Includes Brethe air cleaner and remote with 1 CR2032 battery
Illuminated touchscreen displays speed, timer setting, and filter monitor
Four speeds
Automatic timer
Three-stage filtration
Nano coil technology
VOC/Odor filter
Measures 14"H x 14"W x 3-1/2"D
ET listed; 2-year Limited Manufacturer's Warranty
Made in China
Reviews & Community QA
Sharper Image Brethe Air Cleaner w/ Nano Coil Technology
8
8
Disappointed
Had this for 3 months and supposed to replace the filter...I expected it to last at least a year...very disappointed, and at 46 bucks every 3 months for the filter it's just not worth it.
06-23-13
TO ZEPOL :-D
INSTEAD OF SENDING IT BACK JUST TURN IT AROUND OR PUT IT SOME WHERE ELSE IN THE BEDROOM.PLEASE GIVE YOUR FOUR LEGGED BABIES A HUG FROM ME BECAUSE I ALSO HAVE BIRDS AND CATS AND DOGS TOO.
06-02-13
Expensive Proposition
First of all, the air purifier is superb. Since I started using it in February 2013 I've suffered virtually no issues re: asthma. The only drawback is the filter life. The filter was supposed to last for 2 years but after 3 months of use the indicator flashed that it was time to replace it. As the filters are close to $50 to begin with, and with shipping and handling and tax you're paying close to $60, if you need 4 a year that's almost $250 for operating costs. I will buy another filter and then shop around and try to find something else as effective as this air purifier without the maintenance costs. As far as who to recommend it to, there is no option that says "rich people who can afford to replace the filters 4 times a year"!
05-30-13
OOPS !
I ordered this on 2/11/13 and today, 5/18/13, I am ordering a new filter. I admit, I do not check the pre filters often and clean those, but at $46.00 +$6.72 for a new filter at the rate of every 3 months I can not afford to run this air filter 24 hours a day like I have been. Have one cat and dog and allergies so I will be looking for something else to clean my air space. I do like the quiet operation, slim footprint and cleaner air.
05-18-13
Hard Worker
Bought this for spouse working in Afghanistan who was dealing with sand storms and lots of air debris. Due to heavy air pollutants it took a few days to make a noticeable difference. But it's working very well cleaning the air now and even providing white noise on high when he sleeps, whatever time that may be. He needs to clean it frequently due to heavy air debris from weather and other elements but says its easy and quick, well worth it. Another guy noticed a difference and asked why did the air seem cleaner. From what I've been told, he's ordering one today. He was impressed. Bottom line, guys in austere conditions recommend it. What more can a person say?
04-24-13
I Recommend
I bought two and am very happy with them. I have never had better air cleaners and I have had many over the years. It removes musty odors and works quickly. I wake up in the morning being able to breathe better without the sinus issues I previously had. The air does seem cleaner and fresher. I noticed that this item was priced much higher elsewhere. I am glad I got these at this price. I will probably buy some more.
04-02-13
Bright light on display
Just got this last week, the only thing I dont like is i have it on the dresser in the bedroom and it lights up the whole room at night. The buttons on the display are very bright. I end up turning it off at night because its too bright. Otherwise so far so good!
03-27-13
GREAT air cleaner!
I was looking for an air cleaner and basically saw a lot of "tower" shaped ones that I've had before, and the problem with that kind was that they didn't seem to cover much space and seemed to take forever to start cleaning the air. This one is really good. Being that it's larger and square, it works much faster and does a great job. It's not noisy either (even on the highest turbo setting) - it just sounds like a fan. I've noticed a big difference in the quality of the air in my house. When I put it in my bedroom at night, I have a lot less sinus problems in the a.m. To sum it up, I love this product! Does the job and does it well. I'm very glad I bought it!
02-27-13