Set of 6 Battery Operated Motion Activate LED Lights
In Stock
Sold Out
We're sorry. This item is not available at this time.
Pre Order Possible .
Low Stock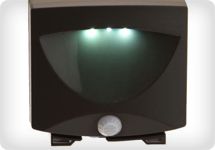 Description
A sense of security. Sensing motion, these ingenious lights illuminate your path when you walk on by. The six LED lights are ideal anywhere you need extra brightness, indoors or out.
Includes six motion-activated LED lights
For indoor/outdoor use
Each requires 3 AA batteries, not included
Measures approximately 3"L x 1-1/2"W x 2-3/4"H
90-day Limited Manufacturer's Warranty
Made in China
Reviews & Community QA
Set of 6 Battery Operated Motion Activate LED Lights
279
279
Great Product!
I have used these lights when we go on vacation to add light to various areas, used them above our lock outside, in our closets, the hallway and our entrance way. Basically, everywhere we needed a little extra light! They are bright little lights and easy to install too!
05-07-14
Not worth the money
Sorry to say, this was one of my "dud" purchases. I held on to them too long before trying them out and by the time I did, it was too late to return. The batteries don't fit well in some of them, making the back hard to replace. And I think that if they are screwed into a wall, it would be difficult to slide them off the bracket. You dropped the ball on this one, QVC.
04-30-14
WOW !!!
Purchased these for the fence around my pool and along the walk between my house and my neighbor and for the sidewalk on the other side of my house which in on a dark dead end street. WOW they are perfect! Nice and bright. Also purchased some for inside. we put some in the stairwell, inside closets, and in the interior hallways...bring on the power outages. They are perfect!
04-28-14
well lit steps
by the title you would think i was talking about porch steps but NO I used these around the interior of my home. Light my way to the bathroom when getting up at night or to the kitchen going for drink of water or bedroom to not TRIP over any floor hazards...they tuck easy into corners, hide around doors, etc...thank you for these amazing safety lights
04-26-14
WONDERFUL LED LIGHTS!!!
Purchased just 1 set of LED lights and wished I would have purchased more! We live in the country, our house built into a hill and have 8 decks leading to the main floor. What a difference it makes with the lights turning on when coming and going the front entrance to our home! Thanks so much!!!
04-21-14
Handy
These are great for safety. My little dog is nearly blind but knows to follow the lights to get around. The batteries last a long time. Good night lights for seniors and kids.
04-18-14
Highly Recommend
Got 2 sets of these to use around the house inside and out. Great for all the places where you may need light for just a few seconds or if your hands are full and you can't turn on the light. The light is bright with a wide arc. I placed them in the hallway outside the bathrooms and outside at the top of the front porch steps where my solar lights don't reach. They promote a safer environment where ever they are placed. I will also probably be putting a few of them up in some of my closets with the screws provided. If these are offered again, I highly recommend them.
04-15-14
Great safety lights
These lights are great for dark hallways when getting up at night and coming home when it is dark for steps to avoid falls. It also works for lower cabinets to assist finding things.
04-14-14
Awesome purchase
Ordered these to use on our stairs, they are fantastic. No more unlit stairs. I ordered a second set.
04-09-14
great stuff
light shines downward where I want it...bright enough to show the way, easy placement and love the way the light gradually fades out.
04-09-14
awesome purchase
Very good. Very sensitive to motion. They work well
04-02-14
Love Them
These were exactly what I needed. I put them into places where I go in and out a number of times but for short periods and now don't need to keep turning the lights on and off. Put one just as I come out from the house into the garage, in my laundry room (which has no window) and my walk-in closet. The light is sufficient to see where you are going and stays on just long enough.
03-30-14