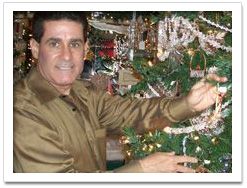 About David Shindler
Over the years, David Shindler has become a renowned holiday-decorating expert. With his impeccable taste and eye for the exquisite, he's found success in multiple retail ventures.
Shindler began his celebrated career in 1980 at Dudwick Shindler Associates, working in product development, merchandising, and various other aspects of the business. Four years later, he launched his own company, David Shindler Associates.
Building upon this momentum, Shindler created a holiday décor enterprise. In 2001, he founded Christmas Ventures, Inc., followed by A Christmas Place Designs Inc. The latter brought him much acclaim for the beautiful interior and exterior designs and intricate holiday displays he creates for prestigious clientele.
In 2005, Shindler became a franchise owner of Christmas Décor Southeast Inc., the largest custom exterior Christmas decoration company in the U.S.
Now, with a finger on the pulse of the latest decorating trends and a designer's eye for color, Shindler presents a special collection especially for QVC. These designs illustrate why Shindler's clients rely on his elegant home décor concepts.
Information supplied by David Shindler.