Set of 2 Stay Put Wrapminas by Lori Greiner
In Stock
Sold Out
We're sorry. This item is not available at this time.
Pre Order Possible .
Low Stock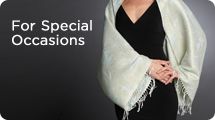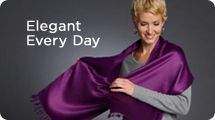 Stylish and smart, versatile wrapminas go anywhere and with everything.
Description
Now that's a wrap! Lori Greiner's wrapminas have the luxurious look of pashmina scarves, plus an extra-special detail--they have sleeves so they won't slip off your arms. Stylish and smart, it's the wear-with-all accessory you'll reach for in every season.
It's a scarf, it's a wrap--it's both. Versatile wrapminas can be worn either way. Wear one simply as a scarf with a jacket or overcoat, then when you reach your destination, wear it as a stylish wrap--perfect for accessorizing for weddings, parties, and any occasion. It's cozy while traveling, and for everyday comfort--keep one handy at work, in the car, or just at home, and stay warm despite changing temperatures and air conditioning.
Twice as nice. The set of two gives you a sophisticated solid and a print to show off your personality. Can't pick one set? Stock up on this must-have accessory set and have a wrapmina to match your entire wardrobe.
From Lori Greiner.
Set of two
Purple: includes solid purple and purple paisley print
Blue: includes solid blue and blue swirl print
Black: includes solid black and silver swirl print
Missy or Plus
Approximate measurements: Missy 62"L x 15"W with 34" arm opening and 2" fringe; Plus 62"L x 18"W with 40" arm opening and 2" fringe
100% polyester
Hand wash, line dry
Made in China
Reviews & Community QA
Set of 2 Stay Put Wrapminas by Lori Greiner
217
217
FABULOUS
These wraps are just beautiful, fit nice, Lets you wear a flattering low cut sleeveless shirt/dress, while cover my unflattering upper arms. They are feel enough for any time of year. LOVE LOVE them, thanks!!!!!!!! Perfect gift for EVERYONE
03-22-12
Bad fit for me
Very bad fit for me, I was surprised as I wear xl and it didnt fit around me at all maybe if I was a small or medium. Not Large or larger than large. Now I have to find someone small to give to or just throw away. Very short in the back also. And you can NOT get it to come together in the front either. Those girls much be tiny that are showing it on. Also I did buy the larger size also. Yet not fitting me. Argggg
03-07-12
Liked them a lot!!!
Loved them, used almost on all occasions in church, in parties, in school meetings & all just love the way it sits on the shoulder's,...moms in hurry just wrap up & go...
03-06-12
Perfect!!
I purchased this item to wear to my son's wedding. I had bought a dress in lavender and needed a wrap to cover my shoulders. The color was perfect! And I couldn't have been happier with this wrap. The dress was strapless and I felt it wasn't age appropriate. I had straps made from the hem that was taken off but I wanted a little more coverage and this was just the fix. I did worry about the color when I ordered it. But the print was a perfect match for the dress and I tucked it into the straps that were made into the dress.
01-23-12
Pretty good
I got the black and silver set. I like them a lot and get compliments on them. However, they do not stay on my small frame. They slide off constantly. It is a pain but I continue to wear because they are cute.
01-20-12
Beautiful, but not as functional as I hoped
These wraps are absolutely gorgeous - the fabric is so nice. The concept is wonderful, but the fabric is just a little bit restrictive. I think it would work much better if they used a fabric that had just a little bit of stretch to it.
01-18-12
Two Tries No Wrap
I actually saw a Rachel Zoe "cocoon" wrap that I fell in love with, but too many reviews mentioned size issues SO I ordered this "Wrapmina" instead to wear to my hubby's GoDaddy Holiday Extravaganza (which it was). I paid extra to make sure I'd receive in time. After extra time I phoned QVC customer Service for help as I never received the order and I absolutely couldn't go to this event with my arms exposed (cancer surgery ugly scars-i tell kids it was a shark attack). The QVC Rep was more than nice and offered to send a replacement with no additional charge. Yippee, no shark attack arm! I did receive the replacement order within 2 days, but unfortunately it was not the correct size. I had ordered (& confirmed size for recorder) plus size (shark attack arm, rather large bust). I received missy size. Sad! Let me tell you about the wrapmina I did receive. Really pretty silvery/black abstract pattern, thin material with a few snags already in it. Seam was not totally dawn the full way down on one of the "arms". Solid black wrap was a thin material with a slight tone-on-tone pattern. I feel these would be a nice idea if the material was a bit more substantial and the workmanship solid. The silvery wrap would be nice for show although neither Colorado would keep you warm in even foolish temps.
01-13-12
It's alright.
Wasn't quite what I thought but in a pinch, its ok. Bought 2 sets used silver one for a concert. Felt glamorous. Looking forward to using as scarf... May give two as a gift? Not sure.
12-20-11
Pretty but not warm
I bought these to wear when I go out and it chilly. While the fabric is pretty and has a great sheen to it, they def wont be keeping anybody warm. The fabric is super thin and good to accent an outfit but not to wear instead of a sweater. I wear them to add a pop of color to a black or neuteral outfit and for that purpose, they have been great. They fit loose but I dont have an issue keeping them on my shoulders like some other people had mentioned.
12-15-11
Not Very Heavy If That's What You're Looking For..
I ordered this in the black/silver and I had some of the same issues as some of the other customers. The material snags very easy and runs so you will have to be very careful with the one that has the silver material in it. They also seemed a little short on me. I thought they would hang longer on my but, I did NOT read the measurements so that's my fault. These are also not heavy material which is fine by me but, if you're looking for something with a little more weight or you get cold very easy this is probably not for you.
12-14-11
Great Item
This is a great idea. I'm taking mine to Hawaii in November. It should be perfect there at night and at home when goping out to dinner.
11-08-11
I liked it
I bought it in the purple/lavender and will probably purchase another in black. It stays in place, which resolves a problem that we women experience on a regular basis; the shawl that constantly needs repositioning...it's a royal pain. And the quality is pretty good, too.
11-08-11