Grapefruits & Other Citrus Fruits
Grapefruits are in the same citrus family as oranges, pomelos, and lemons. Grapefruits are available in white, pink, or ruby varieties. They range in size from 4" diameter to as large as 6". Grapefruits are renowned for their unique tart, tangy sweetness.
When Are They in Season?
Although available in most supermarkets year-round, grapefruits are at their best beginning in the winter through early spring.
How to Pick the Perfect Grapefruit
Don't be fooled by the exterior. Grapefruits whose skin appear scratched, discolored, or scaly may be perfectly delicious on the inside.
Be on the lookout for signs of decay. Feel the exterior for spots that are unusually soft. Inspect for areas that have a water-soaked appearance.
The most flavorful grapefruits will feel heavier than their size would indicate.
Avoid grapefruits with wrinkled, coarse skin.
The ideal grapefruits will feel firm, yet give a little and bounce back when pressed gently.
When kept at room temperature, they should give off a slightly sweet aroma.
Preparation Tips
First, be sure to rinse grapefruit under cold water.
There are many ways to eat a grapefruit. Simply slice with a knife and eat the juice out of the peel, much like you would an orange.
You can also make horizontal slices and separate the exterior skin from the fleshy insides with a sharp knife or serrated spoon. Then remove the seeds, if you desire.
Suggested Recipe
Try David Venable's Mandarin Spring Salad with Grapefruit Dressing.
Kale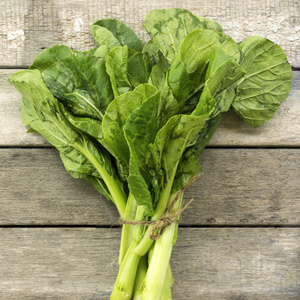 Kale is part of the cabbage family and is known by its rich green or purple leaves. It grows in stalks and may be purchased in loosely packed bunches.
When Is It in Season?
Although available in most supermarkets year-round, kale is in season from fall through winter.
How to Pick the Best Bunch
Kale is sold in bunches or pre-chopped in bags.
Choose bunches with a rich, deep green color.
The leaves should feel crisp and sturdy.
Avoid discolored or limp leaves.
Storage Tips
Always rinse right before you eat or cook kale.
If storing for extended periods of time, simply keep in the refrigerator, un-rinsed and loosely wrapped. Use the vegetable or crisper drawer, if available.
Kale should stay fresh in the refrigerator up to 5 days.
Cooking & Preparation Tips
Whether you're going to cook kale or eat it raw, be sure to remove the big stem in the middle.
Kale makes a great addition to your favorite salad. Since it has a slightly bitter taste, use a sweet or nutty dressing or sauce.
A simple meal or side dish: sauté the leaves in oil, garlic, and salt and pepper—if desired.
Kale also mixes well into a fruit smoothie.
Suggested Recipe
Try Meredith Laurence's Tuscan White Bean & Kale Stew.
Cauliflower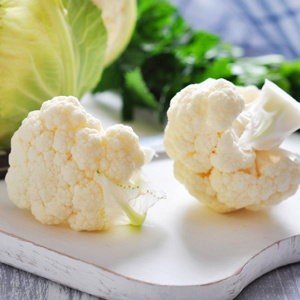 Cauliflower is an annual plant that resembles broccoli. It's usually sold as a single large head, or as several pre-cut smaller heads packaged in a bag.
When Is It in Season?
Cauliflower is most likely available year-round in your supermarket, but is at its best from fall to early spring.
How to Pick the Best Head
Be on the lookout for cauliflower that has a white or cream-colored head.
The best heads will feel slightly heavier than you'd expect for their size.
Avoid heads that are discolored or appear to be dry.
Storage Tips
Cauliflower can last 1-2 weeks in the refrigerator.
Keep them loose in a sealed bag.
Cooking Tips
Try roasting cauliflower to release the full flavor.
You can also steam, sauté, or fry it.
If you'd rather eat the cauliflower raw, try it with a creamy dip.
It works great as part of a raw veggie platter, too.
Suggested Recipe
Try David Venable's Cauliflower Mashed Potatoes.
Pomegranate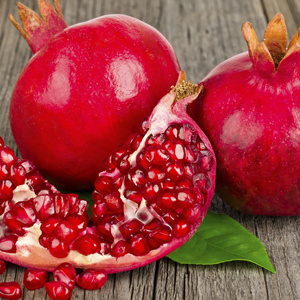 Pomegranates likely originated in Iran and have been cultivated for thousands of years. They taste delicious in juices, smoothies, dressings, martinis, and more.
When Is It in Season?
Pomegranates may be available in your supermarket year-round, but are typically in season from September to February.
How to Pick the Ideal Pomegranate
Choose pomegranates that are plump and round.
The best pomegranates will feel slightly heavier than you'd expect for their size.
Avoid pomegranates with cuts or bruises, although some marks occur naturally and will not affect the taste of the fruit.
Keep in mind that pomegranates don't ripen after they're picked.
Storage Tips
Pomegranates stored at room temperature will last 1-2 weeks. Simply wrap loosely in plastic wrap.
When refrigerated they may last up to 3 weeks or more.
Pomegranate seeds can be kept for up to a week in the refrigerator when stored in an airtight container. And when placed in the freezer, they may last up to a year.
Cooking & Preparation Tips
The edible part of a pomegranate are the flesh-covered seeds.
Frozen (and thawed) pomegranate seeds work great in recipes, but not by themselves.
You can also dry your pomegranates and use them as a decoration. Just leave in a cool, dry part of your home for a few weeks.
Suggested Recipe
Try David Venable's Warm Butternut Squash Salad with Pomegranate Dressing.
Learn More
Watch David Venable explain the different varieties of pomegranates, how to use them in your home cooking, and more.
Rosemary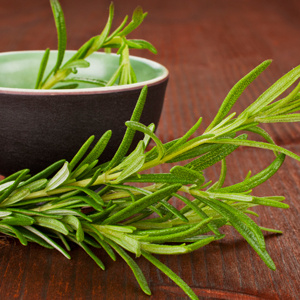 Rosemary is a fragrant herb with white, purple, blue, or pink flowers. It belongs to the mint family and is native to the Mediterranean region. Its uses are both culinary and medicinal.
When Is It in Season?
Rosemary can be grown indoors and out. In areas where the temperature drops below 30°F, it must be brought indoors for the winter.
Cooking & Preparation Tips
Rosemary can be used to season meats such as lamb, chicken, and pork.
It also makes a tasty addition to biscuits and breads.
Try adding chopped rosemary to starchy dishes such as potatoes, beans, and lentils.
Use rosemary sparingly until you're fully aware of its potency. A little bit goes a long way.
To avoid compromising the texture of the meal you're creating, finely chop rosemary or crush using a mortar and pestle.
To remove the individual leaves from the stem, just hold the bottom part of the stem over a bowl, and quickly and gently run your fingers to the other side of the stem. Repeat as necessary.
Try adding to olive oils and cheeses.
Storage Tips & More
Rosemary can be used fresh off the stem or dried.
The leaves tend to become hard when dried, so be sure to chop or crush them before incorporating into a recipe.
Store dried rosemary in an airtight container in a dark area. Dried rosemary may keep its full flavor for up to a year.
Keep fresh rosemary in the refrigerator and wrap loosely with plastic wrap. Fresh rosemary will keep in the refrigerator for as long as two weeks.
To dry fresh rosemary yourself, just tie a few stems together and hang upside-down in a dry, dark room.
Suggested Recipes
Try David Venable's Rosemary & Garlic-Crusted Pork Loin with Potatoes.