Sarah Potempa Ceramic Styling Iron w/ Stylist Bag
In Stock
Sold Out
We're sorry. This item is not available at this time.
Pre Order Possible .
Low Stock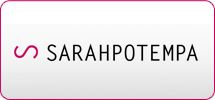 Watch this video to learn how to create smooth curls & perfect the blowout-at-home look with the Sarah Potempa Ceramic Styling Iron.
Description
The look you want...in no time flat. This ceramic styling iron creates volume, smoothness, and curl. Its adjustable control lets you dial in the temperature that's just right for you. From The Beachwaver Co.
Includes ceramic styling iron, comb, two clips, and stylist bag
Adjustable temperature control heats up to 450F in 10F degree increments
Turns off automatically after 30 minutes of use
Approximate measurements: Iron 10-1/2"L x 1-1/2"W, Cord 9'L; Bag 10-1/2"L x 12"H x 2-1/4"D
ETL listed; 1-year Limited Manufacturer's Warranty
Imported
Reviews & Community QA
Sarah Potempa Ceramic Styling Iron w/ Stylist Bag
11
11
Aweful
What a ware of money. Doesn't heat up properly or not as high as advertised. Doesn't curl the hair as advertised. Leaves kinks in the hair. Does nothing for your hair. Don't buy!!!
10-08-13
Disappointed
Not as claimed it pulled on my hair not smooth at all and made kinks in the hair it also didnt feel hot enough. Returned the product needs much work!
09-18-13
NOT WORTH THE MONEY
The best thing about this styling iron is the silver bag that comes with it. This is nothing special. Can get the same results from a 30 dollar iron at the drug stores. It claims not to pull on your hair and simply glide thru not the case. Pulled my hair and didnt make it look smooth and silky. My hair is long slightly wavy not curly at all. After I blow out I always use a flat iron to smooth it out, this one is going back doesnt do anything special. Ill stick to my CHI
09-16-13
Stopped Working
Seemed to work pretty good in the beginning. Stopped working after a few months. Very disappointed, it cost me a lot of money.
09-15-13
Aweful for longer hair!
I also would have given this zero stars if it were possible. I hoped this product would give me the look of a blow-out without actually using a blow dryer and round brush. Sarah specifically said it would do this...wrong-o! I tried every way imaginable. All it did was kink my hair at the end. No added volume or round brush blow-out look. Maybe those with short hair have better luck. I also thought it felt cheap compared to my nice flat iron and the digital number flickers...not sure if I got a lemon or if this is normal. In addition to the limp lifeless hair I got with this, it also made my hair smell like it was burnt. I am sure Chaz Dean would not approve. Save your money girls...not worth it. I love Sarah's beachwaver curling iron...now that is a great product.
09-14-13
disappointed & hurt :,-(
The only reason this iron is getting a star from me is because you can't leave the review without a star. So just know if I could,this review would be zero stars! I was super excited to finally get this product thinking it would be easy to use but also give my long hair a great style! I was wrong! While rolling constantly down my hair to curl it, it pulls out my hair even though I've brushed it like the directions say. My hair ends up not looking curled or it looks kinked! Not the look I was going for!!!! The little volume I can get at the root of the hair doesn't last. I'm so very disappointed and really wanted this to work like it said. So save your shuckles ladies!
09-13-13
Not for my longer fine hair
I was so excited to try this out but was not all that surprised that it - or my technique - failed to do much for my longer fine hair. I have close to the same problem with all hot irons (my hair looks flat!) and was hoping this would be different. Maybe it is just better for some hair types or lenghts. In any case too expensive to experiment with any longer. Still looking for the holy grail that frees me from a blow dried unruly look and flat iron - flat look.
09-12-13
Extremely disappointed
I bought this styling iron based on the "miracle" styling as seen on tv. I have long, fine hair and am always looking for product(s) that will add body. This is NOT it. I get a better, faster style using my $30 curling brush purchased at a local beauty supply store. For this price, I expected much, much more. I'm giving it one star because I didn't burn my fingers while using it.
09-11-13
WOW
This iron is phenomenal. I thought I must be crazy to spend so much money and probably would be disappointed and send it back. Absolutely now way would I part with this. My hair looks better than when I go to the salon and it takes no time. I would love Sarah to make an iron with dual voltage for travel. This is an amazing product.
09-10-13
Awesome Styling Iron
I bought this iron cause I liked how it would function like a curling iron as well. The iron does have to be on at least 450 in order to be hot enough to use the curling option. I like that does turn off by itself. Very nice styling iron and worth the money.
09-08-13
EXCEPTIONAL!!!
I have tried EVERY flat iron on the planet! I have a drawer full of them. I had basically given up looking for THE PERFECT flat iron, but I saw this on QVC and I ordered it. I pretty much thought it would be like all of my other ones UNTIL I tried it! I know it is expensive, but it is TOTALLY worth it. It gives your hair so much body and it heats up in seconds AND it turns off automatically! I can't tell you how many times I have started out of my house and have run back to make sure my iron was unplugged! LOVE THIS!!!!!!!!!
09-07-13