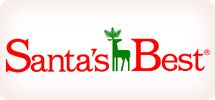 Santa's Best, headquartered in Riverwoods, Illinois traces its roots back to 1898, at that time, it was known as National Tinsel Manufacturing Company. Today, it is one of the most recognized manufacturers of LED Holiday Lighting, LED Pre-Lit Christmas Trees, and LED Outdoor Christmas Decorations.
Santa's Best is a pioneer in holiday technology and holds 10 patents with others pending. Some of the more well-known patents include Continuous-On Technology, Shimmer-Free Lighting Technology, Removable Sealed Sockets, Water-Resistant Lamp Holders with Replaceable LED Lamps, and Waterproof Electric Plugs.
Santa's Best is committed to providing the Christmas industry with quality merchandise, innovative products, and courteous customer service. Their vision is to design a well-balanced line of LED holiday products that offer exceptional quality and value.
Information provided by Santa's Best.