SanDisk Sansa Clip+ 8GB MP3 Player with FM Tuner &1,000 Oldies Songs
In Stock
Sold Out
We're sorry. This item is not available at this time.
Pre Order Possible .
Low Stock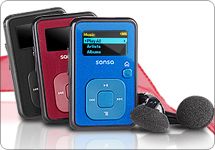 The Gift of Music
Have you heard about the Sansa Clip+ MP3 player:
Description
The gift that tops the charts. With the Sansa Clip+ MP3 player, your favorite music lover can take their tunes everywhere--the gym, the school bus, the office, the dorm, and back home again. Not to mention podcasts, audio books and more. And with up to a 15-hour rechargeable battery life, the music will last all day.
Need a few songs to get started? How about 1,000 toe-tapping, head-bobbing classic hits--all preloaded on a microSD card? With Oldies Rock, Oldies Pop, Oldies R&B, Oldies Country and more, there's something for almost anyone--plus there's still 8GB of built-in memory available for use. That means they can store up to 2000 of their favorite songs! Songs can be stored in playlists, and played back in any order.
A gift from the heart--to their ears. With headphones and a USB cable included, the Clip+ is ready to entertain right out of the box, making it the perfect stocking stuffer for the music-lover on your list--or for yourself.
From SanDisk.
8GB built-in memory can hold up to 2000 songs, based on approximation of 3.5-minute songs; exact number of songs will vary based on file size, resolution, compression, bit rate, content, pre-loaded files and other factors.
Rechargeable battery can provide up to 15 hours of continuous music playback on full charge, based on continuous playback at 128 kbps MP3; actual life and performance may vary depending upon usage and settings.
Includes Sansa Clip+ 8GB MP3 player, microSD card preloaded with 1000 Oldies songs, earphones, USB 2.0 transfer cable, and quick start guide
1" diagonal landscape display
8GB built-in memory
Plays MP3, WMA, secure WMA, Audible, Ogg Vorbis, FLAC files; audio books and podcasts
Digital FM tuner with 40 presets
Voice recording function
Built-in microphone
Multi-language support
Built-in clip
Built-in memory can hold up to 2000 songs
microSD card includes 1000 Billboard hits: Love Songs; Rock Oldies; Pop Oldies; R&B Oldies; Country Oldies; Motor City Oldies; and Jukebox Oldies
Rechargeable battery with up to 15 hours of continuous music playback on full charge
Compatible with most music subscriptions
microSD/microSDHC slot; compatible with slotRadio and slotMusic cards
USB 2.0 port
Headphone jack
Measures approximately 2"H x 1-1/4"W x 5/8"D
1-year Limited Manufacturer's Warranty
Made in China
Reviews & Community QA
E167328 - SanDisk Sansa Clip+ 8GB MP3 Player w/ FM Tuner & 1,000 Songs
432
432
Poor quality
The tracks kept skipping and the radio portion does not work.
11-12-12
Such a poor product, should not be on market
This was such a waste of my money. I bought one for myself and one as a gift. It only works once in a while when you jiggle it around. Then it will stop working and start up again when you least expect it. It is such a lousy item I never even downloaded any music to it. Only wish I would have tried it sooner so I could have returned both items. What a waste of $130.00 .
10-22-12
Great MP3 Player!
I purchased this as a gift for my husband in time for xmas 2011. He uses it all the time for working out in the gym and especially when he cuts the grass. We did print out the manual when he first got it-and if he has ever had a problem, he's certainly never mentioned it. The MP3 player is still going strong! I am so disappointed to find there are no new discs to surprise him with for xmas this year... :(
09-22-12
It died after a few months
I just purchased this only in 11/23 and it's already died. I did not use it tons but when I used it everything was fine. I am so disappointed :(
06-13-12
Great Gift
Bought this as a gift for my elderly mother, its easy for her to use and the oldies discs brought back so many memories for her. Great Buy. Six Months later she is still using it.
06-03-12
Very Disappointed
I got this gift for my dad for when he mows the grass, he has only used it a total of 6 times, and when I went to charge it for him, the whole system is not working. It was something that I took a lot of time thinking of a great gift for him, and now he can not use it at all. This is the first disappointment that I have ever got from QVC, I am hoping it will be my last. Do not purchase this product.
04-30-12
RIght on! Far Out! Groovy man!
I was very surprised of the quality sound and the music. Get one for yourself, mate, child. You will not be sorry!
02-23-12
Mixed review
I like this. It is easy to load songs on and play, but the battery doesn't last very long. Had a problem with recharging battery Sansa people didn't really help or didn't care. I love to zone out on the computer and play my music. I like this but I would not buy another.
02-17-12
I like it better much better than expected
I Purchased the San disk Sansa Clip 8GB MP3 Player w/FM Tuner & 1,000 Songs. on 2-6-2012. Received the Item Aprox. 3 days later. I was amazed at how easy this thing was to operate, right out of the packaging. everything was received as promised. not to sure about the 1000 songs only made it up to 200 or more and still going. most of the music are from 50s 60s and 70s. country R and B And POP. Down loading MP3 was a snap. which for me is a big deal since this is my first mp3 player. The FM radio I haven't used very much so far.But it work better that I expected for and Item so small. tunes to channels very quickly. The only problem I have with this Product is with the the chip that s used to store the 1000 songs is very small.I would recommend to replace it back in the orange case or what ever color.keep it in a case or an area you won't forget.. I AM HAPPY WITH SANDISK -SANSA CLIP AND YOUR NOT GETTING IT BACK......EVER.
02-15-12
junkola
What a piece of junk. So small you almost need a pointer to use it. POOR POOR POOR.
02-15-12
Sandisk Customer Service Bad!!!
Bought this for my husband who owned the old model which just faded to white screen. This new model is nothing but an overpriced IPOD shuffle(buy the shuffle). My husband is one of those people who needs an owner's manual not a small start up sheet. The only manual available has to be downloaded and printed at your cost. I requested to have one sent to my address and was told "NO". This device unlike the previous model does not let you see all the song choices and you just click til you find the ones you want. The new version is a downgrade from the old one. Will be going back to be replaced with the Ipod shuffle.
02-15-12
Best Christmas present I got in a long time!
I think this is great.! My doctor told me to learn to relax. This takes me back to good times when I was growing up and I can relax. When I asked for it for Christmas I wasn't sure it really was something I wanted. Sure glad I kept it.
02-15-12