Samsung Blu-ray/DVD Player with Built-in Wi-Fi and Apps
In Stock
Sold Out
We're sorry. This item is not available at this time.
Pre Order Possible .
Low Stock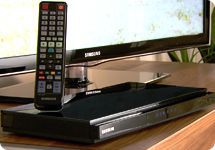 High-Def meets WiFi
Learn more about this Samsung Blu-ray player.
Description
What makes the Samsung BD-D5700 Blu-ray Player special? With its built-in Wi-Fi technology and a variety of multimedia apps, this smart entertainment station turns your TV into an all-in-one media center. You'll enjoy your collection of DVDs and Blu-rays; Netflix and Blockbuster movies; YouTube videos; the latest shows from Hulu; up-to-the-minute updates from Facebook and Twitter; and more, in one convenient place with one innovative unit.
Is it easy to use? You bet. Wirelessly connect to your PC, gaming systems, and mobile devices with DLNA streaming--and get rid of the tangle of cables from all your accessories. Allshare technology makes managing multiple devices a snap, so you can seamlessly switch between them. Apps are sent directly from the Samsung Apps store the moment you turn on the player--it's simple.
Can I still watch my old DVDs? Of course, and they even look--and sound--better. Play all your favorite Blu-ray movies, as well as the DVDs already in your collection, with enhanced picture upconversion and vibrant, high definition audio, including Dolby Digital TrueHD for sound that matches the crystal-clear visuals. It's the viewing experience that you've come to expect from Samsung, one of the leaders in Blu-ray technology.
What's in the box? You get the BD-D5700 Blu-ray player, a remote control with 2 AAA batteries, and an A/V cable to get started.
From Samsung.
Some apps are free to download, but require registration with the provider or a paid account with the provider to use. To download for-pay apps, you need to create a Samsung Apps account and add a credit card to the account.
Wireless capability and access to and use of the Internet may require a network connection, additional accessories and a service connection fee to an Internet Service Provider, DSL line, or more.
Not all DVD-R/-RW and DVD+R/+RW discs are compatible with all DVD-R/-RW and DVD+R/+RW players. Contact the manufacturer for further information.
Includes BD-D5700 Blu-ray player, remote control with 2 AAA batteries, and A/V cable
Plays BD, BD-ROM, BD-RE/R, DVD, DVD+/-R/RW, CD-R/RW, JPEG; MPEG-2, MPEG-4, DIVX HD, WMV video formats
Built-in Wi-Fi
Samsung Smart Blu-ray with Search All, Smart Hub, and Samsung Apps functions
Enhanced picture quality
Fast booting and loading time
Touch-sensor control
Graphic user interface
Dolby Digital, Dolby Digital Plus, Dolby Digital TrueHD, DTS audio
7.1-channel audio output
USB, ethernet ports
HDMI, composite A/V, optical digital audio outputs
Measures 17"W x 1-1/2"H x 8-1/4"D; weighs 3.75 lbs
UL listed; 1-year parts Limited Manufacturer's Warranty
Made in China
Reviews & Community QA
E222221 - Samsung Blu-ray/DVD Player w/Built-in Wi-Fi and Apps
24
24
No Netflix
after spending hours with Samsung downloading software 2 update the DVD so it would stream Netflix, and it would drop and drop a movie. I called back 2 Samsung who said i had 2 call netflix as the problem must b at the Netflix end. Netflix denied the problem was at their end. Sent back 2 QVC & am still waiting 4 my credit.
06-26-12
Samsung Blu-ray/DVD player
Buying this was a horrible mistake. It absolutely does not stream Netflix as promised. I sent it back but first had to talk to a supervisor. There are many complaints on line about it as well.
06-13-12
Pretty great blueray player
Great blueray player, especially for the money. Apps can be a little slow, but everything runs great. I watch movies off an external hard drive, and the usb plug in works great.
06-11-12
Good Blu-ray player
If you are in the market for a blu-ray play this samsung is a very good choice. It has lots for apps for almost anything that you may need. very easy to set up and it updates on it own. this is my second samsung blu-ray play i tired others and was disappointed with it. so if you are looking for a fast and reliable blu-ray player this is a good choice.
05-20-12
Quick and Easy
I can not connect anything without my husbands help, but this was easy to connect even with grandkids saying faster, faster. Got it up and running fast and the extra features work just fine; all the internet stuff.
04-25-12
easy set up
Quick tip, if your dvd player doesn't set up as directed then you have to click on your tv menu to HDMI and then you will see the menu. I didn't know that until I called samsung,but after that everything was easy. That is why I am giving 4 stars for not explaining this on instructions.
04-20-12
Dont waist your money
dont buy this item apps slow a the wi fi stop working I wish I could get my money back
04-11-12
Great entertainment
I am very happy with my purchase of the samsung blu ray player. The setup was really easy and we have already watched 5 movies since we received it. The easy payments made it affordable as we are a retired couple on a set income.
04-07-12
Could be better
Initial setup was a snap and getting onto Netflix was easier than it had been for my 2-yr old Samsung Blu-ray. But the setup and the manual really had nothing to say about getting everything connected through the "My Devices" feature. Only when I stopped trying and decided to go online and register the player did I find out about the AllShare download. After registering my machine (and you need a magnifying glass to read the serial number) I was able to stream video from my PC to my TV via the player. Again it was a matter of finding my own way through the process. Otherwise I'm really enjoying this player. On the plus side it loads Netflix vids really quick and I like all the extra apps that were not on my earlier machine, like Vudu. I took away one star partly for setup issues and partly for sound/video sync problems at times; and I did not recommend product because most of my friends would not be able to get it set up.
04-07-12
Over Priced
This is the worst blue ray player. The remote is very cheap, Takes a long time to start playing disc, Very slow tv apps like netflix and such and I have very fast internet , has no memory to use most of the apps from samsung. "DO NOT BUY"
04-06-12
What a Problem!
I can't say anything good about the setup process of this player. I have called QVC, Netflix and Samsung to try and resolve the problems I've encountered. So far no one can give me an answer. If I had known all the time I would have to put into the connection of the player I would have not purchased.
04-05-12
Perfect Solution for "what's on TV"?
The set-up for me could not have been easier. I was enjoying Netflix movies 15 minutes out of the box and got rid of all those high price cable premium channels that show the same movies over and over again. I also treated myself to a blu-ray rental, WOW, what a difference from the old DVD format. That alone was worth the price of admission. The only issue may be for those who want to play with the game apps as the remote really isn't a gamer remote even for a card game like solitare. Use your tablet or PC for that stuff.
04-05-12