Samsung 14MP 18x Opt. Zoom WiFi Camera w/ 3.0" Screen, 4GB SD Card
In Stock
Sold Out
We're sorry. This item is not available at this time.
Pre Order Possible .
Low Stock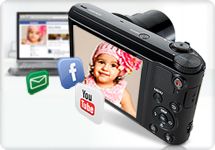 The Ultimate Social Media Camera
Click the links below for more about this Samsung SMART camera.

Description
What makes the Samsung WB150F SMART camera special? Because it's WiFi-enabled, this cool camera lets you capture brilliant, high-quality photos and HD videos--way better than you can take on your mobile phone--and instantly share them with family and friends on social networking sites like Facebook, Twitter, Picasa, YouTube, and Photobucket.
Is it easy to take great shots? You bet! The 18X optical zoom and 24mm wide angle lens let you zoom in for a clear view, while the 14MP CCD sensor delivers bright, clear images. Dual image stabilization keeps your photos steady, and you can even experiment with intuitive photo editing software right on the camera. Use Artistic Brush to have the camera instantly draw the photo you just captured, or use Magic Frame to edit a portrait to look like an antique, put your face on the moon--there's a ton of fun options!
What else can it do via WiFi? This camera lets you send images directly from your camera to any Android(TM) smartphone, iPhone(R), or tablet with the Samsung Mobile Link app. Plus, with PC Auto Backup, you can wirelessly transfer and save photos and movies to your PC in a snap, even if the computer is turned off.
What's in the box? Your camera comes with everything you need to get started--a 4GB memory card, an AC adapter, USB cable, and a wrist strap. You also get an Owner's Manual CD and Corel Photo Editing Software to help you make the most of every picture.
From Samsung.
Access to and use of the Internet may require payment of a separate fee to an Internet Service Provider, DSL line or more.
Wireless capability and use of public wireless locations or hot spots may require a network connection, additional accessories, and a service connection fee.
Includes WB150F digital camera with rechargeable battery, 4GB SD card, AC adapter, USB cable, wrist strap, Owner's Manual CD, and Corel Photo Editing software
18X optical zoom
14.0 megapixel CCD sensor
3.0" diagonal TFT (460k) LCD screen
24mm Schneider wide-angle lens
Dual image stabilization (optical and digital)
Full manual mode (A/S/M)
720p/30fps HD movie recording
Smart Filter 3.0
Wireless enabled
SNS upload
Email share
PC Auto Backup
Remote ViewFinder app (for use with select Smartphones)
WiFi Direct
Live Panorama
Measures approximately 4-1/4"L x 7/8"D x 2-1/4"H
UL listed charger; 1-year Limited Manufacturer's Warranty
Made in China
Reviews & Community QA
E222147 - Samsung 14MP 18x Optical Zoom WiFi Camera & 4GB SD Card
122
122
this is the worst camera in the market!
this is the worst camera i ever have,owned. I buy a camera every 2 years , this one the zoom in door & out door unless the sun is bright will be out of focus and feezes up.I have to disconnected the battery to make it work.. The lighting in the picture is never good.
12-31-12
Great Camera
I got this for my daughter in-law. She loves it. Takes the best pictures of any camera I have or she has ever had. Great product!!!!!
09-17-12
No regrets
I accidentally ordered 2 cameras and glad I did. I was able to give the other one to my best friend, who loves it as well. I've had it a few weeks now and it's great. I love the wifi and have had no hiccups, issues, or otherwise. I post to Facebook often and the pictures always look great. It's a great middle-of-the-road camera for those who want to take beautiful pictures, but don't want to bother with an SLR.
08-29-12
Best camera.
Got this recently,am sold.Picture quality is amazinggg,great size and weight.Love the features.Easy to use and am not tech savvy.
08-26-12
Need HELP w/Camera
Beautiful camera but it does NOT connect with the built in WIFI. I've tried everything. Debating on returning it for a refund to get a different camera. FRUSTRATED!!!!!!!!!!
08-23-12
Great Deal for the money
My Daughter had purchased a Cannon and showed it to me. And said she had gotten it on QVC so I went to look for the same one but when i saw this one i purchased it instead. And I"m glad i did did not realize it had so much to offer still trying to figure it out but that's alright. What I Deal
08-15-12
Great camera!
Easy to operate, it takes excellent pictures and you can post them online instantly--what more can you ask for in a camera?
08-13-12
Hard to use
Not for anyone not computer/camera savvy. Very poor directions! If I could I would return but waited over 30 days to try it out.
08-13-12
SIMPLY AMAZING!!
I take lots and lots of pictures of my grand kids and any events we may have at our church (the unofficial photographer). I have tried to take pics inside the church when the occasion deemed it necessary, but ALL of my pictures were dark and you had to strain to see who was in them...NOT ANY MORE!!! This camera took pics in a pitch black bedroom of my grand kids sleeping (only time I could get them still enough to take their pictures...lol)! The picture came out like the lights had been on the whole time...I was simply amazed!! I now can take beautiful, bright, and crisp pictures in our dark church setting! I am currently working on the church directory and the pictures are the best I have ever seen!! The fact that you can upload the pics to Facebook without a computer is just icing on the cake! THANK YOU,QVC and Samsung for this amazing little camera :) I ABSOLUTELY RECOMMEND THIS CAMERA TO ANYONE!!
08-12-12
Loving the wifi!!!!
I have had this camera for almost a month now, and absolutely love it! I purchased this after going too long without a digital camera, since my sony touch screen went out on me. The wifi is the best feature on here, it uploads to many different places like, email, photobucket, and facebook, with ease! All of the different settings are wonderful as well. And there are many different ways to edit the pictures taken, right from the camera. If you own a Samsung cell phone like I do, there are even more features, like the capability of uploading the pics from the camera directly to your cell phone!!!!! Love it!!!!! For the price I paid, I know I did good, and would recommend it to family and friends!
08-11-12
samsung camera
The camera is great, I loved it. The only problem is that it comes with no instructions. You have to call or download from Samsung site the instructions you need.
08-11-12
Loving it!
I am a "camera fiend" and am always looking for the latest and greatest. I have a Canon Rebel and a Nikon P500, love them both but don't always want to lug around a big camera. I've had many point and shoot cameras and am always replacing them with a newer model but with this one, I think I'll keep it for awhile. It takes great pics and the zoom is quite nice for such a small camera. Love the bells and whistles, it will upload directly to social media via wi-fi, you can email pics from the camera and it has some nice "special effect" settings. And the EZ pay option was nice, Yes, this camera costs a little more than some other p&s models, but in my opinion it is worth it. Thanks QVC!! Another purchase I am totally satisfied with.
08-09-12