Sachi Shop, Pack & Go Set with Market Totes and Cool Gem
In Stock
Sold Out
We're sorry. This item is not available at this time.
Pre Order Possible .
Low Stock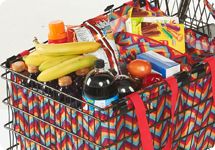 The Ultimate Shop, Pack & Go System
Learn more about the Sachi Market Totes:
Description
Shopping's a trip. Give it more style and function than ever with this convenient pack-and-go system. Insulated and non-insulated shoppers, plus two totes and a handy freezer pack, make outings to the supermarket and other stores quick, easy, and fun.
Get organized. Both shoppers are detailed with elastic bands, plastic clips, toggle closures, and 11" handles so groceries stay secure in your cart or around your shoulder. Fill them with everything from chips and soda to paper towels and detergent. Use the two totes--featuring 11" handles and easy-to-pack flat bottoms--for produce, canned goods, and smaller items.
Chill out or warm up. The insulated shopper offers a thermal lining and a zip top so perishables stay hotter or colder longer. Plus, it includes a special pocket for the Cool Gem freezer pack, making it great for dairy products, meats, and frozen foods.
Get carried away. Because this set comes in your choice of patterns, you can select a favorite design or go with more than one for large shopping sprees. And just because they're great for shopping, why stop there? Use these handy bags for the beach, a party on the go, and so much more!
From Sachi.
Includes insulated shopper, non-insulated shopper, two non-insulated market totes, and Cool Gem freezer pack
Shoppers: Elastic bands, four plastic cart clips, toggle closures, and 11" drop handles
Insulated shopper: thermal lining, zip top, and freezer pack pocket
Totes: 11" drop handles, flat bottoms
Clean interiors with damp sponge, exteriors with damp cloth and mild dish soap
Measurements: Shoppers 24"L x 12"W x 12"H, hold up to 40 lbs.; Totes 13"H x 15"L x 5-1/2"W, hold up to 12 lbs
Made in China
Reviews & Community QA
Sachi Shop, Pack & Go Set with Market Totes and Cool Gem
197
197
Great for warehouse shopping
These are incredibly great for warehouse shopping where they don't provide the bags. Even, the cashiers were impressed at the cleverness and convenience. Liked them so much I purchased a set for my mother. They are lightweight and easy to store when empty and hold a lot of items in each. Now if only I could always remember to take the cool gem with me when I leave the house.
09-30-13
Great Product!!!!!!
I love these bags! They hold a lot of groceries! I put quite a few heavy things in it and and their holding up fine. They do what they say they do. Love that they go in the grocery cart. Love everything about them. Even the little cool Gem is so cute.
09-18-13
A real problem solver
I purchased these bags recently and I've used them everytime I've gone to the grocery store. I read the reviews saying they fell apart etc. Well, I have had no problem at all, and I've used them several times, and filled them pretty full with some heavy items at times. I have to drive about 20 minutes to the grocery store, so it keeps all my dairy and frozen items cold until I get home. Then I have to climb a steep flight of stairs, so instead of having stacks of flimsy plastic bags that cut into my wrists and hands, rip apart, and require making multiple trips, I throw these over my shoulders and up the stairs I go. Then everything is already organized so putting my groceries away is faster than ever. I am a hit at the grocery store, and at least one person stops me every time I'm there to comment on what a great idea they are and asking me where I got them. I say QVC!!
09-11-13
Awesome
I take these with me every week shopping. I can't tell you how many shoppers stop me to ask " wow, where did you get those ? What a great idea". If I was a sales rep for QVC, my commission would be over the top, ha ha, I have referred so many to QVC to purchase a set. I love these!!!!!!
09-11-13
Shop til you drop!
These make grocery shopping so easy! 2 larger bags clip crossways on cart to load with groceries and cold items separately. The checkout baggers love loading them too! Wish I had found these years ago-make a chore almost pleasant!!
08-24-13
Such a Convenience
Love this product. Had seen it for a while and am glad I went ahead a got them. The checkout girls at the grocery store loved them and wanted to know where I got them. They are so easy to shop with and made the checkout process a breeze as the girls scanned and put the items right back in the tote. It is a thirty minute drive from the store to my home and the insulated tote kept everything perfect. After reading the other reviews I was concerned about the strength of the smaller totes but I have carried two 6 packs of bottled soft drinks in them with no problem. My only regret is not getting them sooner
08-05-13
GREAT SHOPPING BAGS
This is my second Sachi purchase from QVC and once again, I have nothing but stellar reviews for these totes. My previous purchase was the insulated picnic basket. I use it year round for everything. Purchased these as a lunchtime special once again and Sachi has outdone itself. I love the insulated bag along w/the three non-insulated. These will be used just as much as my previous purchase. Thank you Sachi, keep up the great work...
07-23-13
Just ok!
I bought the blue scroll and the pattern and the color are great. However The very first time I used them the insulated tote ripped from the seems! Not very happy about that! Now either I send the whole thing back to qvc for a shipping charge or pay a taylor to try and fix the rip!! :-( Not sure if the quilty is in this set or if it was just this bag that wasn't made right.... All the other bags worked just fine. The other negative was the clips did not stay on the shopping cart they keep popping off!! Need to fix some of the flaws and this could be a great system for shopping at the market. I hope this helped someone.
07-19-13
Sachi Totes
I was gifted a set of these and love them. I shop once a month and always need insulated totes. I am not as concerned about them.staying on the cart since they have to be unloaded to scan. The smaller 2 totes I take to my trips to discount stores for hygeien purchases they are ideal. I will be ordering myself another set at this price. I have had these almost a yr and they are holding up very well.
07-17-13
Use every week.
Take them grocery shopping every week. I like to bag my own grocery, but have to fight the baggers. They love how easy they are to pack. This is my 2nd set. I over loaded them a couple of times. I put 3 two liter sodas in one of the smaller ones. Handle was still good, but had a rip up the side. So just don't over load them.
07-12-13
Great Product
I have been very pleased with these totes. I shop at a market where u must provide and bag your own groceries. The totes work perfectly....they save me so much time and I love the cooler one that zips up and keeps the food cold. I also use these totes when I go on vacation...I can bring groceries along. Wonderful product....I ordered a second set because I never want to be without them. I have no idea why they are not going to be reordered...very sad.
07-10-13
Great Idea
I love those. I always keep them in the car. Never know when I shop. The cooling bag doesn't hold long enough the food cold. It could be better isolated. Better something then nothing at all. Sam's club is out of town, and in the TX heat don't work that well. That's why I give just four stars.
06-27-13