About the SKOOTSISTERS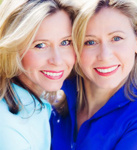 Warm greetings from the SKOOTSISTERS, Tara and Jill, proud cousins of Kathleen Kirkwood and part of the Wardrobe Solutions family. We are designers, mothers, carpool drivers, shoppers, fundraisers, wives, family cheerleaders, church, community, and school volunteers—you get the picture.
Just like millions of women around the country, we wake up every morning saying, "I have a thousand things to do today and nothing to wear!"
We've created this cool, comfortable, stylish collection with busy women in mind. As soon as you put our creations on, they immediately deliver what we call SKOOTitude—a coolness and self assurance that no matter where the day takes you, you'll be SKOOTin' in style! The SKOOTSKIRT delivers comfort, style, and confidence without having to worry about the bumps and curves that come with life, no matter where the day takes you. It's the perfect partner for everywhere, everyday.
Keep SKOOTin'!
—The SKOOTSISTERS
Information provided by the SKOOTSISTERS.