About Andrea Metcalf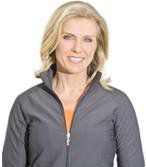 "Living a healthy lifestyle is all about making small changes that lead to big results."

—Andrea Metcalf
Andrea has been teaching fitness, training clients, and coaching the subjects of nutrition and health for over 27 years. Summing up her philosophy, Andrea said, "I believe that staying healthy can make you happier...and I'm dedicated to motivating others to achieve their personal best life."

Andrea's inspiring and approachable personality has helped build her reputation as a nationally known fitness expert and she has appeared on several major television networks. Andrea holds a Bachelor of Science in exercise science. By learning every new fitness craze, from aerobic dance to Pilates, she has developed her career. Andrea has also created many programs of her own, including Paws-ilates and Sit-iltes, as well as Live-ilates, which was featured on Oprah's website.
Now having an international presence, Andrea writes for Marie Claire in Australia and, over the years, has written numerous articles on health and fitness. Among her many titles, she's a national fitness presenter and motivational speaker. She currently has PainFree, Pt-2-Go, and three new DVDs on the market, "Keeping Fit Cardio", "Pilates", and "Strength", that are geared toward motivating baby boomer women to stay active. In January 2011, her book, Naked Fitness, will strip away excuses and lead readers down a path to feeling great in their skin that combines aligning, walking, and eating.

Credentials
ACE certified group fitness instructor
NASM certified personal trainer
Paul Chek-certified lifestyle and nutrition coach
Polestar Pilates Instructor
Reebok Yoga Certified
STOTT Pilates trained on the mat and reformer
Finalist, 2008 Trainer of the Year, IDEA
Fitness Expert for More magazine
Trainer for G2 Lifestyles, GoFit & American Heart Association
Fitness Expert for Better TV
BS Exercise Science, DePaul U., Chicago
Information provided by Andrea Metcalf