Royal Palace Heritage Fleur de Lis 8' X 11' Handmade Rug
In Stock
Sold Out
We're sorry. This item is not available at this time.
Pre Order Possible .
Low Stock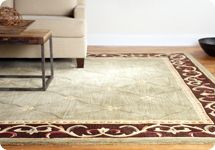 A Regal Look for Any Room
Click below for more about this updated design.
Description
Elegance for every day. This Royal Palace(R) rug, detailed with finely shaded fleur-de-lis motifs and a graceful scrollwork border, is a beautiful showpiece in any room. It's both traditional and trend-right--the perfect complement for every decor type.
A classic look gets fashion-forward flair. Thanks to its simple design, scaled-back border, and the muted tones of the Antique Heritage color palette, the tried-and-true fleur-de-lis motif strikes a more casual, versatile note. The look is right at home in traditional settings, and adds easy elegance to modern spaces, too. Redecorating a favorite room? Let this rug define your space with simple sophistication from the ground up.
It's heirloom-style quality you can count on. Handtufted by master weavers, the rug looks and feels luxurious. Double sheared, handcarved, and luster-washed, this piece showcases impeccable detail and a smooth finish. Thanks to the 1/2" thick wool pile, it's durable, soft, and plush underfoot. The natural fiber is easy to clean and naturally stain resistant, too. A heavy-duty cotton backing and handserged sides lend extra durability--just what any busy household needs.
Choose the shade that matches your decor and enjoy an updated, timeless style that's appropriate in any room, all year long.
From Royal Palace Handmade Rugs.
No fringe
Handtufted from 1/2" thick, 100% wool pile in a 70-line construction
Handserged sides for a tailored look
Handcarved for dimension
Double sheared for crisp detail
Backed with heavyweight cotton for durability
Luster washed for a soft feel
Measures 8' x 11'
Vacuum regularly; clean spots and spills promptly with mild detergent and water; professional cleaning recommended
Nonslip rug padding recommended
Cannot ship to Canada or P.O. boxes
Made in China
Important Details
No more slipping and sliding! Check out our selection of rug pads.
Royal Palace® Rugs: About Rug Shedding
Some shedding is normal for a wool rug. Shedding occurs when static electricity attracts loose wool fibers, or when rubber-soled shoes—like sneakers—break off small wool fibers. This won't affect the wear of the rug. After receiving your new rug, we recommend that you vigorously vacuum it vertically, horizontally, and diagonally, with the brush set at a low setting. Repeat this for 2-3 days; it's okay if you fill more than one vacuum bag or canister's worth. This vigorous vacuuming will not harm the rug and will help minimize shedding. You can then vacuum regularly with the brush at a medium or high setting, alternating with an upholstery attachment. We recommend vacuuming once every two weeks. You'll find wool fibers in the vacuum bag but, again, this won't affect the wear of your rug.
Information provided by Royal Palace.
Reviews & Community QA
Royal Palace Heritage Fleur de Lis 8' X 11' Handmade Rug
20
20
Wish you would bring back in brown
I purchased this in a hall runner. Now I wish I could get it in a living room size in the brown. I am not one for the flower designs and love this design. Please bring back in mocha
06-09-14
love it!!
i got this rug in lavender a year ago and i love it. perfect color. yes i get lots of fuzz when i vacuum, but that doesn't bother me. less fuzz now than at first. no big deal. it was exactly what i was looking for to go in my bedroom. matches my wallpaper. very happy!!
09-25-13
Elegant, so beautiful!
Received the antique burgundy just a week ago and I absolutely love it! This is high quality, well-made and looks elegant in my living room. I think this is absolutely one of the best purchases I've ever made. The rug is luxurious to walk on with my bare feet and it is actually a pleasure to vacuum. I've had no problem with shedding (I use an Oreck)! I purchased two of the hall runners and they too are gorgeous and nice to walk on. Thank you QVC - one more satisfied customer!
04-20-13
Great Rugs!
Bought the rugs in ivory and very satisfied with my purchase.
03-11-13
fleur de lis is a great pattern
Not everyone wants a busy pattern or one that is too modern. This pattern is nicely done. I really love fleur de lis patterns! More please? Also, I agree with other review. The charcoal gray was a light or medium gray. More like a porch paint gray. I still want a true dark gray. A dark gray, or, someone should invesigate what colors are getting shipped. Definitely not shipping charcoal gray!
03-02-13
BEAUTIFUL!
We ordered two of these...one in ivory for the dining room and one in sage for the living room. The ivory order filled first, and, we are delighted with it. It is beautiful! We are looking forward to when the sage ships...yes, these rugs do shed, but, since we have pets we vaccume often anyway, so, dealing with the new rugs shedding isn't a problem. We have purchased two other Royal Palace rug styles besides this for our new home, and, we are very happy with them as well. The price points on these are very good~we purchased all of these wool rugs for a fraction of the price they would have been elsewhere for good quality. Don't be afraid to order these...you won't regret it.
11-20-12
worst rug
I've had this rug for 9 months and I have to vacuum it everyday. I constantly, constantly sheds. I can't tell you how many bags I have to buy because it fills up everytime I vacuum. I've had wool rugs before but never like this....worst....worst..rug.
06-07-12
Impressive, Stunning, Love it!
This 8 by 11 looks stunning in our family room. The colors are beautiful. I had wanted to save some money, and went to the local home improvement store where I bought a rug which was half of the price as this rug. Well, I brought it home, and it looked terrible next to my other Royal Palace rugs. I had to return that discount rug from the home improvement store. I can not stand to buy anything but Royal Palace. Any other kind of discount rug looks terrible next to the other Royal Palace rugs that I have in our home. So, I bought this 8 by 11 in Sage. Yes, this was more than I wanted to pay. But the quality is soooo good. Just flip the rug over, and the back of the rug speaks for itself with the backing. Also, the rug itself is so beautiful and plush. YES, it does shed. The description on QVC states that it will shed, so that should not be a surprise. It sheds a lot, but all of my Royal Palace rugs stopped shedding at some point. The shedding does not last forever. These are just so beautiful. Royal Palace makes my house look much plusher, more beautiful and classy than the cheap rugs. I moved recently, and took the rugs with me of course. So, it is a great investment that you can take with you.
05-26-12
sheds and sheds;.
It sheds and it sheds! I have had these rugs for four months and still they pill and shed and fill a vacuum.. beautiful colors but I'm wondering if it will stop the shedding. I vacuum four times a week, great exercise but the shedding does not look nice.
01-17-12
Royal Palace Rugs
These rugs are absolutely beautiful. I purchased one several years ago, and have purchased two of a different pattern, just recently for another room in my home.. I know that the shedding will eventually stop, from my past experience with the first purchase, but I don't remember how long it took for it to stop. I am just wondering how long is normal for the shedding to continue? I noticed my Grandson's socks and new pj's were covered with fibers. Any ideas as to how long I can expect the shedding to continue, or anything, besides vaccuuming frequently. While I get raves from people visiting my home and I would recommend these rugs to them, because they are beautiful, but with a warning about the shedding.
01-03-12
Beautiful rug
We went from a smaller rug under our DR table to the largest size and this was the choice I made for the new rug and I'm not disappointed. I was shocked the first time I vacuumed it but after re-reading the instructions, I felt more comfortable with the amount of lint in the vacuum bag. Only time will tell how this rug wears overall but I'm hoping it will be in our home for many years to come and remain looking elegant and "new".
12-29-11
happy and disappointed
When we purchased this we ordered this and another......on day of arrival, expecting two, we received one and a letter stating other not available, possibly in future....we had removed both carpets we had in anticipation of this day....leaves us in a kind of mess...the carpet that came is absolutely beautiful and we love it....however the back had a gouge in it...did not go thru to front but an clear imperfection...we laid it down because it was too heavy to repackage and send back....that was disappointing...BOTTOM LINE-in spite of everything this product is truly beautiful and we are so happy to have...wish it were perfct, but still love and now the place in our living room is bare and we are hoping for the best......i would urge everyone who is thinking about this brand to give it a try....pls. qvc come thru for us!
11-09-11