Royal Palace Heritage Fleur de Lis 5' x 7' Handmade Rug
In Stock
Sold Out
We're sorry. This item is not available at this time.
Pre Order Possible .
Low Stock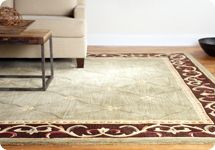 A Regal Look for Any Room
Click below for more about this updated design.
Description
Elegance for every day. This Royal Palace(R) rug, detailed with finely shaded fleur-de-lis motifs and a graceful scrollwork border, is a beautiful showpiece in any room. It's both traditional and trend-right--the perfect complement for every decor type.
A classic look gets fashion-forward flair. Thanks to its simple design, scaled-back border, and the muted tones of the Antique Heritage color palette, the tried-and-true fleur-de-lis motif strikes a more casual, versatile note. The look is right at home in traditional settings, and adds easy elegance to modern spaces, too. Redecorating a favorite room? Let this rug define your space with simple sophistication from the ground up.
It's heirloom-style quality you can count on. Handtufted by master weavers, the rug looks and feels luxurious. Double sheared, handcarved, and luster-washed, this piece showcases impeccable detail and a smooth finish. Thanks to the 1/2" thick wool pile, it's durable, soft, and plush underfoot. The natural fiber is easy to clean and naturally stain resistant, too. A heavy-duty cotton backing and handserged sides lend extra durability--just what any busy household needs.
Choose the shade that matches your decor and enjoy an updated, timeless style that's appropriate in any room, all year long.
From Royal Palace Handmade Rugs.
No fringe
Handtufted from 1/2" thick, 100% wool pile in a 70-line construction
Handserged sides for a tailored look
Handcarved for dimension
Double sheared for crisp detail
Backed with heavyweight cotton for durability
Luster washed for a soft feel
Measures 5' x 7'
Vacuum regularly; clean spots and spills promptly with mild detergent and water; professional cleaning recommended
Nonslip rug padding recommended
Cannot ship to Canada or P.O. boxes
Made in China
Important Details
No more slipping and sliding! Check out our selection of rug pads.
Royal Palace® Rugs: About Rug Shedding
Some shedding is normal for a wool rug. Shedding occurs when static electricity attracts loose wool fibers, or when rubber-soled shoes—like sneakers—break off small wool fibers. This won't affect the wear of the rug. After receiving your new rug, we recommend that you vigorously vacuum it vertically, horizontally, and diagonally, with the brush set at a low setting. Repeat this for 2-3 days; it's okay if you fill more than one vacuum bag or canister's worth. This vigorous vacuuming will not harm the rug and will help minimize shedding. You can then vacuum regularly with the brush at a medium or high setting, alternating with an upholstery attachment. We recommend vacuuming once every two weeks. You'll find wool fibers in the vacuum bag but, again, this won't affect the wear of your rug.
Information provided by Royal Palace.
Reviews & Community QA
Royal Palace Heritage Fleur de Lis 5' x 7' Handmade Rug
32
32
Quality Rug and Gorgeous
I bought this rug and 2 runners in the gray color; they are plush and beautiful; DH said they're the richest looking items in our house. He liked them so much he told me to order another one of these rugs and 2 more runners. HIGHLY RECOMMEND!!!!
03-26-13
Area Rug
I ordered the ivory and tan and it is beautiful! The color was as shown on the website. The only problem is pilling but eventually that will stop.
03-11-13
beautiful but SHEDS!!!
I ordered this rug in burgundy. Love the look. My problem--it will not stop shedding. I have had this rug for over one year and no matter what I do, it sheds as badly now as it did at first. Just repeated walking on it loosens the fibers. We have hardwood floors and I have to sweep constantly to get rid of the fuzz balls that accumulate all over the floors. I have a hard time understanding why it keeps shedding. There is just the two of us--gee I would hate to see how much shedding it would do if we had kids running around all the time. I have tried everything but nothing stops the shedding.
12-30-12
Just OK
After 3 months of being on waitlist I finally received this carpet. I own 10 of Royal Palace carpets, all of them beautifull, except one. However, this is not one of them. When I opened the package I notice that the lining is missing few stitches here and there. It looks like someone was in a hurry to finish. The color is much lighter for sage, I own 2 carpets in sage and they are beautifull bright color of sage. Also, sage on this carpet looks like dirty, so I do not understand why so much "hoopla" on reviews. Of course there will be sheding, but that's what expected.
12-19-12
Royal Palace...
Ok folks,after reading the 2 and 3 star ratings on this rug and on other Royal Palace rugs, I had to post a review. I have a Royal Palace rug in an 8 x 11 that I purchased over 10 years ago and it is STILL beautiful today. These rugs are fantastic. YES, they do shed, but that is normal and it will stop. You will have to vacuum for a while longer, but you will not be disappointed. Even afer the needed vacumming your rug will not loose any texture or color; just be patient. I promise, it will stop after continued vacuuming. I will be purchasing another Royal Palace (this particular one) in the near future. Hope this review is helpful.
08-28-12
subtle and lovely
I purchased this rug a week ago for my family room in the ivory color. In my opinion, the ivory is more gold than ivory, but that worked for my room. I did not want flowers and as most of Royal palace rugs are flowered, this was a good choice. The pattern is nice and the border is subtle and very nice with shades of burgandy and sage. I have not experienced the shedding problem at all, nor have I had it with other Royal Palace rugs. I also purchased the 3 x 5 for another area of the family room, and while the colors are not a perfect match, you would need to look closely to see the difference. I will say that I saw other rugs where the pattern was not cut as well as the one I purchased. By the way, the lavender and green rugs are a soft and beautiful shade. If you are looking for a very vibrant shade, perhaps this won't work for you. Great quality and price. love these rugs.
08-28-12
2nd Round in 11 Years
I first purchased a set of Royal Palace rugs (5x7 and two 3x5) in 2001/2002. I have to say I loved them. So much softer than many of the manufactured rugs and the colors are amazing. I always got compliments. Well 10-11 years and three dogs later (yes all went through a "puppy" stage and had accidents) it was time for new rugs! So I although my exact matches were not available I order the Fleur de Lis in Antique Burgundy and am hoping the colors match as well. For the people that complained about shedding, they are correct. However, I am not sure what they expected buying wool rugs that are hand-tufted??? Of course they will shed. I purchased a Dyson vacuumed cleaner and it saved me many times because of the powerful suction. After a while, they calm down and are low maintenance.
04-14-12
amazing
My grandchildren even commented how pretty the rug was, it sure did put a wow factor in my room
04-07-12
Can't go wrong!
This is the third Royal Palace rug we've purchased and we're not disappointed! We certainly recommend these rugs to anyone looking for a high-quality, well made product.
04-04-12
Finally received after months of waitlist...
I purchased this rug in the 5x7 for my living room and the 3x5 for my dining room. The rug was on waitlist for many months. It is a very pretty rug. As I stated in the review for the 3x5. the border was a tad off kilter but this one was perfect. Glad it was finally available.
04-03-12
LOVE THIS RUG!!
Live in a apartment with white walls and beige carpet. What a difference it made when i put this rug down. It changed the whole look of the place. My neighbors are so jealous!!
04-03-12
Sheds worse than my dog
As other reviewers stated (in all sizes) my rug continues to shed. I bought it in October and it still continues to shed. I have to empty my vacuum after I vacuum the rug before doing the rest of the room. I find fibers everywhere.Even up on my coffee table. At this rate the rug might be bare soon. I bought this thinking it would last for many years. My first Royal palace rug and now my last.
03-27-12