Royal Palace Antique Kirman Panel 7' x 9' HandmadeWoolRug withSilkAccents
In Stock
Sold Out
We're sorry. This item is not available at this time.
Pre Order Possible .
Low Stock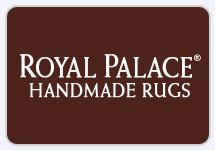 Description
Bring formal elegance home with this glorious Persian panel Royal Palace(R) rug featuring real silk accents.
Durable classic wool construction gets a dash of silky dazzle. Genuine silk adds luster and sheen, it's also a little softer than wool, so your carpet feels as rich and luxurious as it looks. So, take off your shoes and enjoy the texture. The silk accents can be found in the Ivory, Rose, Sage, and Gold details of each rug.
The incredibly popular Persian panel style comes to life in this traditional Kirman design. Each multi-colored section explodes with stylized bouquets and floral vines.
The vibrant jewel tones of the Antique Heritage color palette lend a sophisticated, old-world quality to the piece. 41 unique color shades are woven throughout the rug, creating a truly impressive heirloom appearance. For incredible dimension, the yarn is triple-dyed to create subtle variations that give the look and feel of an original. An antique-style luster washing completes the time-worn effect.
Extraordinary quality and attention to detail. Each rug is individually tufted, sheared, and carved by hand to achieve its plush feel and luxurious look. High density 80-line construction enhances the pattern for a crisp appearance.
Ideal for any decor, this rug adds beauty, durability, and style to any living space--all at an affordable price. From Royal Palace(R) Handmade Rugs.
No fringe
Handtufted from 1/2" thick, 90% wool/10% silk in a dense 80-line construction
Handserged sides for durable tailored finish
Double sheared for smooth finish and crisp detail
Luster washed for an antiqued look
Backed with heavyweight cotton for durability
Nonslip rug pad recommended
Measures 7' x 9'
Vacuum regularly; clean spots and spills promptly with water and mild detergent; professional cleaning recommended
Made in China
Important Details
No more slipping and sliding! Check out our selection of rug pads.
Royal Palace® Rugs: About Rug Shedding
Some shedding is normal for a wool rug. Shedding occurs when static electricity attracts loose wool fibers, or when rubber-soled shoes—like sneakers—break off small wool fibers. This won't affect the wear of the rug. After receiving your new rug, we recommend that you vigorously vacuum it vertically, horizontally, and diagonally, with the brush set at a low setting. Repeat this for 2-3 days; it's okay if you fill more than one vacuum bag or canister's worth. This vigorous vacuuming will not harm the rug and will help minimize shedding. You can then vacuum regularly with the brush at a medium or high setting, alternating with an upholstery attachment. We recommend vacuuming once every two weeks. You'll find wool fibers in the vacuum bag but, again, this won't affect the wear of your rug.
Information provided by Royal Palace.
Reviews & Community QA
H167722 - Royal Palace Antique Kirman Panel 7'x9' Hndmde Wool Rug w Silk
37
37
Dyson vacumn
Please bring this rug back. Have been waiting over a year. I want it really bad.
03-19-13
Finally!
I have admired the RP Kirman for a long time, and now that I finally took the plunge, I am glad I did. It's a great, classic, elegant design and a real room brightener because it has enough light coloring to reflect light, but the burgundy border grounds it nicely. I have several RP rugs, so I knew what to expect in quality. I could use a 3x5 or 4x6 Kirman, but those sizes are not offered. I am not a fan of the giant flower rugs and prefer a more traditional design.
11-29-12
Color not at all like picture and video
I just received this rug and was so disappointed when I opened it up. It looks cheap and nothing like the pictures. Read all of the negative reviews before you decide to buy. I wish I had given them more weight. However, with so many good reviews, I took a chance but the rug really is ugly and not at all like it appears in the pictures. It is much lighter and there are no olive green tones just pastel greens. Now I have to figure out how to get it wrapped back up and returned.
11-17-12
LOVE LOVE LOVE
This is one of the most beautiful rugs I've ever seen. I have it on top of my dark hardwood floor and it just POPS. I've vacuumed twice so far and no problem with shedding. Some say it's lighter, and I agree it's a little lighter than the picture. There are so many colors and patterns, but it's still simple, if that makes sense. If you've been looking at this rug and haven't decided, I'd get it before it's gone. I'm so glad I did.
11-12-12
Disappointed
Does not stop shedding. Very disappointed. Can fill up the vacuum canister every time I vacuum. Have to vacuum every other day.
11-11-12
What a beautiful rug!
I ordered this rug and my son opened it up and laid it down today. I am very happy with the purchase. The rug colors are gorgeous- soft browns, sage and burgundy. It has good height and is very comfortable to walk on. Even my son commented on how nice it is. The price is very reasonable. It is my first Royal Palace purchase and it won't be my last!
10-25-12
BEAUTIFUL!
First of all, THANK YOU to each person who took the time to write a review on this rug. I read through them carefully before ordering, as, this was my first order for a Royal Palace rug. I have admired them for years, but, never took the plunge. This rug is everything the reviews say...BEAUTIFUL! It looks like it has always been in our home~a perfect fit. The quality is both apparent to the eye and to the touch. We are delighted with it, and, will enjoy it for years to come (not to mention the great price we got on it!). If you are new to this line, order with confidence!
10-22-12
Beautiful Rug, but not nearly as dark as in pic
Just wanted to state that the rug pictured on this website appears a dark tan or golden color. It is actually a light beige. If you look at the pic of the rug shown on the floor in the room, it is closer to the actual colors. This still works for me, but I do wish it was the darker color as shown. The quality is great, it is nice and thick. Still shedding at this point, but nothing terrible.
10-12-12
Love This Rug
After reading all the positive reviews with very few negative ones, I decided to take a chance on this rug, thinking that I could always return it if it weren't what I wanted. I will be keeping it! I love how it brightens up my living room without overpowering it. It's so nice and soft, and looks lovely. I was worried it would look as well as feel cheap, which it does not at all. Although it is over a hardwood floor, it stays in place. I hope it wears well over the long run because it was definitely not inexpensive. Very happy with it so far! I would not recommend this as a gift just because, to me, that's a weird kind of present to give somebody!
10-12-12
What a DEAL on a STUNNING rug!
My husband was skeptical about how nice this rug would be due to the clearance pricing. I told him to look at the reviews and he figured for the price, we could at least take a chance that the reviews were right. First off, we ordered this rug on the weekend and it came to our house in Ohio on TUESDAY...SO quick! Second, it is huge - PERFECT for our living room. And third...it is absolutely gorgeous! Beautiful colors, thick, VERY well made and so kooshy when you walk on it! QVC, you have made a believer out of my hubby! This rug would have been a great value at the original price but the Clearance pricing made it the deal of the year for us! THANK YOU!
10-10-12
Great Value!
this was my first RP rug and I am very pleased with it. Pleased with the packaging, and pleased with the product. it is thick and lush under our feet. so luxurious! we have it in a living room over worn carpet for now, as we are planning to do wood floors next year, and it will look even more beautiful once we get that oak in! We are not experiencing any abnormal shedding and there was no odor to our rug. Will order RP rugs again in the future for other rooms!
10-10-12
Beautiful Rug - Great Value
I had purchased the small area rug in this design a couple of years ago and love it. Presently I am having wood flooring installed and realized I had to purchase rugs for the living room, dining room and upstairs hallway. Needless to say I was a little overwhelmed at the thought of finding 3 coordinating rugs for a reasonable price . When I saw this and the accompanying rugs on clearance and on easy pay, I could not resist. There is no way you will find rugs of this quality for this price in any retail store. My home is full of Royal Palace rugs. They are simply beautiful. Another great purchase from QVC.
09-26-12