Rowenta Autosteam 1700 Watt Iron w/ Microsteam Soleplate
In Stock
Sold Out
We're sorry. This item is not available at this time.
Pre Order Possible .
Low Stock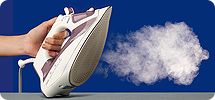 See What Steam Can Clean
What a difference! The Manufacturer's Suggested Retail Price on this item is $95.00,*
* The Manufacturer's Suggested Retail Price is based upon the supplier's representation of value. No sales may have been made at this price.
Description
Take some of the guess work out of your housework with this high-performance, ultra-affordable Rowenta 1700-watt steam iron. You're in total control with the innovative Autosteam technology, which automatically adjusts the steam output to your selected temperature--providing just the right amount of steam every time.
New design! A highly polished, stainless steel Microsteam soleplate with 300 holes offers optimal steam distribution, scratch resistance, and ultimate glide. The vertical steam option lets you use this iron in an upright position for hanging garments or drapes. The steam burst concentrates a shot of steam to tackle the most challenging ironing tasks, while the precision tip allows you to target those hard-to-reach wrinkles.
Safe and smart. Three-way shutoff automatically turns this iron off in eight minutes if it remains in a vertical position or in 30 seconds if it stays horizontal or is tipped over. In addition, the self-cleaning system flushes out loose mineral deposits to ensure great performance for years to come.
From Rowenta.
8'L cord with with 360-degree pivot
Large 9.5 oz water tank
Stainless steel soleplate with 300 holes provides excellent steam distribution
Precision tip for hard to reach areas, such as in between shirt buttons
Comfort grip handle
Steam control: Autosteam, Dry, or Self Clean
Autosteam automatically adjusts the steam according to the selected temperature
Vertical steam allows upright use to remove wrinkles from hanging garments and drapes
Cool spray mist provides a light mist to remove stubborn wrinkles
Anti-drip system prevents spitting and leaking on low temperature settings
Self-cleaning system flushes out loose mineral deposits for optimal performance, should be performed every two weeks
Three-way auto shutoff: eight minutes when vertical, 30 seconds when flat or tipped over
Laying flat, measures 11"L x 6"H x 4-3/4"W; soleplate 9-1/2"L x 5"W; without water and cord, weighs approx. 3 lbs, 3 oz
UL listed; 1-year Limited Manufacturer's Warranty
Made in China
Reviews & Community QA
V30728 - Rowenta Autosteam 1700 Watt Steam Iron w/ Microsteam
196
196
Nothing LIke it
This is the first iron I bought as a married woman. I've had my old one for the last 12 years. It's everything they said on QVC. It does a job in half the time. My only wish is that the information printed on the iron and on the dial, would be larger. I am 46 and wear reading glasses. Now I need to wear my reading glasses to see what setting I am using on the iron. Not too happy about that one.
01-26-13
Love it
Great product, great price, performs as well as QVC shows on TV.
01-18-13
Wish I'd read the reviews
This iron was available for a special price of $39.96, and it was a Rowenta, so I didn't hesitate to order it, without checking the reviews. (I have a 10- or 12-year old Rowenta that has been excellent.) Such a disappointment: It spit water. The dark purple color made it very difficult to see the water-level indicator--once I finally found it! The user guide was extremely hard to follow (why only drawings? what's wrong with a few words?!). So back it went and, of course, I am being charged $6.95 for the privilege of discovering these issues. Talk about a user-UNfriendly product!
01-17-13
Not as Expected-Disappointed
I previously had a Rowenta iron, so I expected the same quality of product. Discouraged to find out it was not made in Germany as my other Rowenta. This product will most likely be returned due to origin of where product was made.
12-29-12
Don't waste your money
This iron is virtually useless. Poorly (cheaply) made. Leaks while ironing. And Rowenta will not take it back...their customer service said to send it to one of their "recommended" repair shops (closest one to me home was over 300 miles away) that would then give me an "estimate" for the repair AFTER receiving the iron. A total waste of money.
11-16-12
AWFUL
Sorry I waisted my money on this iron. It does a AWFUL job. what a waste.
11-07-12
Good iron but no decent manual
I liked the iron but was furious there were only pictures for instructions in the manual. Believe it or not, I can actually read!! Returned the iron just on the principle of the manufacturer not taking time to have a written (Not pictures only) manual. Maybe the return will get someone's attention.
10-29-12
I used to hate ironing...
...but not anymore!!! This Iron makes ironing a flash and it is super easy to use!!!! The vertical steam function is very nice....however, I usually just iron on the board and reserve that function for my silky blouses. I love the "self cleaning" function the best...and this price is un-beatable! My mother in law still uses those old Irons with the 10 small, leaky steam holes....guess what MOM is getting for christmas the year?!?! :-D THANK YOU QVC AND ROWENTA....LOVE MY AUTOSTEAM 17OO WATT STEAM IRON...
10-27-12
Dissapointed
I was disappointed in this iron when I was unable to clean the soleplate. The soleplate had an area that scorched something and I could not get it clean so that it would not stick to other garments when ironing. Tried several methods to clean but nothing would get it off. Consequently the iron would then stick to other items while ironing.
09-16-12
best irons in the world.
my rowneta broke ran up to the local store to buy one, it was horrible, saw this one and ordered it right away.
08-20-12
Pure Junk
This is my 4th Rowenta iron I have purchased, and the first that was a total waste of money. It worked OK the first time out of the box, the second time I used it everything was fine. I turned the iron off, and when i passed by the ironing board about three hours later, the entire water chamber had leaked out onto my brand new hardwood floor! I have never been disapointed in any Rowenta purchased prior to this. Buyer beware......this one is not worth the price, nor does it stand up to the Rowenta quality. QVC, as always was very understanding and took this purchase bac,k no questions asked.
08-19-12
Completely Disappointed!
I was thrilled because this was a low cost "ROWENTA" iron. However, when I got the iron I had nothing but trouble. The iron steamed in an upright position for only a short time, it would drip, finally after some use it started to burn items that were ironed or was not hot enough to iron at all. Completely disappointed!
08-13-12