Rowenta 2013 Fashion Week 1725 Watt Iron with Platinium Soleplate
In Stock
Sold Out
We're sorry. This item is not available at this time.
Pre Order Possible .
Low Stock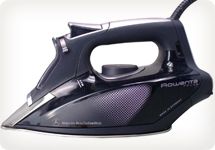 What a difference! The MSRP on this item is $130.00*, but QVC is bringing it to you at the Featured Price of $78.60.
*The MSRP (Manufacturer's Suggested Retail Price) is based upon the supplier's representation of value. No sales may have been made at this price.
Description
Don't let rumpled clothes wrinkle your style. The powerful Mercedes-Benz 2013 Fashion Week 1725W iron boasts an ultra-durable, nonstick, scratch-resistant Platinium soleplate, so you can straighten and smooth every inch of your wardrobe. The vertical steam function and comfort handle make it easy to give your clothing professional polish, ensuring you're runway-ready in no time! From Rowenta.
1725W
Nonstick, scratch-resistant Platinium soleplate with precision stainless steel tip for hard-to-reach areas
Variable steam levels, including vertical steam
Comfort handle
Self-cleaning system
10-oz water tank
7'L power cord
Measures approximately 11-1/2"L x 5"W x 5-1/2"H
UL listed; 1-year Limited Manufacturer's Warranty
Made in Germany
Reviews & Community QA
Rowenta 2013 Fashion Week 1725 Watt Iron with Platinium Soleplate
161
161
Rowenta Iron
I HATE to iron, but this might bring me back into the ironing. It is a great product and I have never had an iron with so many vent holes for the steam. It works perfectly and I love using it.
04-24-14
Just a GREAT Iron
I know its silly to be all goofy over an iron, but I LOVE my Rowenta. I wanted to buy it in 2012 and I waited to long, but when I saw the 2013 version on the morning show I jumped on board. Sleek styling, steam bursts like no other and it gets the job done. I'll have this one forever!!!
03-20-14
Great Iron
What a difference a good iron makes. I bought this because my old iron died. This iron puts out a huge amount of steam and it great for doing vertical steaming. It is on the heavy side but the ironing gets done so fast it doens't wear me out. it cut my iron time in half at least.
03-17-14
Best money spent in a long time - love this iron
Makes ironing a snap - even rumpled linen that has been sitting for months! Wish I'd had this years ago. I had 2 other Rowentas that I liked but with fewer steam holes - they have been donated to charity. If you iron at all you'll love this iron.
03-17-14
Leaking after only 1 year
I have had this Rowenta only one year and it is leaking and will not hold water. That $92 was not worth it. : (
03-05-14
I Don't Hate Ironing Anymore!!!
I iron every day and it wasn't my favorite thing to do. Now I don't mind it at all and my time is cut in half if not more! The first time I used this iron I knew it was a keeper! It glided over my clothes with ease and there as no need for multiple passes. One and done. The steam is amazing! I have to admit, I have gained some weight and have used the iron with the steam on to stretch out some of my clothes that have been a little snuggle. So not only does it iron well, it saved me from having to buy a new wardrobe! Don't hesitate, you won't be disappointed!!!
02-02-14
Was sent a DEFECTIVE model that looked a return
I was so excited when I ordered this. Rowenta has an excellent reputation and the reviews were outstanding for this product. I got it for my mother for Christmas, only to find that I had been sent a Defective used iron. It had water stains on the bottom. The top had finger smudges on it, near the water tank. We tried it being it was there. It didn't work properly and looks like they sent out a returned item. I might get a quick burst of steam but then nothing. Not at all like the presentation. It also leaked on the clothes and were left with huge wet spots. I could get a much cheaper iron in the store that performed like this one. Very disappointing and embarrassing as well. QVC- please don't send out return defective items such as this to your customers. Too bad, as I had high hopes for this when I ordered it.
01-23-14
Hubby Likes It
Even at special price, it's a lot of money for an iron. I bought it anyway because hubby was complaining our iron left water marks on his shirts and took too long to iron wrinkles out. I saw this one night and ordered thinking I can always return it if it doesn't perfrom as stated. Well, he likes it. He says it takes him half the time to iron his clothes. The reason I gave 4 stars is because this iron is heavy. If you have problem lifting and gripping, this may not be the iron for you. My hubby spent 25 years in the military. When we got married he was use to his clothes pressed in a certain way so he took them to the cleaners. Since he knows how he wants them, I suggested he iron them or continue taking to cleaners.
01-11-14
rowenta
Given as a gift. This was a welcomed gift. Works great. Given to someone who previously owned Rowenta and tried cheaper irons of less quality. Was so happy to receive a quality iron. Thanks QVC for the great price on a great product.
01-03-14
Great Product
I am a Rowenta girl from way back. Needed a new iron after several years. Really like this one. Like the narrow tip. Runs out of water quickly because of all the steam. Great temp control.
01-02-14
Best Iron
This iron is best I have owned. It never leaks, and stores great.
01-01-14
Excellent Product
I am know in my kingdom as the queen of ironing. I quilt, I use a iron daily. I iron shirts with this iron to. My Rowenta I purchased years ago from QVC finally died - I was so sad as it really got the job done and I was afraid I would not find a replacement. This is a fabulous Iron ! A joy to iron with! I love a heavy iron. and I like the different settings. Only with you could read the water level a bit better. I see it is gone now , I ordered another Rowenta from QVC as I never want to be with out one! Thank you Rowenta for making a wonderful Iron.
12-26-13