Rowenta 1800W Pro Master Steam Iron with Platinium Soleplate
In Stock
Sold Out
We're sorry. This item is not available at this time.
Pre Order Possible .
Low Stock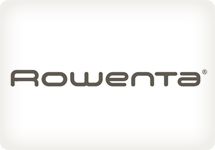 Tackle Your Toughest Wrinkles
Flip through the user's manual.
Check out answers to top customer inquiries.
Watch a helpful how-to video on getting the most out of your new iron.
Description
The best just got better. When it comes to keeping up appearances, count on the superior steam power of the Rowenta Pro Master Steam Iron to tackle your toughest wrinkles. Combining 1800 watts of power with a high-quality Platinium soleplate, the Pro Master delivers maximum heat and a smooth glide for quick, easy results every time.
Wrinkles and creases don't stand a chance. Thanks to its Platinium soleplate--consisting of a stainless steel core treated with ultra-thin permanent silicate--the Rowenta Pro Master Steam Iron glides with incredible ease and holds onto heat like nobody's business. 400 microsteam holes evenly distribute steam, making quick work of even your toughest ironing jobs. The ergonomic handle is designed for maximum comfort, and the precision tip is ideal for maneuvering around collars, buttons, pleats, and cuffs. You can even use the iron in an upright position for quick touch-ups and hanging fabrics.
Better control, better results. You'll love the temperature guide located on the bottom of the iron, which helps you select the right amount of heat for everything from delicate synthetics to cotton and linen. Press the ergonomically designed steam buttons to apply steam whenever, wherever, and for as long as you want. And, apply the cool mist button to smooth out your most stubborn wrinkles.
Don't miss your chance to take home the Rowenta 1800W Pro Master Steam Iron at an amazing price. With these kinds of results, you may never look at ironing the same way again!
From Rowenta.
1800W steam iron
Stainless steel Platinium soleplate
Enhanced high-precision tip delivers steam into hard-to-reach areas
400 microsteam holes provide perfect steam distribution
Three-way auto shut-off; turns iron off in 8 minutes if vertical and 30 seconds if horizontal or tipped over
7'L 360-pivot electrical cord
Self-clean function removes loose mineral deposits and impurities
Vertical steam in upright position for drapes and hanging garments
Ergonomic controls
Extra-large 12.7 oz water tank
Variable steam setting for a variety of fabrics
It is normal to find residual water in the unit due to factory quality testing
Measurements: Iron 11-1/2"L x 5"W x 6-1/2"H; empty, weighs 3 lbs, 3 oz; full, weighs 4 lbs
UL listed; 1-year Limited Manufacturer's Warranty
Made in Germany
Reviews & Community QA
Rated

3.9

out of

5

 by

244

reviewers.
Rated

4

out of

5
 by
MSKARLA
always enjoyed rowenta--but--
I've always enjoyed using my rowenta irons--my one complaint with this iron though- is in the attempt to make it pleasing to the eye- with the cranberry color- the solid body also makes difficult to visualize the water level- I've had on occasion over filled. that would be my major design redo- a clear water tank panel
06-30-15
Rated

3

out of

5
Where's the on/pff button?
Was not a fan of this item. Too heavy for my liking, didn't like not having a power on/off button, but my biggest issue was not being able to see through water area for filling purposes. Otherwise, did have powerful steam, but not impressed with one passes on taking wrinkles out - as I thought Rowenta's were supposed to do. Ironing did not seem any easier or less of a chore as with a Walmart bought iron for $30 - can't justify cost - therefore, back it goes!
06-17-15
Rated

3

out of

5
 by
grannymaria
Water tank disappointment
After having owned 2 Rowentas I researched all other brands and kept coming back to Rowenta. I read all the reviews, good and bad, and decided to purchase this model.. Although I am very pleased with the performance of this iron. I have one big problem with it. I am a sewer and quilter and use the iron every day and, therefore, it requires refilling several times a day. My big disappointment and frustration with it is that I am not able to see how much water is in the tank and, when I fill it to know how much it needs. My sewing room is very well lit and I have even tried holding a flashlight up to the tank and that doesn't help. Not to have a transparent water tank does not make much sense. Wish I would have taken the other comments about this problem more seriously. Hope the Rowenta people correct this very obvious problem. Too late for me, but perhaps not for others.
06-09-15
Rated

5

out of

5
 by
luvmygmc
AWESOME IRON!!!
I have wanted a Rowenta steam iron for the longest time. The easy pay offered here was something I couldn't pass up. I don't mind ironing at all now. I iron things now that I never used to iron! Order this. You won't be sorry!
05-25-15
Rated

5

out of

5
 by
bestgirl
Worth it
This is the best iron I've ever had! Heats up in a jiffy, creates great steam. If you are a pro or a beginner, this makes ironing easier because it does not "iron in" wrinkles, and if you do manage to do that, it corrects it easily. Nice, long, cord, too. Only "con" for me, is that I didn't notice it doesn't have a retractable cord before I got it.
05-06-15
Rated

1

out of

5
 by
camille
Worst purchase ever
I purchased this iron the end of 2013. It only lasted one year. It hurts when you pay a large amount of money and the product does not last. I wish companies would stand by there products like they use to. It would be nice if the company gave replacements. I will never buy another Rowenta iron. This is the second one that died on me. It amazes me that the cheap ones last for years. Thank you for allowing me to vent.
05-02-15
Rated

1

out of

5
 by
boopie
Do not purchase
I also bought two Rowentas through the years from QVC which stopped working... way before their time - called the company and they would not offer me anything. So no I do not recommend Rowentas..
05-01-15
Rated

5

out of

5
 by
LRKlinck
LOVE LOVE LOVE!!!
I was so excited to try this Iron, and I am THRILLED with the performance!!! It is honestly the BEST IRON I have ever used! The smooth soleplate takes out the wrinkles with just one pass, and the AWESOME Steam bursts crease slacks and cotton button down shirts easily and perfectly!!! I also tested out the Vertical Steam on my husbands Suit Coat, it Worked PERFECTLY!!!! Love the Color, Love the style, Love the Performance!!!! Does exactly as advertised!!! Would recommend to anyone who wants to make Ironing or Steaming enjoyable and easy work!!! :D
04-29-15
Rated

5

out of

5
 by
Bostonbug2
Love my morning ironing!
I really like and brag about my iron! I have had my Rowenta 1800W Master Steam Iron with Platinum Sole-plate for about one and one half years. It works as it has from the start. Stellar Iron! I have not used any spray starch or sizing since I got this iron. The steam is phenomenal in giving me that beautiful finish on my pleats, tucks, even clothes with sequins. This is something I use every morning with water from my bathroom sink. It is a must have for anyone who hates to iron and people like me that love to iron with great results. Read the simple care instructions that come with your Rowenta to keep this iron like new.
04-28-15
Rated

1

out of

5
 by
G-Square
Pricey and Unreliable!!!
This was my first Rowenta Iron and I was very excited to get it. All of my family members own one. It worked great for about a year, then would turn off in the middle of ironing and I had to plug it in again and again. Since then, it only works occasionally and finally not at all. I thought a pricey and somewhat reputable iron would be a good buy, but sad to say I have learned the complete opposite. Too bad I did not think to register it. It is a worthless heavy weight at this point and I would not recommend it to anyone. Stick with something that is less painful to have to replace after 18 months.
04-24-15
Rated

5

out of

5
 by
xmas25
Happy to do everyone's ironing now!
My previous iron gave up the ghost recently and it was one of those with very few steam holes in it so ironing was a tedious task. My husband bought this iron for me and I cannot believe the massive difference between the Rowenta and the other iron! It is true that having many steam holes makes all the difference in the world for ease and distribution of steam. One thing I noticed is the weight of the iron also assists in knocking out the wrinkles. My husband has a sport shirt that is 100% woven cotton and I dread with I have to iron it but that was the first thing I used the iron on as it was a good test of the capabilities. I have not used every single feature yet, but can tell it will deliver on what it was intended to do! This is my first Rowenta and I am very pleased with the results!
04-02-15
Rated

5

out of

5
 by
Snowdreems
Time Saver
I was skeptical but thought I'd give it a try. This iron delivers. It took half the time to iron all the shirts and slacks for the week. Lots of steam! It felt a little heavier than my old iron but that was not an issue. It took so little time to iron I didn't care what this iron weighed. Just try and get it back! Love this iron!
03-23-15