Roku 2 XD Internet Streaming Device with HDMI Cable
In Stock
Sold Out
We're sorry. This item is not available at this time.
Pre Order Possible .
Low Stock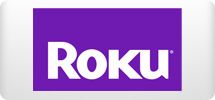 Join the Roku Revolution
View FAQs answered by on-air guest Craig Smith to learn more about the Roku 2 XD Internet Streaming Device.
Description
What makes the Roku 2 XD special? If you and your family are ready to stream online content to your TV, but don't want the major investment of an Internet-ready television, the Roku 2 XD allows you to instantly stream tons of Internet entertainment directly to most any TV--all in a small, affordable unit.
What can it do for me? Choose from more than 300 channels for movies, music, news, sports, Internet videos, and your favorite TV series. And with new channel options added all the time, you'll always have access to the latest and greatest media choices. You can simply use your existing subscriptions to paid services like Netflix or MLB.TV, and have the content streamed right to your TV. Or access free Internet music like Pandora. Stream from Sirius XM or your iTunes library. Or check out movies and shows from sites like Amazon Video On Demand, Crackle, and Hulu Plus. Roku 2 XD plays Full HD video, so if you have a 1080p HDTV, the content will be presented in the clarity you expect.
Is it easy to use? With built-in 802.11b/g/n Wi-Fi, the Roku 2 XD works with virtually any TV, standard or HD. You'll be up and running in minutes. All you need to get started is a TV, a high-speed Internet connection, and a wireless router--and a little free time to enjoy all your new entertainment options. And because the unit is only a bit larger than a coaster, it's simple to set up and you won't need to move your TV, cable box, or gaming system.
From Roku.
Access to and use of the Internet may require payment of a separate fee to an Internet Service Provider, DSL line, or more.
Wireless capability and use of public wireless locations or hot spots may require a network connection, additional accessories, and a service connection fee.
Includes Roku 2 XD unit, A/V cable, 6'L HDMI cable, remote control with 2 AAA batteries, power adapter, and Get Started guide
Access to more than 300 channels
Compatible with virtually all standard-definition or high-definition TVs
Built-in 802.11b/g/n Wi-Fi with WEP, WPA and WPA2 support
Plays Full HD 1080p video
Video modes: 1080p high definition (HD); 720p high definition (HD); 16:9 anamorphic/4:3 standard
Video outputs: HDMI (1080p/720p/480p), composite video (480i)
Audio outputs: analog stereo (left/right RCA); digital over HDMI (5.1 surround sound pass-through and stereo)
microSD card slot (card not included)
Measures 5"D x 5"W x 1-1/4"H
UL listed; 1-year Limited Manufacturer's Warranty
Made in China
Reviews & Community QA
E168398 - Roku 2 XD Internet Streaming Device with HDMI Cable
281
281
Get this back
This is an awesome purchase. QVC please get this XD and the higher version back.....
11-24-12
There are better out there ...
It was easy to install - but Roku has not as many apps as the RCA or Apple device. There is no U-Tube to live stream news. Everything free is OLD. Crackle is free but has only old B/C movies with commercial interruptions every couple of minutes. Netflix you have to pay for, as well as for Hulu. NBC news do not live stream and are old. And of course, you have to subsribe to Amazon as well. Not worth it!
08-10-12
Best Purchase Ever Made along with my TV
I now truly have an entertainment center. I live in a retirment community and others are always coming over to watch a movie or documentary. There is never a night that there is nothing on TV. Love, love, love it!!!!!
08-06-12
Love this Roku
I have wanted this for a while ...it is everything I thought it would be and more!!!!
07-14-12
Awful product
Takes forever to even watch anything considering it keeps loading every 5 seconds and NO it is not my internet connection, because Netflix does fine on other devices. Secondly, not too happy you have to use a credit card to finish up the setup/registration process before you can even use the Roku, didn't plan on purchasing anything. Should have been a way to skip that step. Thirdly, it's quite expensive for what you get, and NOTHING is really free as everything requires a subscription. May wind up sending it back, surprises me QVC even sells this awful thing, as it's not worth it in the least!
06-27-12
No More waiting for buffering movies!
I have had my Roku for six months & have not had a problem. I can swiitch from cable to Roku with ease. No pausing or waiting to buffer on pc/laptop, just smooth streaming! I can watch my movie providers directly on without any freezing at all. Can't wait for the Roku stick to go on easy pay!
06-19-12
GREAT BUY! GET RID OF EXPENSIVE CABLE PACKAGES
The Roku is FANTASTIC! There are many options for programming offered, but there are also other channels that are in a testing phase that you can add that do not necessarily show up in the Channel Guide. These channel codes you can receive off the internet. Offerings like HULU PLUS, PLAY ON and NETFLIX, provide you with a wide variety of programming. There are children's channels like kidnet and ameba which provide commercial free programs. There is also religious programming, news from all over the world and local international channels! I added shutterfly to my roku channel list and now pictures of my family are my screensavers on my TV. If you purchase hulu plus for 7.99 and netflix for about 8 bucks you have a great deal of the shows offered on cable and you only pay 16 bucks a month! PLAYON gives you on demand access to ESPN, TBS,SPIKE and NICK,DISNEY,PANDORA,MTV Shows and a lot more, whats cool is you can try it free. What is also awesome is that the device is so small you can take it on vacation! All you need is your wireless internet connection and access to plug in the cords and you are set! In any event with the free and pay programming offered you can save yourself a lot of $$$
05-23-12
Love this device
I still have some cable, but that is because I like some things that the roku can't provide, however I love the Roku and would recommend it to anyone who loves tv/movie entertainment. If you don't like or need cable then the Roku is all you need.
05-13-12
Great product
I have been using this product for six months and have had no issues. No this product is not for everyone and it does have some flaws, but for us it was just what we needed. If you already have cable, this probably isn't for you. We ditched cable because it had become too expensive. We were watching Netflix and Hulu Plus on a wi-fi tv in the living room. We bought this so we could stream both Netflix and Hulu Plus in the bedroomas well. It was so easy to set up. Unlike other reviewers, I have not had any issues with the streaming quality. It loads quickly, no pauses or rebuffering. Also, my credit card has never been charged for anything unless I watched a movie I needed to pay for. I agree there aren't many free channels that are any good. I use it mostly for streaming thru Netflix, Hulu and I love Pandora music. It's just what we needed. I may be buying one for my son as he is suddenly having trouble streaming Netflix on his Wii.
05-13-12
Stopped working after 5 months EASY FIX
QVC was great and said I could trade it in. When I told my son the white light was on but nothing happened when I switched from cable. I changed to new batteries in the remote. I check cables made sure they were all pushed in tight. What fixed the problem was pulling out the power cable (the thin one) I left it unplugged for a couple minutes. The unit reset itself like a cable box. It is working Great again.
05-05-12
I WATCH IT ALL THE TIME!!!
I LOVE LOVE LOVE IT!!!!!! BEST THING I'VE EVER BOUGHT. A ONE TIME BUY OF 79.00. CUTS YOU CABLE BILL WAYYY DOWN. I COULDN'T BE WITHOUT IT. ALSO BOUGHT ONE FOR MY BEDROOM! EXCELLENT CHOICE...
04-24-12
SO WHAT WE NEEDED.
THIS IS THE ITEM WE'VE ALL BEEN SCREAMING FOR! EVERY TIME THE PRICE OF CABLE GOES UP, THE STEAM CLEANS OUT OUR EARS! THIS IS THE PICK AND CHOOSE THE CHANNELS YOU WANT, WHEN YOU WANT THEM. ROKU PROMISES TO ADD MORE CHANNELS IN THE FUTURE BUT, THERE ARE PLENTY NOW. EVERYTHING FROM EWTN TO HULU. BE AWARE THAT NETFLIX IS JUST NOT WHAT IT USED TO BE, BUT IT IS FREE. ONE OF THE MOST IMPORTANT FEATURES IS SOMETHING CALLED "MY.FLEX. YOU'LL WANT TO SIGN UP IMMEDIATLEY FOR THIS ONE! IT SENDS LINKS FROM IPHONES AND IPADS AND ALL THAT MEDIA STUFF STRAIGHT TO YOUR COMPUTER! MANY ONE TIME FEES FOR 1.00/2.00 EACH - AGAIN, JUST ONCE- NOT MONTHLY. OTHER CHANNELS 7.99 PR. MONTH. MANY FREE NATURE, INDEPENDENT FILM & DOCUMENTERIES, STOCKS, TRAVEL, ETC... YOU DO NEED TO BE AWARE THAT AFTER 3 MONTHS OF FREE SERVICE YOU WILL HAVE A 19.99 A MONTH CHARGE. REASON FOR FOUR STARS IS BECAUSE YOU NEED TO GIVE YOUR CREDIT CARD # IMMEDIATLEY TO SET UP THE ACCOUNT AND WE HAD SOME (3 DAYS WORTH) TROUBLE GETTING THE # THROUGH W/ 2 DIFFERANT CARDS. JUST BE PATIENT. DON'T WORRY, THERE IS NO CHARGE TO YOUR CARD. IT'S JUST TO KEEP YOUR ROKU STREAMING W/O INTERUPTION WHEN YOU 3 MONTHS ARE UP. I ALSO RECOMMEND JUST BUYING THIS MODEL. IT ISN'T A DEAL AT ALL TO PAY THAT MUCH MORE JUST TO GET HULU... OH AND I GAVE UP MY CABLE AND PHONE. CUT THE BILL IN HALF. WHOO-HOO!
04-19-12