Re-Body SafSlim
Three Flavors Including New Pina Colada!
In Stock
Sold Out
We're sorry. This item is not available at this time.
Pre Order Possible .
Low Stock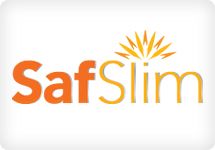 Learn more about Re-Body SafSlim Belly Fat Transformation:
Description
What is it: SafSlim supplement is whipped into a creamy texture that tastes great and is easy to work into your lifestyle.
Delicious by the spoonful or mixed into beverages, shakes, or yogurt, this revolutionary breakthrough in weight-loss science comes in classic Berry Cream Fusion, On-the-Go Packets in Tangerine Cream flavor--plus 16 ounces of the brand-new summerific Pina Colada flavor! And it's all available at an amazing value.
Who is it for: Anyone looking to help reduce belly fat.
Why is it different: In a study of older, post-menopausal women who were obese with type 2 diabetes, Safslim has been shown to help support trunk and midsection fat reduction, help support blood sugar balance and insulin sensitivity, help increase HDL cholesterol, and help support cardiovascular health, when used in conjunction with regular exercise and a diet free of high glycemic refined carbs and trans fats.
How do I use it: Take one tablespoon of Berry Cream Fusion or Pina Colada twice daily before meals. Shake well. Refrigerate after opening. Take one On-the-Go packet before a meal as a substitute for the SafSlim bottle when you are on the go. No need for refrigeration as these are pre-measured to be a single serving.
This statement has not been evaluated by the Food and Drug Administration. This product is not intended to diagnose, treat, cure or prevent disease.
As always, please consult your personal physician before taking any dietary supplements and before beginning any diet or exercise program.
Take a realistic approach: If you work consistently and follow the program, you maximize your results.
QVC will accept returns up to 60 days from the date of purchase.
Includes one super-sized 32-fl-oz Berry Cream Fusion, one 16-fl-oz Pina Colada, 28 SafSlim On-the-Go Packets in Tangerine Cream, and a Belly Fat Breakthrough book
Suggested use: take one tablespoon twice daily before meals
Berry Cream Fusion and Pina Colada: refrigerate after opening
Made in USA
Reviews & Community QA
A228834 - Re-Body SafSlim
22
22
TASTE DELICIOUS & CURBS APPETITE
I bought this when it was the TSV and i am so glad i got this on auto delivery for the year. I started taking this after my 6 week postpartum doctor appointment when i had my daughter. the first thing i noticed was that my appetite changed. when i was pregnant all i craved was mac & cheese and pop tarts. ever since i started taking safslim i had no desire to eat sweets or any other bad cravings. I have a lot of belly fat after having my daughter and its been about a month and i notice a difference in my waist size. i started working out about 3 days a week and that is helping too. i will order safslim again once my auto delivery is completed on this.
09-02-12
first week
This is my first week witht he products and it has really helped me not get the afternoon binges! I am impressed because nothing ever does that! So far, so good!
08-29-12
NOT FOR ME!!
I tried this product unfortunately it did not work for me. I actually gained 8 pounds while using this product. As for the taste, it was good. This product also made my stomach cramp, maybe because I have IBS. I will be returning the rest of this product.
08-18-12
Impressed
I am 4' 11" short. I am 56yrs old. I am overweight. I take this stuff before breakfast and before lunch. What I have noticed is that I do not have wide hunger and mood swings since I have been taking this. I think it is helping with my low blood sugar. I notice that I do not have the afternoon BLAHS. I actually have energy at the end of the work day instead of being exhausted. This is not a coincidence. The only thing I have changed in my lifestyle is taking this stuff. I have been taking it for almost 2months and the energy level has stayed consistant. I'm impressed!
08-17-12
Finally Seeing Results
I have been using this product for 2 months now and I am finally seeing results. My stomach is getting really flat. I never thought I could have a flat tummy again being that I am in my late 40's. It takes some time to work but it does work. I finally have hope that I can get my washboard abs back.
08-15-12
Waste Of Money
Save your money folks. As much as I wanted ti believe that Montel was endorsing a good product-this is not it.
08-14-12
Try it you might like it
My Wife is using it, She is a special surcumstance, paraplegic. She cannot do normal exercise but this at least is helping with her weight management. Not sure how much but at least it does something.
08-12-12
Just didn't work
I tried this twice. The first time I gave up after about 3 weeks because I saw no difference and actually felt crampy and bloated in the belly while using it. Then I saw another presentation of it with Montel and I re-read the reviews and it said you needed to give it at least six weeks to see results. I tried it again for six weeks and still saw no results. It made me feel bloated the whole time. I eat healthy and exercize 3 days a week minimum. I just don't get it. I am back to believing if it sounds too good to be true, it probably is. Too bad, I was really hoping this would work.
08-09-12
The best purchase that I ever made/Love it
When I first purchase this product I had a lot of dout. I wasn't following the direction and I could see a different within 3 weeks. So I set down and read the book that came in with this product and said let me give these direction a try. I love this product it really do work. My family and friends are telling me that they see a different in my weight all ready and I am so glad that I did not waist my money on this product.
08-07-12
Very disappointed
Had high hopes and have had absolutely no results. Sending this back. Thank goodness you were given 60 days to try.
08-02-12
No luck with this
I am a regular exerciser and have a good diet. I started this product on June 28 and have had no results whatsoever. I try to monitor my daily intake of fats, carbs and proteins and I find this added fat is not helping. I will finish the product as I find the taste ok but not spectacular. If the result changes I will post further.
07-28-12
GREAT STUFF
HAVE BEEN USING FOR ABOUT 3-WEEKS THAT'S WHY THE 4-STARS INSTEAD OF 5. LOVE THE PRODUCT ALL FLAVORS AND THE PACKETS ARE GREAT FOR ON THE GO. ON AUTO SHIP AND GLAD
07-25-12