Re-Body SafSlim Kit Auto-Delivery
Two Flavors: Berry Cream and Tangerine Cream!
In Stock
Sold Out
We're sorry. This item is not available at this time.
Pre Order Possible .
Low Stock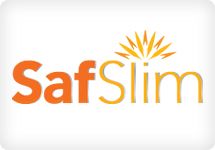 Learn more about Re-Body SafSlim Belly Fat Transformation:
Description
What is it: SafSlim supplement is whipped into a creamy texture that tastes great and is easy to work into your lifestyle. Delicious by the spoonful or mixed into beverages, shakes, or yogurt, this amazing product comes in both Berry and Tangerine Cream Fusion, and new On-the-Go Packs in tangerine flavor! For as long as you stay in the plan, you'll receive a new shipment approximately every 60 days until you've received a total of three shipments.
Who is it for: Anyone looking to help reduce trunk/midsection fat.
Why is it different: In a study of post-menopausal women who ere obese and type 2 diabetic, safflower oil, the key ingredient in Safslim, was found to help support trunk/midsection fat reduction, help support blood sugar imbalance and insulin sensitivity, help increase HDL cholesterol, and help support cardiovascular health.
How do I use it: Take one tablespoon of Berry or Tangerine Cream Fusion twice daily before meals. Shake well. Refrigerate after opening. Take one On-the-Go packet before a meal as a substitute for the SafSlim bottle when you are on the go. No need for refrigeration as these are pre-measured to be a single serving.
This statement has not been evaluated by the Food and Drug Administration. This product is not intended to diagnose, treat, cure or prevent disease.
As always, please consult your personal physician before taking any dietary supplements and before beginning any diet or exercise program.
Take a realistic approach: If you work consistently and follow the program, you maximize your results.
QVC will accept returns up to 60 days from the date of purchase.
Includes one Super-sized 32-oz Berry Cream Fusion, one Super-sized 32-oz Tangerine Cream Fusion, 14 SafSlim To-Go Packets in Tangerine flavor, and a Breakthrough book included with first shipment
Suggested use: take one tablespoon twice daily before meals
Berry/Tangerine Cream Fusion: refrigerate after opening
Each shipment will be billed separately at the above price, plus shipping and handling and any applicable taxes, for as long as you remain in the plan; no obligation to continue the plan; cancel anytime
Made in USA
Reviews & Community QA
A225404 - A-D Re-Body SafSlim Kit Auto-Delivery
110
110
Great taste!
Love this product, it tastes great and it does work! I have been on it for 3 weeks and i have noticed a difference, my pants fit better!
09-04-12
Didn't do a thing
After reading reviews, thought maybe using longer would be what was the miracle. Just that..hoping for a miracle. Have the lower post menopause belly with the waistline increase. Nothing changed. Back to doing longer exercise, yuk! Even this former athletic woman was looking for an easier fix. only good thing was they tasted Just fine to me. Will keep in refrigerator rather than throw out for a sweet fix. Works great for that.
08-10-12
Results not as advertised.
I tried this as the TSV and one refill on the auto-delivery. The bottle says it is good for post-menopausal women without added diet and exercise. I am 55 and post-menopausal and have trouble losing weight. I dieted, exercised and took this as directed for 5 months with NO results. This is supposed to be good for everyone but didn't work at all for me. I am sorry that I spent the money. Please do not order this!
07-24-12
Doesn't work
Not sure what results I was expecting, but for the money I would think something good would have happened. Thankfully I cancelled after the first shipment.
07-03-12
Did not work
I used this product according to the directions and saw no results at all.
06-28-12
It worked great for me!
I bought this over 4 months ago when it was first offered. Tried it but really did not change my diet that much, so of course I didn't see results. At the end of April, I decided it was time to try Weight Watchers again and really give it my best shot, plus take Safslim too. My husband joined me and we started walking after 3 weeks into the diet; we've only been able to walk 2-3 x week for about a mile or so each time due to his arthritis. I have also cut back on dessert-making us sugar-free desserts now. I had quite a belly and my thighs and hips had also gotten bigger over the last 5 years. This is the first time in years that I lost more than 1 pound in the first week, and my stomach has gone down more than ever as well as my thighs! Wish I had measured before I started; I am back in clothes that I haven't worn in at least 5-6 years, and I've only lost 12 lbs. I guesstimate an inch+ off thighs and 2 inches off the belly area! I am very happy. I have 20 more lbs. to go. All my girlfriends are asking what is working this time and I'm telling them! I know that not everything works for everyone. My auto-delivery plan just ended but gladly the Q put another out and I will reorder. These larger bottles are a better value than the small ones at GNC too.
06-28-12
Only temporary results.
Followed the regiment of making sure we took this product twice a day before meals. In about a month my husband had lost two inches off his waist. The problem is that this is as far as he got. I have been taking it and I haven't lost anything, which is kind of odd since I exercise a whole lot more than my husband. This product would be OK if it was cheaper and you're willng to take it everyday without question. I was looking for something to help me lose weight up front and with just regular exercise, keep it off. I was not looking for something I would have to take forever. We have since stopped taking this medication, and the inches have come back for my husband. I wouldn't recommend this product unless you're looking for something temporary which we were not.
06-24-12
ONLY ONE THING LOST WEIGHT
i tried this for two auto deliveries...followed the program..the only thing that lost was my wallet....SAVE YOUR MONEY!!!! THIS DOES NOT WORK!!!!!
06-24-12
Did NOT work for me
This was touted almost as a god send to losing belly FAT.. I followed the suggested program exactly as stated.. I did not lose any belly fat.. In good conscience,, this will NOT work .. so I suggest you not waste your money.. I did send back this product.. QVC gave me credit for it.. I cancelled any future shipments. Suny329
06-24-12
WOW!!!!!!
All I can say is, "It works for me," After two there was a big difference in the size of my belly fat. I work out 6 days a week and eat a real healthy diet. I have been using it now for about 6 weeks and I can fit into clothes I haven't worn in a long time. My carving for sweets has been greatly reduced. Thank you QVC and Safslim for this wonderful product!!!!!!!!
06-23-12
Didn't work..Save Your Money
I gave it the benefit of the doubt...even tried it thru the second shipment. I took it as suggested and watched what I ate and did exervise regularly. Don't think there was any more benefit using this than I would have with just the diet and exercise. I wasted a lot of money trying this. Too Bad For Me. Save your money and just do what the doctors say....there is no miracle...just good diet and exercise. I did enjoy the flavor..guess thats one plus.
06-13-12
Disappointed
I have been taking Safslim for 17 weeks and have not seen a difference in my appearance, measurements or the way my clothes fit. I have taken it twice a day once at lunchtime and again before supper. I exercise 5 times a week, three using weights. I am on a healthy diet with help from my doctor.
06-11-12