Re-Body SafSlim 32oz. and 16oz. Bottles with 30 Hunger Chews
In Stock
Sold Out
We're sorry. This item is not available at this time.
Pre Order Possible .
Low Stock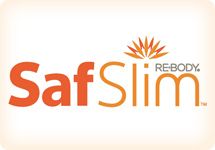 The Science of Body Transformation
Description
The SafSlim supplement is whipped into a creamy texture that tastes great and is easy to work into your lifestyle. It's delicious by the spoonful, or mixed into beverages, shakes, or yogurt. In a university study pertaining to post-menopausal women who are obese and are type 2 diabetic, safflower oil, the active ingredient in SafSlim, has been shown to help support trunk and midsection fat reduction.
This revolutionary breakthrough in science comes in 32-oz Berry with 16-oz Pina Colada, or 32-oz Tangerine Cream Fusion with your choice of 16-oz Berry, Pina Colada, or Tangerine Cream Fusion--plus 30 Hunger Chews in Mandarin Orange to help control hunger and minimize intake of excess calories. Keep Hunger Chews on hand to help decrease feelings of hunger throughout the day.
To use, take one tablespoon of SafSlim twice daily before meals. Shake well. Refrigerate after opening. As a dietary supplement, take one Hunger Chew twice daily before meals.
From Re-Body.
This statement has not been evaluated by the Food and Drug Administration. This product is not intended to diagnose, treat, cure or prevent disease.
As always, please consult your personal physician before taking any dietary supplements and before beginning any diet or exercise program.
Take a realistic approach: If you work consistently and follow the program, you maximize your results.
QVC will accept returns up to 30 days from the date of purchase.
Includes one super-sized 32-fl-oz SafSlim, one 16-fl-oz SafSlim, and 30 SafSlim Hunger Chews in Mandarin Orange
32-fl-oz Tangerine Cream Fusion/16-fl-oz SafSlim in choice of Tangerine Cream Fusion, Berry, or Pina Colada
32-fl-oz Berry/16-fl-oz Pina Colada
Suggested use: take one tablespoon of SafSlim twice daily before meals; as a dietary supplement, take one Hunger Chew twice daily before meals
Refrigerate bottles after opening
Cannot ship to P.O. Boxes
Reviews & Community QA
Re-Body SafSlim 32oz. and 16oz. Bottles with 30 Hunger Chews
97
97
Didn't work for me
Sadly, I have to give this product one star. Twice a day I drank that nasty tasting liquid and when hunger pangs came I ate the nasty tasting chews. I did this faithfully for almost 4 weeks. Every day, all day long, my stomach hurt, even when I cut down on the portion that I was taking. I couldn't take the pain any longer. It was too late to send it back, so I threw the rest of it in the trash can. I TRULY do hope that this product will help others, but unfortunately it didn't help me.
08-14-13
Great Results!
I've been taking this product for four weeks now, and have had awesome results! I purchased it when it was the TSV so I got the chews with it. I received the orange and berry flavors. So far I've only used the orange and I really like the taste. As of tomorrow, I'll start with the berry. I know a lot of other folks don't like the chews, but I think they taste like orange Starburst. Plus they do curb my appetite somewhat. Now, for my results......I took my measurements when I started. Have lost 3 1/2 inches off of my waist, and 3 inches off of my hips. Nothing off my bust. I've also lost 8 pounds. Not bad for only four weeks time. So, I give this a two thumbs up, and will continue to use it. I had purchased two TSV's at the time, and just now another bottle on special. So am set for a couple of months. I plan on going the full 16 weeks they recommend. Am more interested in loosing inches than pounds. Will post again after another month.
08-12-13
NOTHING HAPPENING
Taste is bareable but drinking oil questionable.... will return if nothing continues
08-12-13
love everything about this product!!!!!!!!
I HAVE BEEN USING THIS PRODUCT AND ONLY NOW AFTER ABOUT A MONTH I HAVE NOTICE A CHANGE AND A BIG ONE ON MY MID SECTION.....RIGHT WHERE I WANTED IT...I HAVE HAD A HYTERECTOMY 2 YRS AGO... I AM NOT YOUNG BY AGE......... NOW 72 AND FEEL GREAT....I CAN SAY IT HAS HELPED ME...... GOOD LUCK BUT GIVE IT TIME! BEVERLY
08-09-13
Metallic Tasting
I'm really not sold on this product. The chews have a metallic taste to them. The liquid isn't too bad but I really haven't noticed that it makes you feel fuller! The only thing I noticed is that my #2 smells bad! Is that what my "fat" smells like? I will finish up the bottles because I know that safflower oil is good for you but I won't reorder.
08-08-13
Texas
I have been using for about 3 weeks and yes I can tell a difference. We will see what happens long term. I like the taste and I have no problems with the taste of the chews. Are they chocolate no, but they curb your appetite. .
08-08-13
Gained weight on SafSlim
I so wanted this to work. I am 62 yrs. old, diabetic and carrying all my weight in mid section. I need to lose about 20lbs. I had lost 7 before starting SafSlim, but I have gained 4 1/2 lbs since I started taking it. I called customer service and she told me I didn't have to return it and they will issue a refund. QVC is great to do business with. I ordered 2 of these so I need to return the one in the unopened box. I remembered what a doctor once told me about some other weight loss thing I ask him about. He said " If it worked everybody would be using it and know about it", so true.
08-07-13
Chews have an awful taste
I like the SafSlim, especially the tangerine. However, they need to greatly improve the taste of the chews. I will probably throw them away because they are awful.
08-04-13
Still a trial basis ....
I'm gonna stick it out the 16 weeks as recommended. I like the taste of the chews & they do curb my appetite. And the liquids SafSlims taste really good! Hoping it -does- the trick!
08-03-13
In 2weeks I Gained weight
I used safslim for 2 weeks an it curbed my appetite. I exercised 3-4 times a week, and watched what I was eating. I gained 3 lbs an didn't lose any inches. I was not going to give it 14 more weeks to gain more weight especially after carefully watching my diet. I called to return it and they said it was not returnable, but they Said I would get a refund. Thank God! P.S. since I stopped taking it I lost 2 lbs an its only been less than a week. It didn't work for me.
07-31-13
TASTE FINE-GIVE IT TIME
I ORDERED THE TANGERINE/BERRY COMBO. I DIDN'T REALLY LIKE THE BERRY AS IT HAD AN OILY TASTE TO IT, BUT THE TANGERINE IS GREAT. DON'T EXPECT QUICK RESULTS, THE BOTTLE SAYS TO TAKE IT FOR 16WKS. ALSO I FIND DRINKING WATER AFTER TAKING THE CHEWS HELPS WITH THE TASTE.
07-30-13
Not sure it's for me
I fell too hard for the presentation! I have no recollection of the host saying it was for obese women with type-II diabetes. I sincerely thought it was for any post menopausal woman who wanted to lose that annoying spare tire around the mid section. I'm 5 ft 6 and weigh about 138..hardly obese. If I'd known about the diabetes and obesity requirement, I would not have ordered. Still wondering if it could work for me, but thinking about sending it back.
07-29-13