Rachael Ray Round & Square 16-piece Service for 4 Dinnerware Set
In Stock
Sold Out
We're sorry. This item is not available at this time.
Pre Order Possible .
Low Stock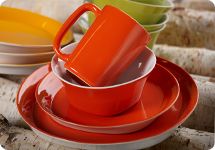 Set the Table with Style
Learn more about Rachael Ray dinnerware.
Description
You put your all into making the meal--serve it with style! This 16-piece table setting for four is the perfect complement to Rachael Ray's popular Bubble & Brown bakeware. If you already use and love Rachael's durable, beautiful cookware pieces, you've met their match with this essential dinnerware collection.
They're pieces with pep! The bold, solid colors add a pop of playfulness to your table setting. And the shape? You'll be delighted with stylish subtlety. Round at the rim, the pieces graduate to square-shaped bases for a fresh new look with modern flair.
Adorable--and durable. While certainly attractive enough for special occasions and celebrations, these dishes aren't just for show. They're made from durable stoneware to stand the test of time, and their chic, simple design is perfect for regular use. Enjoy them every day! You're sure to get smiles--no matter what's on the menu.
From Rachael Ray.
Includes:
Four 11" dinner plates
Four 8-1/2" salad plates,
Four 18-oz cereal bowls
Four 14-oz mugs
Made of stoneware
Dishwasher- and microwave-safe
Made in China
Reviews & Community QA
Rachael Ray Round & Square 16-piece Service for 4 Dinnerware Set
334
334
Wish I had the box to send it back!!
I am so disappointed in this purchase. I bought the buttercup yellow and I have already chipped one of the bowls. I have Rachel's baking dishes and never have had any problem with them
04-29-13
CHIPS TOO EASILY
I would not buy this again, I just chipped the third piece and all I did was drop it in to the dish rack. It is cute and nice looking but do not spend the money thinking it will last.
04-24-13
not a good set
These plates chip so bad the bottom is to ruff .I will not be buying any more i gave at christmas to family they hated them bad purchase .
04-07-13
reluctantly returning
I ordered two sets of these and was so happy when they arrived. I did receive one plate with a bubble that would eventually become a problem. After reading reviews, I was afraid to stack them and afraid to use them.....I don't want to encounter chipping and marks on them that others have reported. Will be more diligent about reading reviews in future. I did think they were a bit heavy and difficult to stack in cabinets, but would have been ok with that if one hadn't been bubbled like other reviews reported. Had to return!
03-31-13
it is a good set
I am not one to write reviews, but I have a few Rachel Ray items and wanted to try the set, I bought two sets red and white and put them both in the cabinet and I LOVE them they are sturdy ,love love the sides on the plates and the mugs!! they matches wel,l and men like them too. Good job Rachel. thanks!
03-24-13
Love this Set!!
I love this.... I bought the white so it would go with everything and I could not be happier. Big, love the shape!! The mugs are awesome. I nice sized mug with a dish set is hard to find. I really like this set and may buy more.
03-21-13
LOVE the mugs!
Great set and I LOVE the mugs! Please make these available in a 4 pack separately!
03-20-13
Great for visually impaired
My mother is legally blind, light colored food disappears on light plates. I got these dishes and now she can see what she is eating. The high sides also help to keep her food on her plate. Thank you
03-17-13
Don't like the marring of plates
I love these dishes, the shape, weight, etc. But my two major complaints are: (1) the plates mar very easily. It doesn't matter whether you use a butter knife or a steak knife the white plates mar. If this is the case after using only for a month what will they look like in 6-12 months. Maybe a color option is the way to go but I wanted white; and (2) also the bottom of the plates should have been finished off smoothly. It recommends not stacking the plates but placing something between them because of the rough edge- this gets to be a real hassle. The manufacturer should have done this. I noticed others mentioned the plates chip easily. I haven't had that problem at all. I tried contacting Rachael Ray's site direct but received no response or even an acknowledement of my email.
03-15-13
Love this set
Love the lip on these plates.. Keeps gravies and sauces on the plate.. Mug handles are big enough for your hand.. Bowls are big enough for soup, salad and my husband uses them for cereal..! Great purchase.
03-15-13
LOVE! Plates are huge!
Love this product! The plates are huge the mugs are MUGS! Finally a nice hot coco cup! :)
03-10-13
The best purchase by Rachael Ray ever!
I love all Rachael Ray stuff and this fits right in!
02-21-13