About Rachel Pally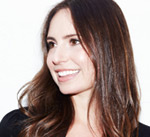 Rachel Pally's style has been distinguished by her ability to blend the easy and elegant with the chic and classic. From her infamous cropped gauchos to her coveted caftan dress, Rachel Pally's designs have left an indelible mark on the world of women's wear. Her ability to fuse simplicity with glamour has consistently resulted in a collection that looks beautiful on everyone.
Rachel has been hailed as LA's "Jersey Girl" and her designs are a favorite among Hollywood's elite. The Rachel Pally brand offers diversity each season with classic silhouettes in a wide range of colors and prints, resulting in a line that truly stands the test of time.
Rachel currently lives in Los Feliz, California, with her husband, Kevin Circosta, and their dog, Sadie. She revels in the simple things in life, like watching the sunset, playing guitar, harvesting her garden, or cooking dinner for friends. She finds inspiration through color and form which then becomes expressed through her designs.
Information provided by Rachel Pally.