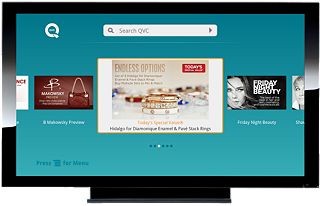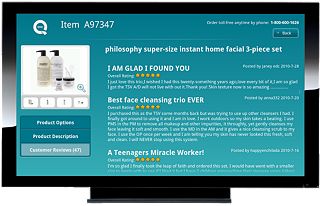 Interact with your TV like never before with the QVC app for Google TV™ platform. Search products and order items right through your TV with this easy-to-use app you can download for free. QVC is making it easier than ever to stock up on your favorite brands.
Never miss another deal. View our specials including Today's Special Value® offers, One Time Only Values, and featured promotions all in one place.
See customer ratings & reviews on our product detail pages and product listings. Plus view product images, information, sizing, color swatches, and availability.
New and existing customers can quickly and easily Speed Buy® purchases and even check order status directly through the app. Remember your email address and PIN for quicker future purchases.
New customer? No problem! You can set up an account right through your TV.
Full-search capability makes it a cinch to find what you're looking for. Search by product description, item number, word, or brand. Then you have the ability to narrow those results.
Download it for free from the Android™ Market from your Google TV platform.
Love it or return it. Something not quite right? Get a refund when you send your purchase back within 30 days of receipt, no questions asked. Check out Returns for more information.
Thanks to our award-winning service, we've been honored eight times with BizRate's "Circle of Excellence" distinction. We've also received Shopping.com's "Trusted Store" Seal, a prestigious vote of customer confidence awarded to online merchants.
QVC is committed to providing quality service and treating your information responsibly. For details, please see our Privacy Statement.
QVC is VeriSign Secured, so you can feel confident while shopping with us. We participate in the VeriSign Secured Seal Program. All of your personal information is encrypted by Secure Sockets Layer (SSL) software when it's transmitted to us during the checkout process, just as it is on QVC.com.
QVC app is available for the Google TV Platform.
GOOGLE TV and ANDROID are trademarks of Google, Inc.