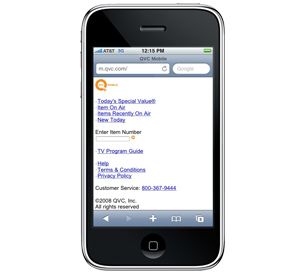 QVC in the palm of your hand! Go to http://m.qvc.com on your cell phone to browse product information and programming. Plus, order most items including those with colors and sizes!
Here's how to get started:
First, make sure your cell phone is web-enabled.
Open an Internet browser on your cell phone.
Enter the URL http://m.qvc.com (Note: mobile.qvc.com, qvcmobile.com, or qvc.mobi will also work.)
After a connection is made, the homepage to your left will display.
Scroll through the options and use the handset controls to navigate the site.
To purchase an item, click the Speed Buy® link on any product page. We'll use your default shipping and payment settings.
(Note: To make purchases, your handset must support a secure connection, HTTPS.)
Each time you buy, you'll need to sign in with your email address and password.
Order confirmations will display on your phone. You'll also continue to receive an e-mail confirmation of your purchase if we currently send them to you.