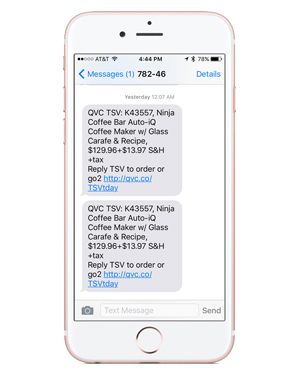 Want our most exclusive deals? They're on your phone.
No matter where you are, you'll never be far from our hottest offers. Simply sign up for recurring QVC Text Alerts, and we'll text our latest promotions right to your cell phone...it's that easy. You can even customize your alerts to include:
Recurring Today's Special Value® offers—pick all or just some categories.
Limited-time deals and insider programming alerts.
Special events and surprises.
Order and shipping confirmations to know when your UPS package is out for delivery.
QVC Text Alerts — the perfect way to stay in-the-know about all that's Q. Sign up today!

If you'd like to discontinue receiving alerts, text "STOP" to 78246 ("QVCGO").
Message and data rates may apply. Texts may be sent using an automatic telephone dialing system and using SMS or MMS technology; consent to receive texts is not required as a condition of purchasing any goods or services; Privacy Policy and Terms & Conditions; for help, text "HELP" to 78246 ("QVCGO").