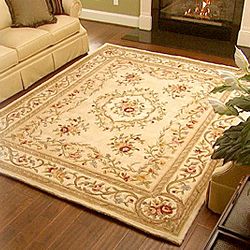 Q: What are some of the different rug sizes and shapes offered by Royal Palace?
A: That's what so great about QVC. They encourage and embrace new concepts and ideas. That allows us to try new shapes and new sizes. We were the first in the industry to introduce die-cut medallion shapes, as well as scalloped sides. The QVC customer wants to see these fresh ideas, and we really enjoy presenting those ideas to them. We offer accent sizes that add color and design elements to any room, 9' x 12' rugs for bigger living or dining rooms, and everything in between.
Q: Do some shapes and sizes work better in certain rooms?
A: Absolutely. The classic shape is a rectangle and that will never change. But trying an oval, round, octagon, or die-cut changes a room's geometry, look, and feel. These shapes tend to pull a room together, making them more intimate. Larger rooms — like living rooms, dining rooms, or family rooms — should have a large rug on the floor. I like to fill up the floor and make a statement with a rug. But that doesn't mean you can't create areas with multiple smaller rugs in a living room or family room. For example, if a living room can fit two 5' x 8' size rugs, you can create two intimate areas around the two rugs. One might have a love-seat chair and cocktail table arranged to create an intimate conversation area, and the other rug can be placed with two chairs separated by a small end table to create an even more intimate area.
Q: How does it feel to be celebrating your 10th Anniversary with QVC?
A: It's an honor to be a supplier to QVC and to have such a great core of new and long-term customers. It's wonderful to hear customers call us on the testimonial line and tell us about how much they love their Royal Palace rugs. And so many email us every day to share their ideas and tell us how pleased they are with their rugs. Many of our new ideas come from our family of QVC customers.
Q: Can you describe the quality of Royal Palace rugs?
A: We think they're "Best in Class," which is appropriate since QVC is the best place in America to shop for a rug. Our rugs are made of 100% wool. We incorporate many different colors and shades into our handmade rugs to create a true piece of art for your floor. Very few other manufacturers, if any, use as many colors in a rug as we do. That differentiates our product from the rest and makes our rugs great for decorating. Because there are more colors in each rug, it's that much easier to match to a particular room's décor. Place a Royal Palace rug next to any other manufacturer's rug and you will immediately see the difference. Ours looks better!
Q: What's the best way to clean Royal Palace rugs?
A: Wool's a great fiber that's very easy to care for. Spot clean spills with a white towel dipped in a warm water/detergent mixture. For set-in stains, send your rug to a professional cleaner. You can also see our Web site for cleaning hints (www.royalpalacerugs.com) as well as our instructional videos on QVC.com.
Q: Do you have any new items that will be coming to QVC soon?
A: We're always developing new designs and trying different looks and color combinations. Almost every rug show we do will have something new in it.
Q: What would you say is Royal Palace's most memorable QVC moment?
A: Actually, we have a few. First is being honored with three Q Star Awards from QVC. These are awards given annually to the best of the best suppliers to QVC across a few categories. You compete with thousands of suppliers, so these awards are highly coveted. Second is our trip to our factories with QVC show host Rick Domeier. If you think he's funny and engaging on air, you should see him off air. He had us in stitches for three days.